For most patients, the pathology lab is a bit of a mystery. Patients can develop good relationships with their doctors or surgeons by meeting face-to-face, but the pathologist often has a "Wizard of Oz" quality… that person behind the curtain who delivers a verdict on a patient's disease and sets in motion the next steps of treatment. Rarely do pathologists get to meet the people they have dedicated their careers to helping.
As patients increasingly seek to become better advocates for their own health and ask questions of their healthcare providers, some are sure to wonder about the elusive "wizard" in the lab, wanting to learn more about the "pathologist behind the curtain."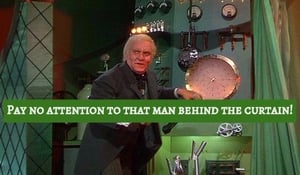 A November 2019 survey published in the Archives of Pathology & Laboratory Medicine supports this idea, showing that a majority of cancer patients would like to pull back the curtain and participate in a patient-pathologist consultation program.
Dr. Cathryn J. Lapedis, an assistant professor of pathology with Michigan Medicine, worked with colleagues to analyze the survey results of 100 cancer patients. A whopping 85 percent of patients responded that they would be interested in meeting with a pathologist to discuss their results. Their reasoning? The patients not only wanted to feel empowered, but also had a desire to demystify and have an enhanced understanding of their diagnoses. Only seven percent of respondents said they had no interest in this type of service.
"The goal is not to take away from information that oncologists and others currently provide, but to offer an additional resource," Lapedis told the University of Michigan Health Lab. "Many people are visual learners, and being able to see slides of your tissues and to have someone walk through them with you is a going to provide a different experience than just reading about them in a report. Pathologists may also be better able to answer some patient questions about laboratory reports than other members of the team."
Consultation Programs on the Rise
An increasing number of patients are actually getting the chance to meet their pathologists face-to-face. At Lowell General Hospital outside Boston, Chief of Pathology Dr. Lija Joseph started an innovative program where she invites patients to her laboratory, giving them an up-close look at their cancer and a chance to ask questions. Her free Patient Pathology Consult Program seeks to narrow the disconnect that can occur between patients and their pathologists.
As Dr. Joseph told The College of American Pathologists, "It has been very powerful for me as a pathologist, to sit and talk with patients who are facing this dragon, head on. A cancer diagnosis often makes my patients feel very vulnerable, but specifically seeing their own cancer cells under a microscope, to see what I see, empowers them, helping them to better understand their disease, it is a unique moment for them, it makes it real and helps them take control of what lies ahead."
Check out this video from CAP that highlights Dr. Joseph's program, and to hear from a patient who benefited from the opportunity:
Dr. Joseph has met with more than 75 patients since launching the program in 2017. A survey conducted by Lowell General Hospital found overwhelming patient satisfaction with the consultation program, with 89 percent saying they would recommend the experience to other patients. And other hospitals and institutions have taken notice. According to Dr. Joseph, many pathology labs have contacted her, wanting to create similar programs of their own.
Barriers to Success?
While this is excellent news, Dr. Lapedis reminds us that patient-pathologist consultations can come with their own set of challenges. "How many pathologists would be interested in participating and how do we ensure they have the appropriate skills for communicating with patients?" she said. "And, of course, there's a big question of how these consultation programs would be funded. We believe that like any other medical intervention, patient-pathologist consultation services should be studied to determine their effectiveness and value."
Some pathologists may also be concerned about the logistics of making time for these face-to-face consultations, when they are already faced with typically jam-packed days. At Voicebrook, we focus on workflow solutions to save pathology labs time and money. Our VoiceOver PRO reporting tool is designed to improve quality, speed, and productivity while reducing costs. We empower pathology professionals to provide a better quality report in less time, which in turn helps them save patient lives. And if VoiceOver PRO gives pathologists a little extra time that would allow them to make meaningful connections with their patients, that's a win-win in our book.
Contact our team for an opportunity to see PRO in action.
---