April 14 is Pathologists' Assistant Day. If we're being honest, we have to admit that often PAs don't get the recognition they deserve for the important role they play in the pathology lab. Today we're honoring them and their essential work to support accurate diagnoses and improved patient care.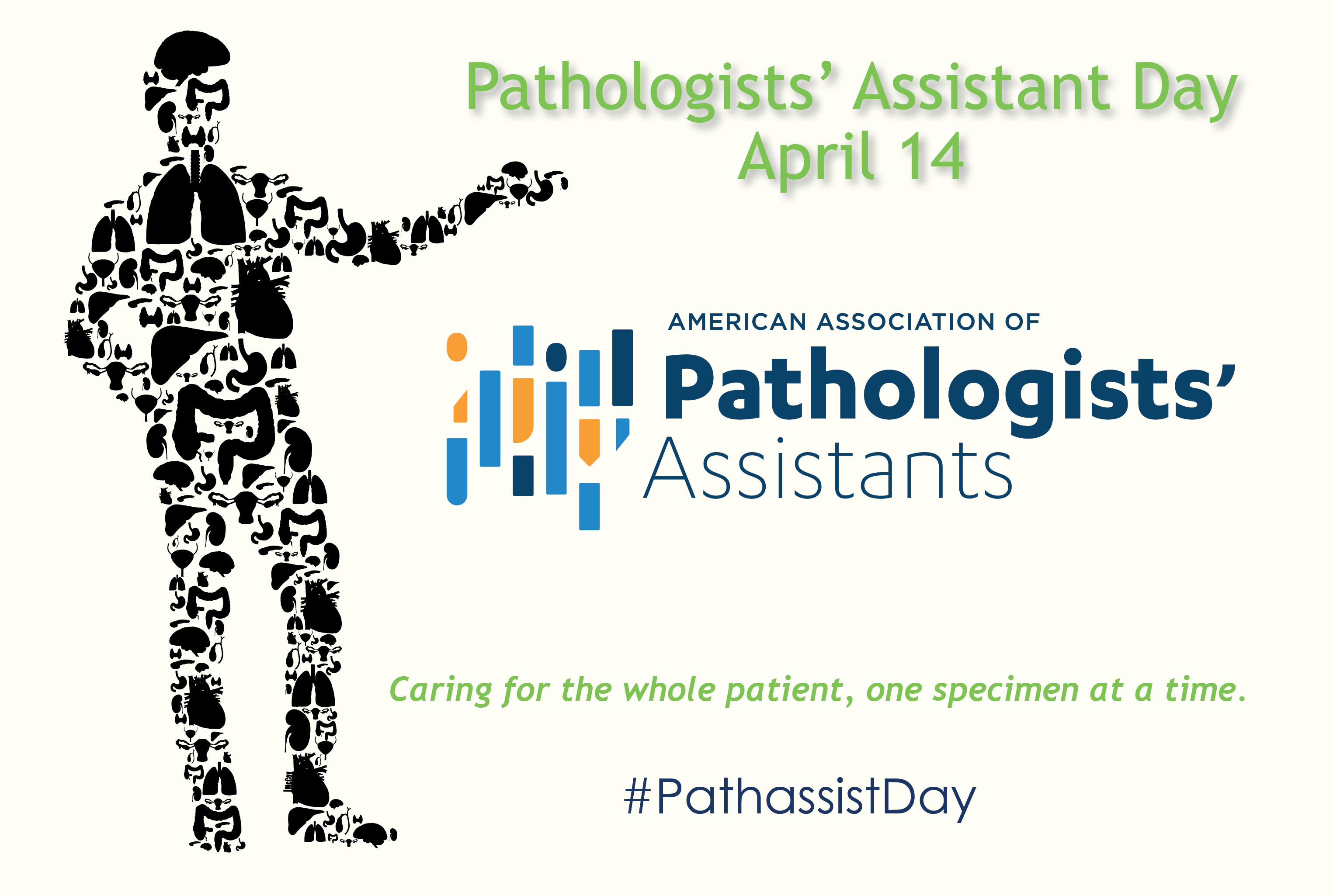 "I love impacting patient care through many direct and indirect interactions," says Michael Desimone, a pathologists' assistant at Northwell Health and the Yale School of Medicine. "Every time I dissect a specimen I recognize that I am the detective who will correlate the radiology, clinical history, and prior laboratory tests in order to properly treat and diagnose the patient. Every case represents a part of a person. It is my job to tell that story. I love being able to be a disease hunter, and feel a great satisfaction that I'm able to give someone I will never meet the best care possible."
That passion for solving mysteries and helping people is what unites PAs. Cory Nash, a PA with University of Chicago Medicine, likens the job to solving a puzzle. "Sometimes you're not given that much to go on, and it's up to you to put the pieces together to figure it out," Nash says.
Pathway to PA
The road to becoming a PA isn't always a clear one. In fact, plenty of people don't even realize that the job exists! Nash says it was "dumb luck" that he became a PA. He had just started a job as a surgical pathology technician, with his eye on an eventual transfer to clinical lab work. "I met the pathologists' assistants and saw what it was that they did. I had never heard of the profession before, but seeing how knowledgeable they were, and the command they had over the lab, I instantly fell in love with the profession," he explains.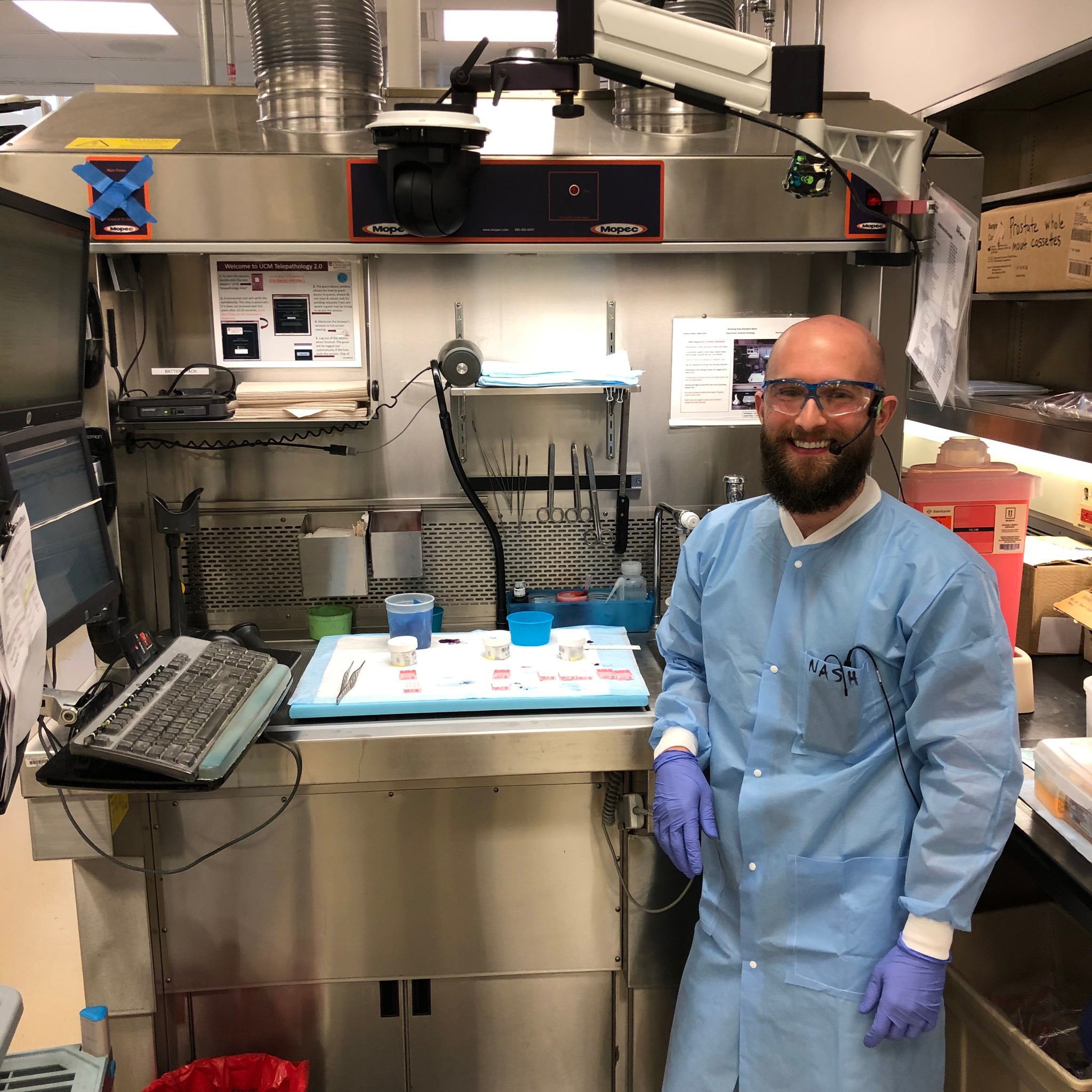 Image courtesy of Cory Nash.
Alexis Snyder, a PA with University of Chicago Medicine, knew she wanted to go into medicine after beating thyroid cancer as a teenager. "When I got to college, I chose Biomedical Laboratory Science as my major, and I subsequently had an intro to lab professions course that introduced me to what a pathologist was. Through google searching 'pathology' and 'pathologist', I accidentally came across the pathologists' assistant career."
"Never Boring"
"I love that I see interesting things everyday," says Dennis Strenk, a PA at Wisconsin Diagnostic Laboratories and host of the People of Pathology podcast. "The job is never boring. I love that I get to work alongside a great group of pathologists, pathologists' assistants, lab assistants, histotechs, and others. I know that the work that I do helps give the patient an accurate diagnosis, even though I will never meet them. I feel like I'm making a difference in that way."
Desimone agrees, noting that multitasking and wearing many hats in the laboratory is what keeps the work exciting. He's particularly passionate about teaching residents and PA students, and loves seeing that "ah-ha" moment when something a student once learned in a classroom or book is now a real-life entity and sitting before them on a gross bench. "That is a sight to behold," he says. "I take a particular pride in teaching someone important details that make a large difference for cancer staging, the difference in a few millimeters can mean the difference in chemotherapy for a patient."
PAs are flexible folks; used to coming in the lab and never knowing what to expect on any particular day. As Nash puts it, "It could be a super slow day where I'm just doing biopsies all day. It could be a frozen-heavy day where it's just non-stop the entire time I'm there. It could be a day full of crazy, complex surgical resections where you have to be able to think on your feet and figure out how to approach a specimen you have never seen before."
Challenges on the Job
Of course, just because they love the work doesn't mean it's easy. The job of a pathologists' assistant is demanding and requires ongoing expertise and training.
"I wish people knew how knowledgeable and skilled we are," says Strenk. "It takes a lot of training to do this job well. People know about lymph nodes for example, and they know that cancer can metastasize to them. But they probably don't know that someone has to physically find those lymph nodes. A pathologists' assistant does that. They may have heard about having negative margins in a cancer surgery. But they wouldn't know that someone has to assess those margins and measure that distance. That's what we do. Of course the pathologist makes the diagnosis. But they do that with the information that PAs provide."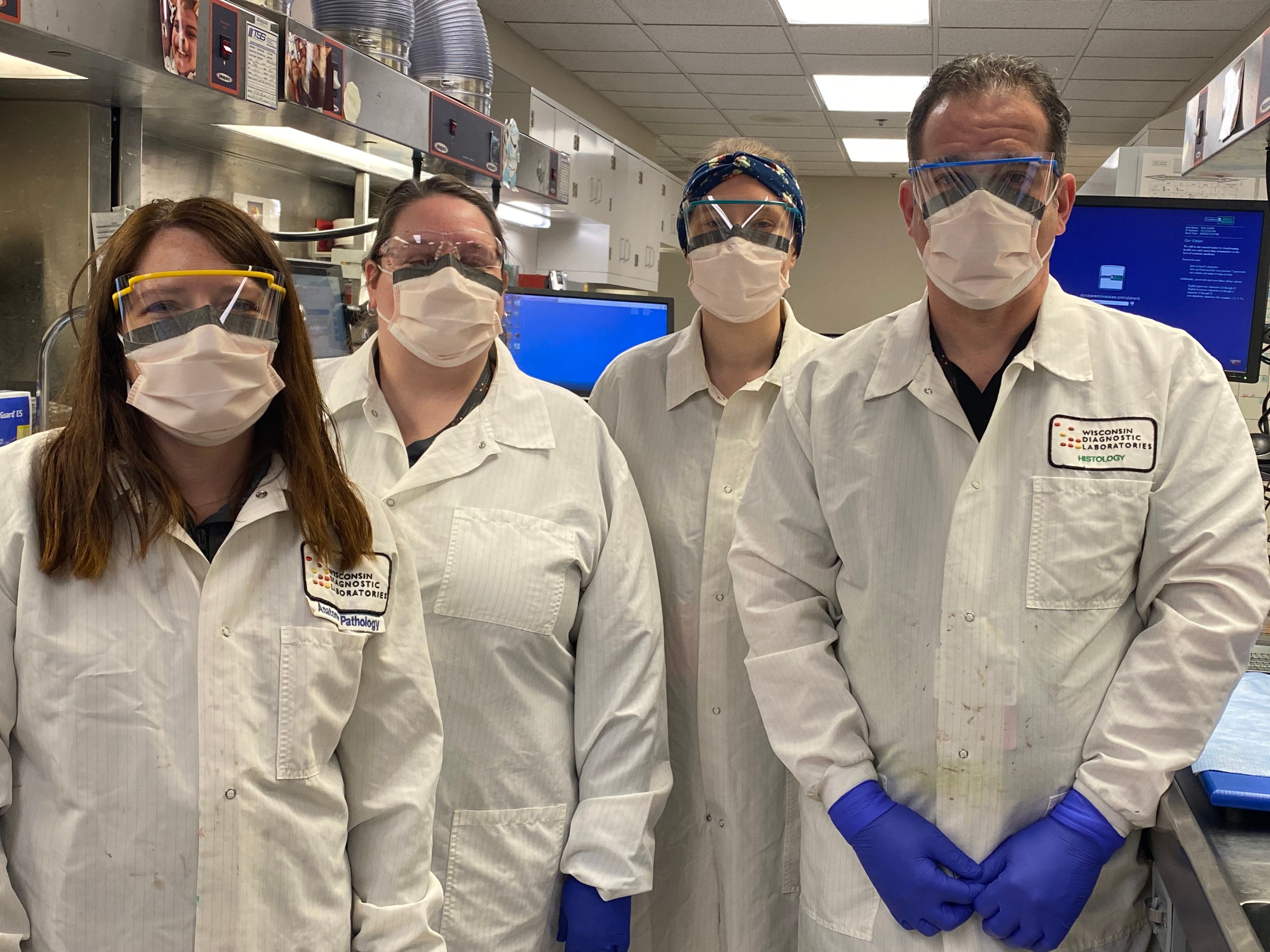 Dennis Strenk (far right) and his pathologists' assistant colleagues at Wisconsin Diagnostic Laboratories, from left: Heather Manternach, Becky Stankowski, and Nicole Schmidt. Image courtesy of Dennis Strenk.
The most challenging part of the job for Desimone as a relatively new graduate is time management. He's constantly managing multiple tasks at a time, from making sure that specimens are triaged and placed in formalin, to running to the operating room for a frozen section or renal biopsy adequacy, to collecting a specimen for biobanking research. All while responding to countless emails, supervising residents and students, and actually completing cases of his own.
Snyder points out that exposure and awareness for the career is a challenge as well. Labs are frequently understaffed thanks to not having enough people with the appropriate credentials or as a result of lacking the resources to fund additional positions. "The extra added pressure results in a lot of burnout within laboratory professionals," Snyder says. "Proving need in surgical and autopsy pathology is also a unique issue in that our line of work is very qualitative and can be difficult to quantify."
A Misunderstood Profession
"I wish the general population was more aware about pathology," Snyder says. "Most medical students are not required to do a rotation and it is very often falsely portrayed (or not even featured) on television programs or movies. I think if there was more awareness it could, in turn, result in more advocacy for the profession."
We all know that there are plenty of misconceptions about pathology and pathologists' assistants. Nash mentions that many people in medicine (whether they know what a pathologists' assistant is or not) have a tendency to downplay the profession. "They think that either we don't have much medical training and education, or that if we do, they think we took a simple route because becoming a pathologists' assistant is 'easy.' I can't tell you the amount of times that a resident has said, 'Oh, I didn't know you guys had your Master's degree,' or 'Oh, I didn't know you were board certified.'"
That's why a little appreciation goes a long way. Strenk agrees that as a profession, pathologists' assistants do feel somewhat under-recognized, especially compared to some other professionals in the lab. "When I see people from other departments and they are interested in what I might be working on, that feels like appreciation to me. But cake always works, too."
Besides cake, what else might make the pathologists' assistants in your lab feel appreciated? Acknowledging their expertise, for one thing, says Nash. "Incorporate pathologists' assistants into what you are doing. There's a paper you're wanting to write? Bring in a PA. There's a research project you want to get started? Bring in a PA! You need help writing a book chapter? Bring in a PA... recognize them for their input."
And don't forget the value of a simple word of thanks. "I think most PAs would appreciate [that]," Desimone says. "Whether it be for a clean-cut frozen section or catching an incidental tumor in an otherwise benign case. I think most PAs would be very grateful to hear that our colleagues are satisfied with our work."


Thanks to our contributors Cory Nash, Alexis Snyder, Michael Desimone, and Dennis Strenk for your insights on the PA profession. Follow them on Twitter for great advocacy and education information regarding the PA field.