2 min read
Why We Built That: VoiceOver PRO Template Center
Voicebrook Tuesday July 27, 2021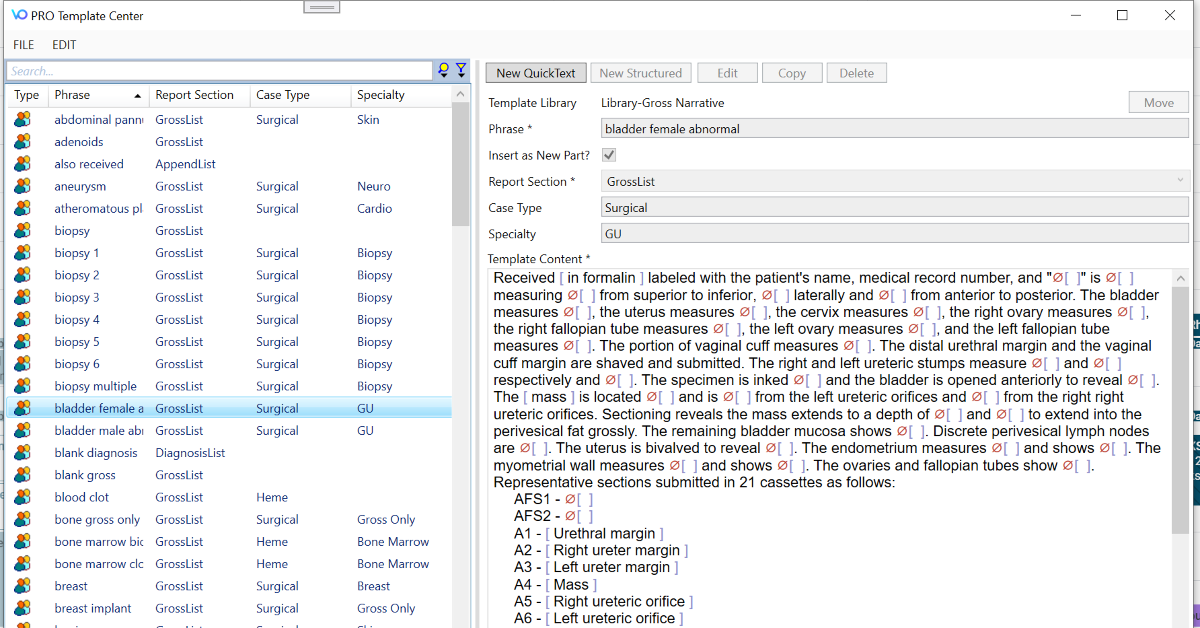 Templates are a game changer for pathology professionals, streamlining the reporting process and standardizing reports for consistency and accuracy. But when a lab has numerous users utilizing dozens upon dozens of templates, it can get a little complicated to sort through all the options. Plus, different users may have different preferences and needs, so one template doesn't necessarily fit for everyone.
That's why Voicebrook built an exciting new feature for VoiceOver PRO, our revolutionary pathology reporting solution. The PRO software now includes a user-facing structured Template Center that allows pathology professionals to build, manage, and edit their own templates for use in Report Builder.
Build Your Own Templates
Now VoiceOver PRO users can build certain templates on their own, if they so choose, rather than waiting for Voicebrook staff to build it for them. It's simple to build and edit a text-based template and save it to a personal library.
"It's all about being able to manage your own content," says Andrew Boutcher, Associate Product Manager. "You can build and manage your own templates. You can search, sort, and filter those templates, and you can insert them directly into Report Builder or into your AP system. It's easy because Report Builder takes care of any formatting for you. It's completely flexible."
The new Template Center supports both structured and unstructured content. Users can choose smart features like auto-advance and automatic pluralization, or opt for simple text in a notepad-like text editor to create new templates or edit existing templates. No matter what type of template a user selects, it's easy to add that template into PRO's Report Builder and quickly finish the case. With a simple voice command, the user can insert their chosen template into a report. Users can also manually insert templates from the Template Center. It all adds up to increased flexibility and productivity for the entire lab, letting each user customize their workflows to suit their unique needs.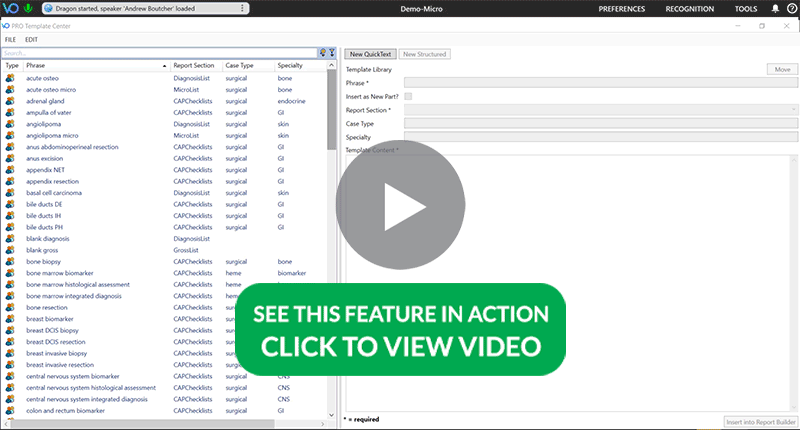 Preview Template Choices
Imagine looking at a huge list of templates, but you can only see the titles. In order to make sure you're using the right template, you'd have to click to open it and double check. If it's the wrong template, you would have to back out and look over the template list once again. That's a waste of time and big source of frustration.
In the new Template Center, the user has easy access to a complete list of all available templates, and can now preview any template before selecting it. The template list can be sorted into a personal library specific to that user, or in a shared library for all users in the lab. Templates may also be sorted by case type or specialty.
"Before, if someone wanted to insert a template into Report Builder, they'd have to know the exact name of the template or go through an entire list of the templates," says Boutcher. "Now, thanks to the Template Center, they can preview their content before they insert it."
Being able to preview before choosing the template ensures that the user can be certain they're picking the correct template instead of wasting time backing out of an incorrect choice. That saves users time and effort, not to mention making their jobs easier.
Training and Support
Users are never on their own when it comes to learning the ins and outs of VoiceOver PRO's variety of features. Our team of implementation specialists is there to train lab staff, teaching them how to navigate the Template Center and create their own templates. After a quick training session, users have the ability to access, modify, and delete the templates that they create.

"We are very proud of this update to VoiceOver PRO," said Melanie Shedd, Vice President of Product at Voicebrook. "This is something our team has been working to create for a while, and we are thrilled to offer it to our customers."
The new Template Center was released as part of the VoiceOver PRO Spring 2021 software update.