Heads up to our Voicebrook customers! We have a new product release this May to support the College of American Pathologists' recently revised Cancer Protocol templates.
In February 2020, the CAP released updates to their electronic Cancer Checklists (eCC) and the corresponding CAP Cancer Protocols. The changes include 87 updated eCC templates, 34 of which affect accreditation for both the CAP and the American College of Surgeons Commission on Cancer. More information is available on the CAP website. The accreditation updates are required to be in place by November 1, 2020.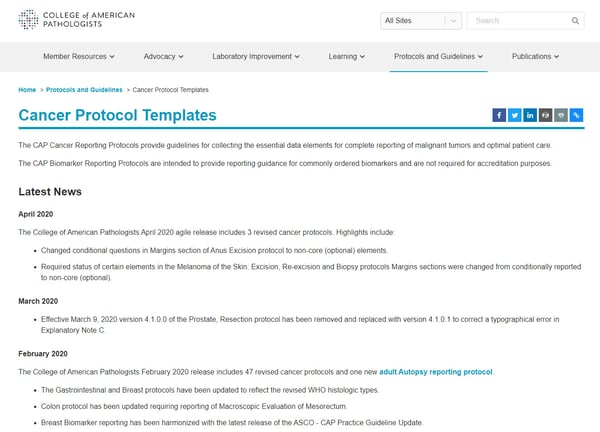 What to Know
In addition to the updates mentioned, there are other important notes about the recent update:
Many of the updates were to resolve issues based upon feedback received from users, author edits, and revisions to the eCC templates for improvement of data entry and report format. These updates were vetted by the CAP Pathology Electronic Reporting and Cancer Committees.
The Thyroid Biomarker template was revised to eliminate incorrect report text for the answer "No rearrangement detected" for ALK, NTRK1, NTRK3, and PPAR gamma Rearrangement questions.
The former versions of the Thyroid Biomarker template (1.000.000 and 1.000.002) should be BLACKLISTED and immediately pulled from clinical use. The corrected version of this template (1.001.001) is included in this release package.
There are no retired templates with the February 2020 release.
A new Prostate Needle Biopsy template is currently under development and is not yet available. Completion of the template draft, functional testing, and a public comment period/review by the CAP House of Delegates is expected to be completed by 2021.
Important Points About CAP Protocols and eCCs
There are differences between the cancer protocols posted on the CAP website and the electronic cancer checklists. Both are CAP-approved, but only the eCC is approved for electronic distribution. There is no correlation between differences in content and compliance.
CAP allows an 8-month grace period for accredited laboratories to adopt any new standards. Voicebrook recognizes the importance of immediate implementation; as soon as CAP releases the eCC data, it becomes our top priority. It is also important, however, that the updates to your reporting solution go smoothly and meet your reporting needs, so we perform an extensive quality analysis of the data prior to our release date.
As an authorized provider of CAP eCC content, Voicebrook takes away the hassle of updating checklists manually. We update your solution quickly and offer the flexibility to modify checklists to meet your individual site's reporting needs.
Next Steps
A Voicebrook representative will be in touch in the next few weeks to share additional information about this release and coordinate the next steps to receive the update. If you have any questions, contact us! We are happy to help.