When life gives you lemons, make some lemonade. When life gives you a pandemic, make a pathology podcast.
That was the goal of Dr. Kamran Mirza, Dr. Sara Jiang, Dr. Michael Arnold, and Dr. Christina Arnold. These four pathologists are the dream team behind PathPod, a new podcast focused on blending friendship, entertainment, and education in the field of pathology. When COVID-19 hit and typical life ground to a halt, they took advantage of the interruption to their work schedules to launch PathPod, recording episodes over Zoom meetings and embracing their virtual connections.
With interviews, education, game shows, and stories about pathologists' lives "beyond the scope," this is a podcast that has something for everyone, including students on the path to pathology. And the proof is in the audience's reception: in just over seven weeks, PathPod has created 17 episodes and had more than 10,000 downloads, even rising to #5 in the U.S. for life sciences podcasts.
Three of the show's hosts joined Voicebrook for an interview to talk about their newfound gig as podcasters. Read on to learn the story behind Pathpod, and be sure to subscribe on iTunes or Google Play to make sure you don't miss any upcoming episodes!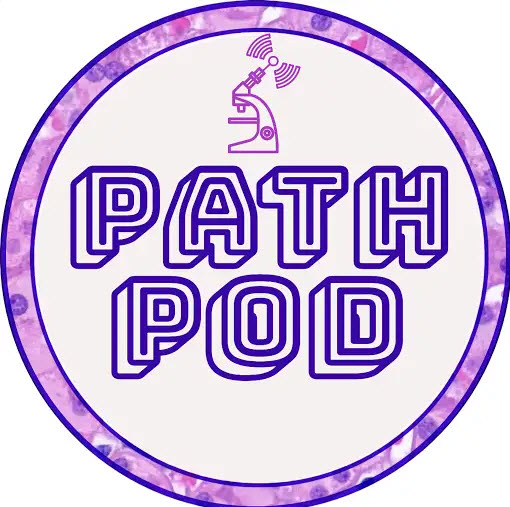 Voicebrook: How did the idea for this podcast come about?
Dr. Sara Jiang: It really kind of started with Kamran Mirza putting together a virtual pathology elective, and that conversation spurred me to say, hey, we should make a pathology quiz show podcast, because I'm a big fan of NPR's quiz shows. Then, this group came together and really made it our own thing. Christina has this amazing energy driving everything forward, and Mike, in terms of creating content and making it a reality so that we had an actual podcast instead of just the idea of one. The community has really jumped in to create their stories.
Dr. Christina Arnold: This idea of the podcast is definitely Sara Jiang's idea, and it's brilliant. How this all came about, well, it's really interesting. Dr. Kamran Mirza is a leader in education and pathology and social media. He noticed with the COVID-19 crisis that medical students weren't able to have their electives anymore due to limited access to hospitals. He came up with the idea for a virtual pathology elective, where students anywhere in the world could continue to explore pathology during the COVID crisis. At the first executive meeting, he asked if anyone had any ideas, and Sara said, "What about a podcast?"
Voicebrook: How has launching PathPod during COVID-19 impacted the podcast?
Dr. Christina Arnold: It really helps us feel connected in this time when everyone is isolated and distancing, and the world has changed. This is one way that we've all been able to be connected, and it's been very powerful. I think it may not have taken off, pre-COVID, when everyone was really busy. I think people would have been interested but not at this level. I think you're seeing things grow at a very high rate that wouldn't have had that chance to see sunlight before. It's really special that out of darkness comes something so beautiful.
Dr. Michael Arnold: Starting the podcast during the pandemic has given us a lot of flexibility, because a lot of us are working from home or working unusual shifts or not going in every day unless we're on service. That's given us flexibility with our guests. It's been a catalyst for us to get this to happen.
Dr. Sara Jiang: I feel like even though the clinical work was lower, the new academic projects (like PathPod, path electives, virtual pathology grand rounds, the virtual pathology lecture series) mean there's been so much going on virtually. Even though I may not have been pushing as much glass as I usually do, I've been doing so much more in terms of these novel fields of education, thinking of ways to engage and network and teach our residents. It feels like I am busier than I was before, and it's busyness that I love and welcome.
Voicebrook: How difficult is it for you to take a recorded Zoom meeting and turn it into a professional-sounding podcast? Are there lots of technical challenges?
Dr. Michael Arnold: There is definitely a learning curve to this. Capturing the audio is not the hardest part. I knew nothing about doing podcasts before this, so I got some software to take the audio file from Zoom, and put it together. What took us a lot of work initially was that not everyone had a good microphone so there were different volumes and edits that needed to be made. I volunteered to do this. I thought this would be an interesting time to try this and see if we could bring Sara's idea to life, because this is really cool.
Dr. Sara Jiang: When Mike says, "We figured this out, and we did this" I just want to make it very clear that he did this. The things he has done have made the podcast sound polished and professional, and like a real podcast, and I don't want that amount of effort to be lost, because he's being very humble.
Voicebrook: How have your colleagues and employers reacted to the podcast?
Dr. Sara Jiang: So, I'm at Duke, and I think Duke has been very forward-thinking when it comes to using social media to engage the public and educate. I know they follow me on Twitter, they know what I'm doing... I've been really fortunate from an institutional perspective; they've supported me. Of course, I always do this with a mind of thinking, "What would this look like as a New York Times headline?" So it's fun but it's still professional and respects confidentiality and privacy, and portrays us and the institution in a positive light. I have not heard anything from my institution yet about the podcast, but I have heard feedback from my colleagues and friends that they've been listening to the podcast while running or folding laundry and they've really enjoyed it, which is to me the best compliment, to hear people using it and enjoying it.
Dr. Christina Arnold: Mike and I are very new here. People don't quite know me yet. We came here right when the COVID crisis started, so they don't really know me, and I'm a little nervous about them getting to know me from a podcast! (laughs) I don't know if anyone I work with has heard this, and so, if they find out they'll really know me very well. I am really proud of what we've put together but I have definitely not advertised this in my work space. On the social media side, people have really been responding to this.
Voicebrook: Where do you think this podcast is going? What's the future for PathPod?
Dr. Christina Arnold: We're trying to build other leaders. The purpose of this is to build a pathology community and help trainees experience pathology and highlight our field. I think if we keep doing good quality work like this, the sky is the limit.
Dr. Michael Arnold: We made a good effort early on to crowd source some of the content, and now that we have more people involved, we know people who are excited to do this. We have some regular [contributors]. For example, Dr. Meredith Pittman is doing the news reporting and giving us something every week, which is fantastic. Having people like her and other people contributing, you'll have a critical mass of people to continue to put out a few episodes per week for quite a while.
Dr. Christina Arnold: I want to have people contribute from all parts of the world and join us. That's not how medicine works, with everyone getting to talk. Medicine is typically very hierarchical, so this podcast is really busting through that theme. I'll feel successful if everyone feels like they have a voice.

Want to take a peek behind the podcast curtain and see Pathpod's hosts chatting with Voicebrook's content coordinator, Kelly Fodel?
Check out this video as they explain why a visually-based field like pathology is actually well-suited to an audio-only podcast... and what sound effect on the show drives them crazy.
Many thanks to Dr. Sara Jiang, Dr. Michael Arnold, and Dr. Christina Arnold for taking the time for this interview with Voicebrook. We love the work you (and Dr. Mirza) do, and the community you're building!