CAP: Stop E/M Cuts
The College of American Pathologists launched a campaign of advocacy demanding that Congress delay, mitigate, or cancel the -8 percent Medicare cut for pathology services that will take effect in January 2021. Congress can stop this cut by waiving budget neutrality for Medicare changes to evaluation and management (E/M) services.
In November of 2019, the Centers for Medicare and Medicaid Services (CMS) decided to reduce payments to all non-E/M services effective in January of 2021. The CMS decided that physicians, such as primary care doctors, should be paid more to reflect the work they do and the value they provide to patient care. To accomplish this, the CMS will shift funds from specialists, like pathologists, who do not bill E/M codes to comply with budget neutrality.
CAP believes that without significant engagement by CAP members with their respective members of Congress, getting this issue addressed before the end of the year is going to be a major challenge. Members of Congress need to hear directly from their physician constituents about the severe impact this -8 percent cut will have on the vital role pathologists have in health care. The recent pandemic has highlighted the important role of pathology.
The CAP is asking its members to use this form to submit the advocacy activities. Amplify pathology's voice and help educate Congress to stop these cuts before January 2021 by using the E/M Advocacy Toolkit.
Be sure to follow the CAP Advocacy Twitter account to get breaking legislative and regulatory news.

PathElective Going Live on July 1
With the start of the academic year, the world will have access to free virtual pathology elective modules curated from the best of the internet by over 50 amazing faculty.
PathElective.com officially goes live on July 1st. Website developers and faculty have been working to get the content ready for those looking for a path elective despite COVID-19 restrictions.
The goal for this free and modular pathology elective is to make high-quality content and education available world-wide, no matter where you're located. PathElective was founded by Dr. Kamran Mirza and Dr. Cullen Lilley.
My @BioRender gallery keeps getting bigger and bigger as our #microbiology and #MolecularMicrobiology courses start to come together for @PathElective. I hope you'll come learn with us on July 1st! You'll also love the enteric micro lectures by @IzzieVu pic.twitter.com/B6dNktARwB

— Cullen Lilley, MS, MDxT(AAB) (@cullen_lilley) June 29, 2020

2021 Medicare Payment for Pathologists Webinar
Soon the CMS will issue its proposed updates to the 2021 Medicare Physician Fee Schedule and the Quality Payment Program regulations, including the Merit-based Incentive Payment System (MIPS). On July 16 at 1 p.m. ET/ 12 p.m. CT, the College of American Pathologists will offer a complimentary live webinar where CAP experts will review regulatory changes that will impact payment for services and pathologists' participation in MIPS.
Webinar presenters will be the Chair of the Council on Government and Professional Affairs Jonathan Myles, MD, FCAP; Chair of the Economic Affairs Committee W. Stephen Black-Schaffer MD, FCAP and Vice Chair, Economic Affairs Committee Diana Cardona, MD, FCAP.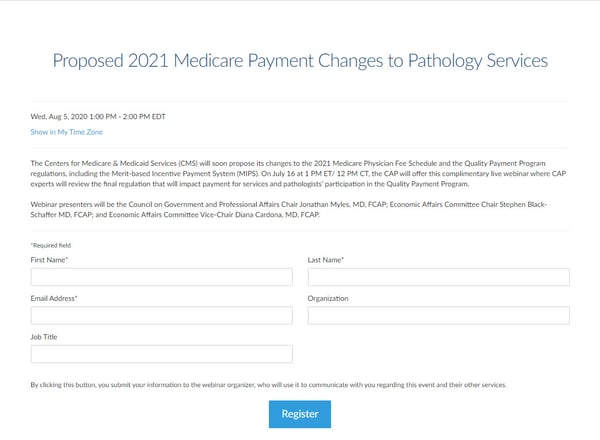 During the 60-minute webinar, attendees will learn about updates to the 2021 Medicare Physician Fee Schedule and the Quality Payment Program regulations and its impact on pathologists. The CAP panel will also answer questions from attendees.
Register here to attend the webinar.

Voicebrook's Pathology News Roundup features industry headlines and insights that pathology professionals are talking about. Think we should be covering something in particular?
Send your suggestions to content@voicebrook.com
---