CAP to Congress: Stop Medicare Payment Cuts
The College of American Pathologists (CAP) is again speaking out against Medicare payment cuts following the release of the final 2021 Medicare Physician Fee Schedule on December 1.
"The CAP strongly objects to the 9% Medicare cuts to pathologists, which the Centers for Medicare & Medicaid Services (CMS) published in the final 2021 Physician Fee Schedule and urges Congress to act quickly to stop these cuts prior to their scheduled January 1 implementation," said CAP President Patrick Godbey, MD, FCAP. "Due to the ongoing public health emergency related to the COVID-19 pandemic, it is especially important Congress take steps to alleviate the CMS's looming 2021 payment reductions to all non-evaluation and management (E/M) services."
A bipartisan House bill, The Holding Providers Harmless from Medicare Cuts During COVID-19 Act of 2020, has 50 sponsors and counting as a bipartisan group of lawmakers from across the country support stopping these cuts from taking effect. The CAP is urging Congress to pass this legislation before adjourning for the year.
The rule must be changed by Jan. 1, 2021, or the proposed cuts will take effect. The CAP has spent months advocating to convince Congress to waive the budget neutrality requirement and prevent much of the cut.
In his editorial in the December 2020 issue of CAP Today, Dr. Godbey spoke plainly: "This is an access-to-care issue. A number of hospitals are already in trouble because of financial strains from COVID-19. Many of these hospitals serve economically disadvantaged patients, rural areas, and minorities. If specialists can no longer afford to staff these hospitals, then the services they provide, and on which these hospitals depend financially, will not take place. They will be forced to close. These closures will disproportionately affect the most vulnerable of our patients. This decision will come down to the wire, and I hope every day that sanity will prevail."

COVID-19 Vaccine Rollout
This is definitely cause for celebration: millions of healthcare workers are beginning to receive the first COVID-19 vaccines!
After enduring an exceedingly difficult year, healthcare systems have been thrilled to share the good news of the vaccine rollout.
The first two #healthcare workers from our department of #pathology at @StonyBrookMed got their #CovidVaccine today! 🙏 @pfizer @Pathologists @CDCgov #coronavirus #COVID19 #VaccinesSaveLives pic.twitter.com/OrMslKuHVq

— Stony Brook Pathology (@SBMPathology) December 15, 2020
"We're here to witness the receipt of the first shipment of the first vaccine to prevent COVID-19… This is actually the beginning of the end of the COVID-19 pandemic." - @DrMarkSchlissel#COVID19Vaccine pic.twitter.com/JnlQeVGowP

— Michigan Medicine (@umichmedicine) December 14, 2020
Vaccinating frontline healthcare workers is bringing hope that this is the beginning of the end for the COVID-19 pandemic.
Some of our favorite #pathtwitter folks have hit the big-time! Dr. Kamran Mirza and Dr. Sanam Loghavi worked for months preparing a "hematology/hematopathology takeover" issue of The Pathologist magazine.
In the December 2020 issue, they cover the history of hematopathology and how the field has grown rapidly in the past fifty years, as well as presenting cases to guide readers in understanding hematopoietic disorders.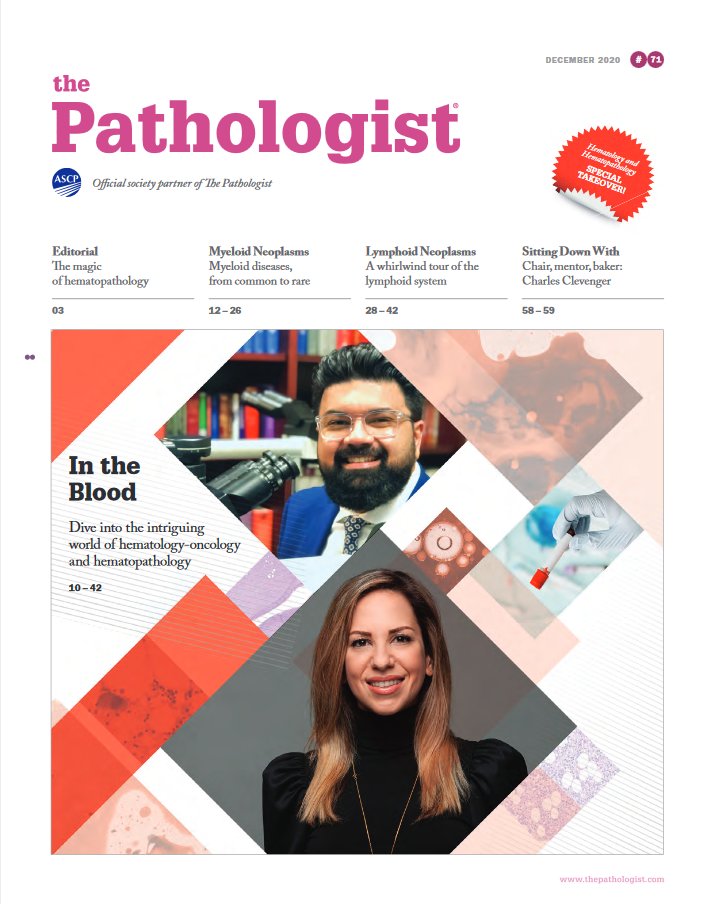 Dr. Loghavi is an Assistant Professor of Hematopathology at The University of Texas MD Anderson Cancer Center. Dr. Mirza is an Associate Professor and Vice Chair of Education in the Department of Pathology and Laboratory Medicine at Loyola University Chicago Stritch School of Medicine.

Voicebrook's Pathology News Roundup features industry headlines and insights that pathology professionals are talking about. Think we should be covering something in particular?
Send your suggestions to content@voicebrook.com
---