ASCP 2020 Virtual
The American Society for Clinical Pathology unites more than 100,000 anatomic and clinical pathologists, medical laboratory professionals, residents and students to accelerate the advancement of laboratory medicine. This week, the organization's ASCP 2020 Annual Meeting kicks off as an entirely virtual experience.
ASCP's all-new virtual meeting runs from September 9-12.
ASCP has created a conference to keep virtual attendees engaged, connected, and informed. The event features a wide range of case-based sessions, utilizing high-definition whole slide imaging. The four-day Laboratory Professionals Track has nine sessions developed and taught by lab professionals. There will be multiple sessions focused on COVID-19, including an interactive panel discussion on the state of the laboratory today. The Resident Review Series will include six hours of intensive Board prep for residents.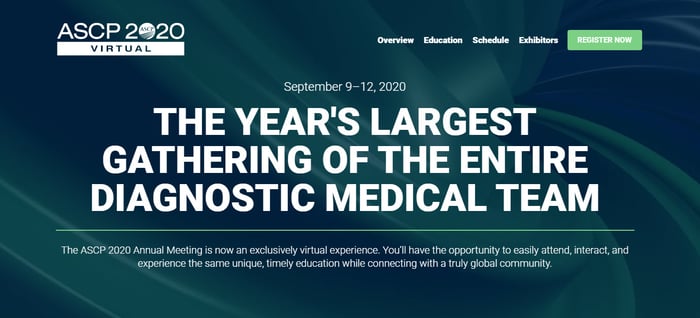 Attendees can look forward to more than 30 roundtable sessions focused on live small group discussion and problem-solving, based on a wide range of high-interest topic areas. An important part of these events is collaborating and connecting with peers, and ASCP 2020 Virtual will have multiple events and venues for attendees to connect in virtual one-on-one and group settings. There is also a 2020 Fellowship Fair featuring pathology fellowship programs from across the country.
Rita Wilson and Chris Cuomo, both survivors of COVID-19 who very publicly endured the disease, will kick off ASCP 2020 Virtual with a live discussion on the critical role laboratory testing has played for patients in the diagnosis and treatment of COVID-19.

CAP Concerned About CDC COVID-19 Testing Guidelines
The College of American Pathologists has asked the Centers for Disease Control and Prevention (CDC) and the Department of Health and Human Services (HHS) to provide the scientific rationale for changes the administration made to federal COVID-19 testing guidance in late August. In a statement issued on August 27, the CAP said now is not the time to recommend halting COVID-19 tests for asymptomatic patients.
On August 24, the CDC revised its guidance to "focus on testing considerations" and removed previous statements recommending testing for asymptomatic individuals who have close contact to COVID-19 patients.
Contacts of those infected with the virus should continue to be tested because of the threat of asymptomatic or pre-symptomatic transmission, the CAP said. Similar statements were also issued by the American Medical Association and the Infectious Diseases Society of America. Democratic and Republican members of Congress have further denounced the revisions.
On August 27, CDC officials seemed to backtrack on their earlier statement, feeling pressure from the medical and scientific community. For instance, CDC Director Robert Redfield, MD, said in a statement that "all close contacts of confirmed or probable COVID-19 patients" should consider getting tested.

UPMC: Artificial Intelligence Detects Prostate Cancer with 'Near Perfect Accuracy'
A study published in
The Lancet Digital Health
by UPMC and University of Pittsburgh researchers demonstrates the highest accuracy to date in recognizing and characterizing prostate cancer using an artificial intelligence (AI) program.
"Humans are good at recognizing anomalies, but they have their own biases or past experience," said senior author
Rajiv Dhir, M.D., M.B.A.
, chief pathologist and vice chair of pathology at UPMC Shadyside and professor of biomedical informatics at Pitt. "Machines are detached from the whole story. There's definitely an element of standardizing care."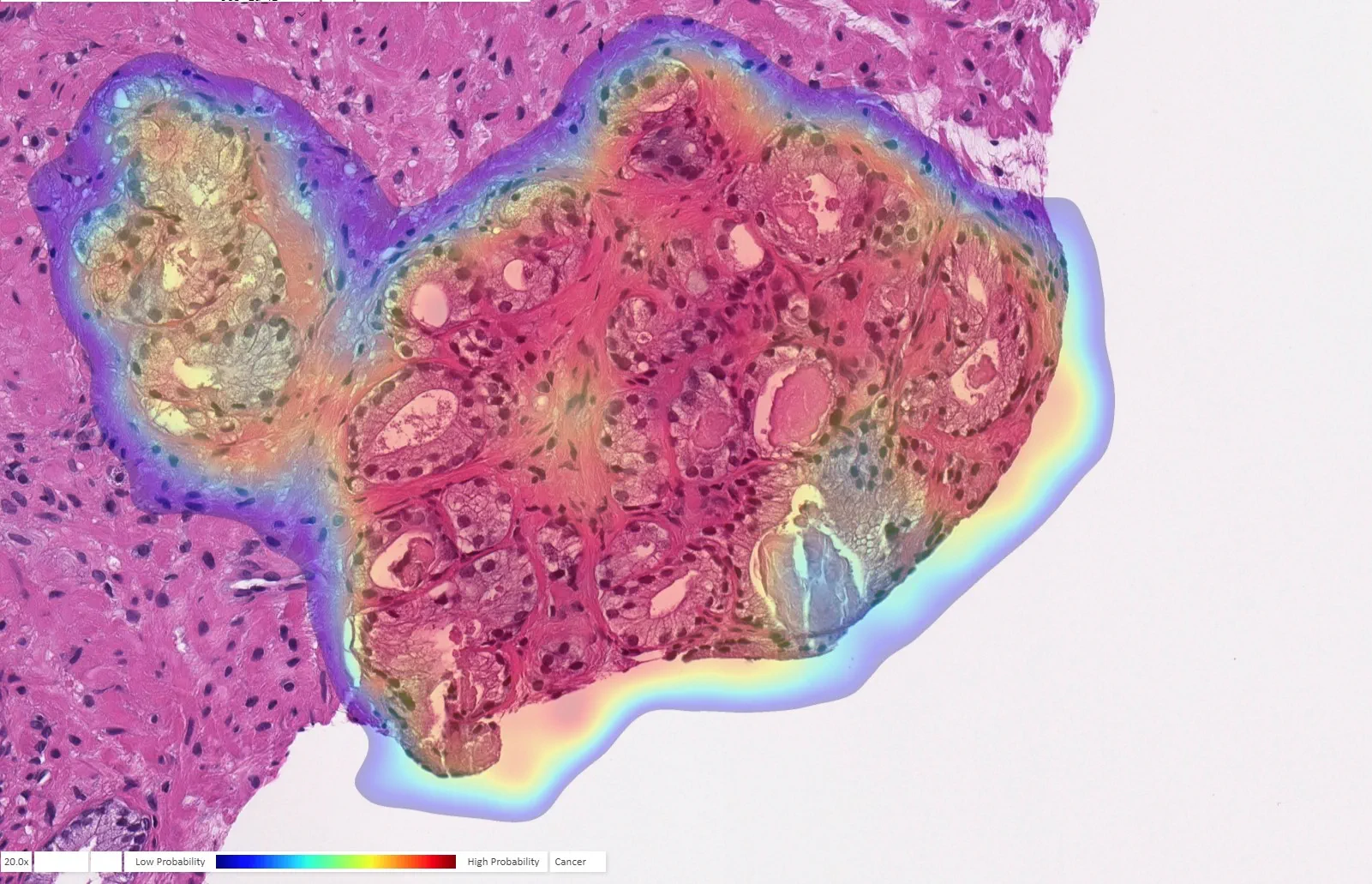 AI Detects Cancer in Prostate Biopsy: Prostate biopsy with cancer probability (blue is low, red is high). This case was originally diagnosed as benign but changed to cancer upon further review. Image courtesy of

Ibex Medical Analytics.
To train the AI to recognize prostate cancer, Dhir and his colleagues provided images from more than a million parts of stained tissue slides taken from patient biopsies. Each image was labeled by expert pathologists to teach the AI how to discriminate between healthy and abnormal tissue. The algorithm,
which was created by Ibex Medical Analytics,
was then tested on a separate set of 1,600 slides taken from 100 consecutive patients seen at UPMC for suspected prostate cancer.
During testing, the AI demonstrated 98 percent sensitivity and 97 percent specificity at detecting prostate cancer — significantly higher than previously reported for algorithms working from tissue slides.

Voicebrook's Pathology News Roundup features industry headlines and insights that pathology professionals are talking about. Think we should be covering something in particular?
Send your suggestions to content@voicebrook.com
---