CAP Advocacy Efforts
The College of American Pathologists is rallying support amongst congressional lawmakers for pathologists' top priorities to combat the COVID-19 pandemic and to stop Medicare payment cuts to pathologists next year.
On August 5, CAP members received emails requesting they take action by urging Congress to pass several health care provisions that address COVID-19 test supply shortages and offer funding to pathologists for lost revenue due to the national health emergency.
CAP members can still take action by logging in to the CAP action center. From there, you can easily send an email to your representative and senators that calls on them to support diagnostic testing in the next COVID-19 legislative package.
Earlier this month, CAP President Patrick Godbey, MD, FCAP sent a letter to leaders in the House of Representatives and Senate with recommendations that Congress should enact to support pathology practices and laboratories.
CAP members also have engaged with their members of Congress to discuss the impacts of future Medicare payment cuts to pathologists and other physicians in 2021. The CAP is leading a major summer advocacy campaign to urge Congress to stop these cuts, asking physicians to speak out about the severe impact this -8 percent cut will have on the vital role pathologists have in health care.

The Pathologist's 2020 Power List
The Pathologist magazine has announced its fifth annual Power List, highlighting influential figures, thought leaders, and opinion shapers in pathology and laboratory medicine.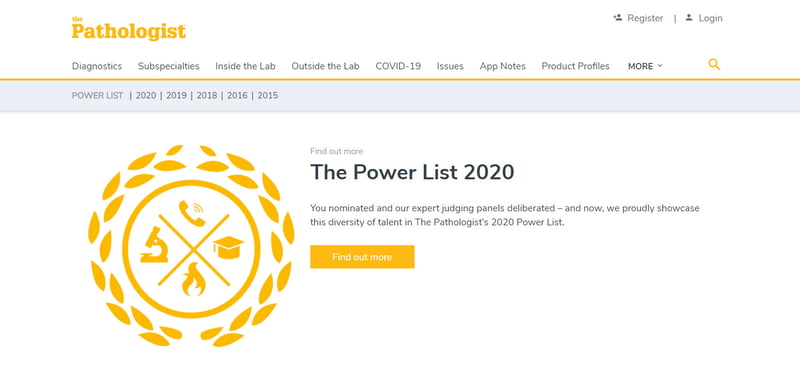 Winners were named in four categories:
"A Solid Foundation" celebrates the educators, mentors, and selfless individuals who go above and beyond to support others.
"Lab Heroes" is for influential and highly respected professionals in the laboratory.
"Big Breakthroughs" highlights trailblazers working at the cutting edge and driving forward the future of the field.
"The Social Network" features social media users who have harnessed online platforms for education, outreach, and community-building.
Earlier this year, the magazine invited the pathology community to nominate those they believed were deserving of an award. 20 individuals in each category were selected by the judging panel.


Herbek Humanitarian Award Winner
Dr. Gregory Dickinson, MD has been named the 2020 winner of the CAP Foundation's Gene and Jean Herbek Humanitarian Award.
Introduced in 2011, the award is named in honor of the late Gene N. Herbek, MD, FCAP, a past president of the CAP who brought the first See, Test & Treat program to Native American women in South Dakota, as well as for his wife, Jean, who shares his commitment. The award honors an individual (pathologist or non-pathologist) who has made innovative and unique contributions to advance the See, Test & Treat program.

"See, Test, and Treat is a great way to help women understand the screening process and role pathologists play in helping clinicians render an accurate diagnosis," says Dr. Dickinson.
The See, Test & Treat program provides free cervical and breast cancer screening to medically underserved women across the United States. CAP member pathologists, together with a team of health care professionals, volunteer their time and expertise to deliver screenings and same-day (or prompt) results, as well as follow-up care or treatment recommendations, all at no cost to the women served. The team also strives to educate women about the pathologist's role on their health care team, the importance of routine preventive screening, and how healthy lifestyle choices can reduce cancer risk.

Voicebrook's Pathology News Roundup features industry headlines and insights that pathology professionals are talking about. Think we should be covering something in particular?
Send your suggestions to content@voicebrook.com
---