CAP Convinces HHS to Change COVID Reporting Rules
The Department of Health and Human Services (HHS) responded to the College of American Pathologists' advocacy by giving laboratories additional relief and more flexibility to meet new COVID-19 data reporting requirements during the current pandemic. Top agency officials stated during a presentation on September 9 that the government would only penalize laboratories for failing to report positive or negative test results, and laboratories would further receive a three-week grace period to meet new rules.
Prior to the CAP's engagement on this issue, laboratories had faced burdensome data requirements—some of which were impossible for laboratories to meet—and stiff penalties for failure to comply to the new rules. The CAP had called the original reporting rules unworkable and strongly opposed penalties the HHS sought to impose on those that do not meet the COVID-19 data reporting requirements.
The HHS responded to the CAP's requests for clarification and stated that its policy "provides extensive guidance regarding other information, such as data transmission and reporting language via Logical Observation Identifiers Names and Codes and Systemized Nomenclature of Medicine that, at this time, is not regulatory." Laboratories are still strongly encouraged to implement those elements. However, the HHS will only enforce whether laboratories are reporting COVID-19 positive or negative results to their respective public health departments.
The beginning of the three-week grace period is retroactive to September 2. The CAP remains engaged with HHS on implementation of the reporting requirements.
You can read an FAQ document developed by the CAP to answer additional questions about what's required for laboratories.

Leveraging Tech for Remote Pathology Learning
A new paper published in the September issue of the Archives of Pathology and Laboratory medicine focuses on the ways educators have adapted during COVID-19.
Authored by Dr. Sanjay Mukhopadhyay, et. al, the paper explores how technology has alleviated challenges such as disruptions to pathology education and practice caused by the pandemic.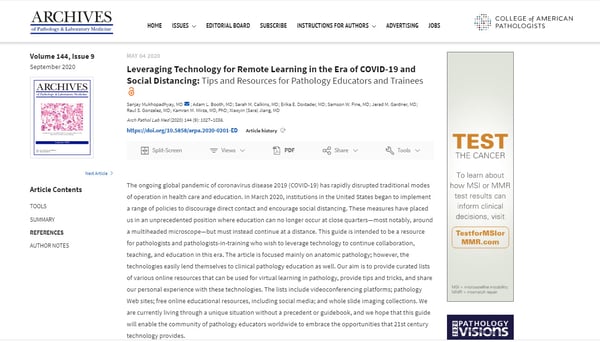 "The pathology community is doing its part to contribute to the greater social good by enforcing social distancing guidelines, while harnessing the power of available technology to continue education," the paper says. "There are a wide range of platforms and technologies available to educators, learners, and colleagues worldwide; the power of technology and online tools will keep us learning and collaborating successfully in these challenging times."
The paper is intended to be a resource for pathologists and pathologists-in-training who wish to leverage technology to continue collaboration, teaching, and education in this era. The article is focused mainly on anatomic pathology; however, the technologies easily lend themselves to clinical pathology education as well. It provides curated lists of various online resources that can be used for virtual learning in pathology, tips and tricks, and includes personal experiences with these technologies. The lists include videoconferencing platforms; pathology websites; free online educational resources, including social media; and whole slide imaging collections.
"We are currently living through a unique situation without a precedent or guidebook, and we hope that this guide will enable the community of pathology educators worldwide to embrace the opportunities that 21st century technology provides," the authors state.

2020 CAP Outstanding Service Award
Walter H. Henricks, MD, FCAP, has been presented with the 2020 CAP Outstanding Service Award, recognizing his outstanding efforts to lead, develop, and support the CAP's informatics program.
According to CAP, "D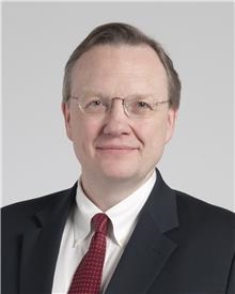 r. Henricks' involvement with informatics at the CAP began in the early 2000s, and he has been one of the most engaged and substantive participants within the program. He has been a member of the Informatics Committee for years and has provided leadership through his current role as its chair. For almost a decade of this time, Dr. Henricks also volunteered as liaison to the Association for Pathology Informatics, ensuring the CAP had a voice within this subspecialty while also continuing our longstanding relationship with the organization."
Under his leadership, the CAP Virtual Informatics College—a series of online courses teaching general informatics concepts—was launched, and most of these courses are still offered today. Further, he co-led a collaborative effort with the Association of Pathology Chairs and the Association for Pathology Informatics to develop and launch an informatics curriculum called Pathology Informatics Essentials for Residents (PIER). Also under Dr. Henricks' leadership, the CAP has hosted several well-attended webinars on timely informatics topics, and he makes sure the Informatics Committee submits proposals for the CAP's annual meeting to ensure members have access to informatics education as part of the program.
Dr. Henricks is the vice chair of the Pathology and Laboratory Medicine Institute and the laboratory director for the main campus laboratories of the Cleveland Clinic in Ohio.

Voicebrook's Pathology News Roundup features industry headlines and insights that pathology professionals are talking about. Think we should be covering something in particular?
Send your suggestions to content@voicebrook.com
---