House Passes Bill to Stop Medicare Budget Cuts
The House passed legislation to prevent a 2 percent cut from hitting physician Medicare payments beginning April 1. The College of American Pathologists (CAP) supported the bipartisan bill that passed with a 246-175 vote on March 19. The bill, HR 1868, will now go to the Senate for consideration. The CAP is urging senators to approve the bill.
In a
March 15 letter
, the CAP strongly supported bipartisan congressional action to stop the Medicare budget sequester cuts and provide critical relief for pathologists who have been on the front lines to fight the pandemic. Similar legislative measures have also been enacted during this health crisis. The bill passed by the House would extend a moratorium on the 2 percent Medicare sequestration cuts through the end of the year. It also fixes an issue with the recently passed American Rescue Plan Act of 2022 that is needed to prevent an additional sequester cut that would be triggered in early 2022.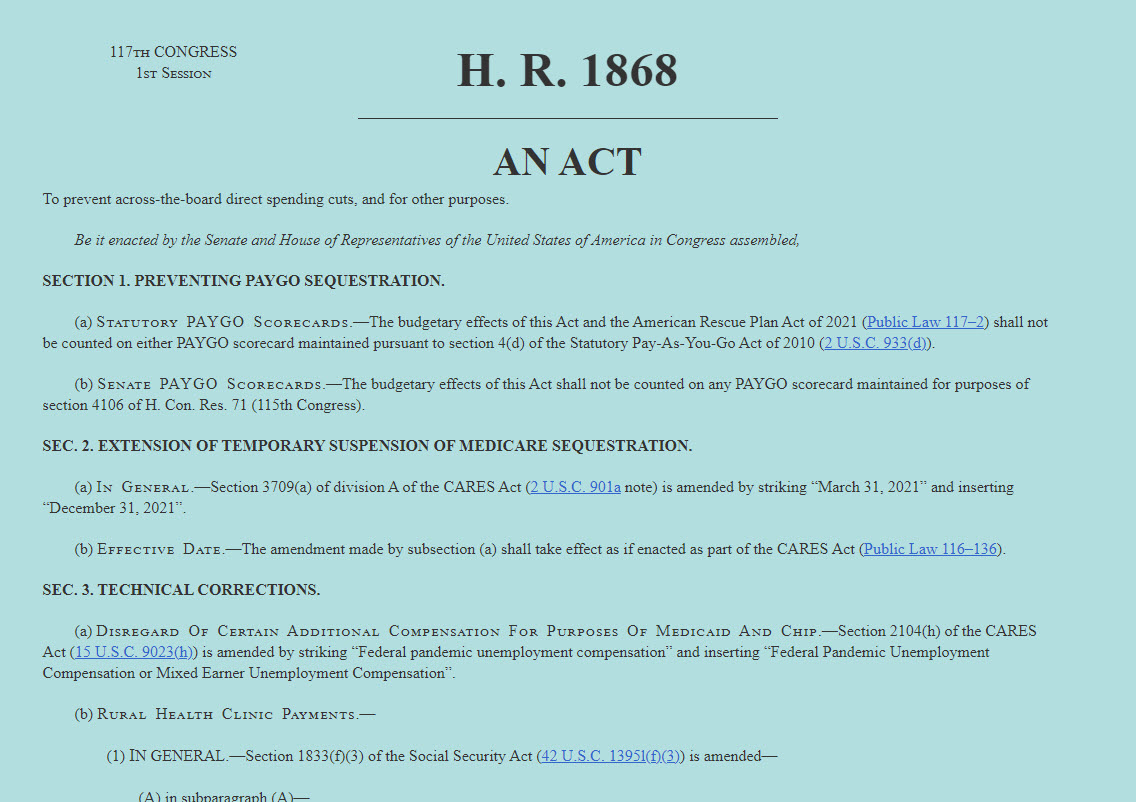 The CAP is urging pathologists to write their elected officials and tell them to support the legislation. Using the
CAP's action center
, it is easy for pathologists to contact members of Congress on this issue.
The AMA, the CAP, and 127 medical and state organizations have also lobbied Congress to relieve the financial burdens of the COVID-19 pandemic on physicians during the current national emergency. In a February 12 letter to congressional leaders in the House and the Senate, the CAP joined the groups to support legislation that would suspend a 2 percent across-the-board cut.

New ABPath Board Member
The Trustees of the American Board of Pathology (ABPath) have announced the election of Dr. Matthew Wasco to serve on the Board of Trustees with a term beginning on March 19, 2021. He will serve as Co-Chairperson on ABPath's Test Development & Advisory Committee for Dermatopathology. Dr. Wasco is certified by the American Board of Pathology in Anatomic and Clinical Pathology and is participating in the Continuing Certification Program.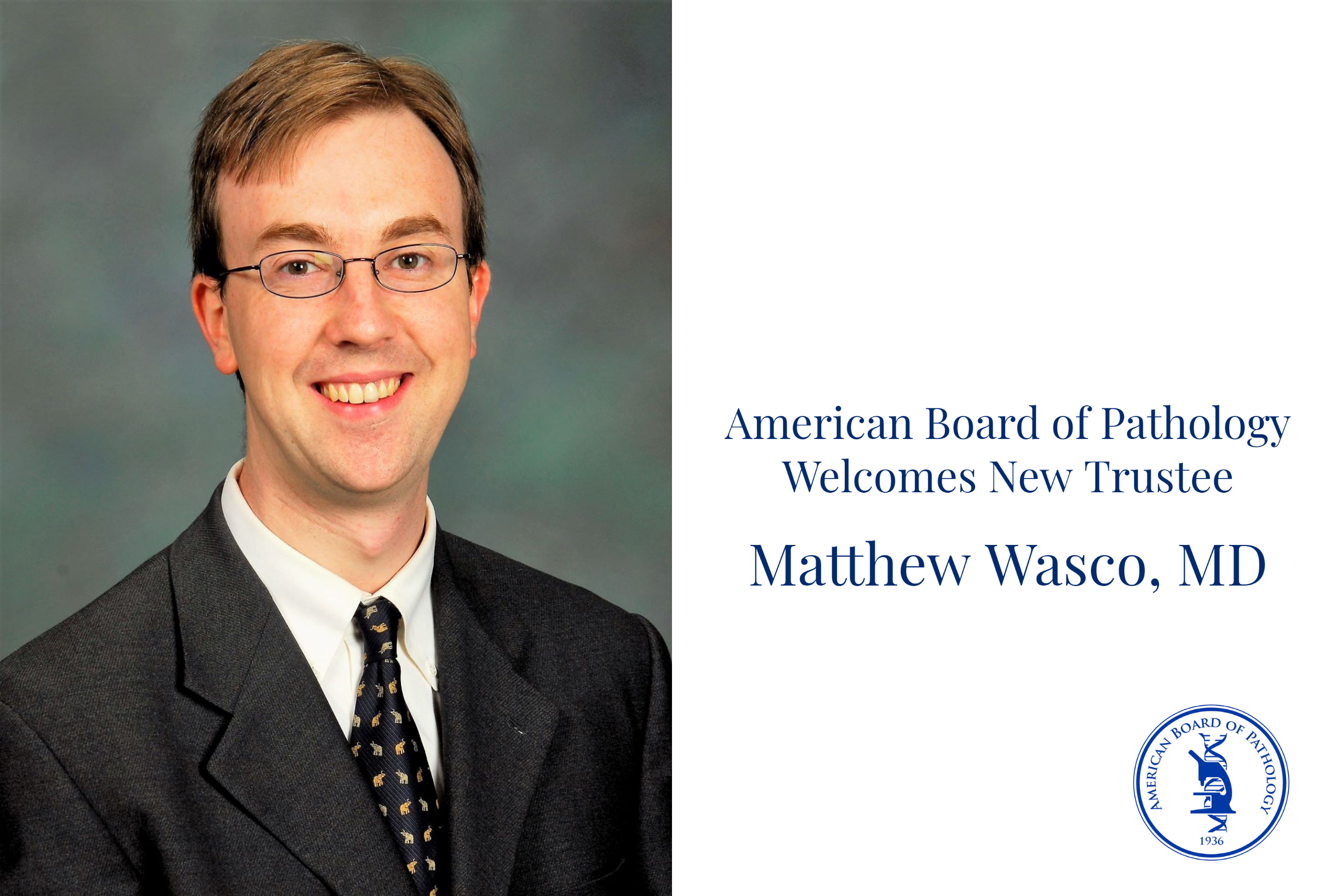 Dr. Matthew Wasco
is an anatomic and clinical pathologist with IHA Pathology and Laboratory Medicine, serving St. Joseph Mercy Hospital and multiple associated facilities in Ann Arbor, MI and parts of southeast Michigan. Since joining IHA pathology in 2009, Dr. Wasco has been a laboratory director for multiple facilities and a section leader for various parts of the clinical laboratory. He has served on committees for the American Society of Clinical Pathology and the United States and Canadian Academy of Pathology, as well as local hospital administrative responsibilities. He also previously served on the ABPath's Continuing Certification Advisory Committee.
Dr. Wasco earned a B.A. in Chemistry at Carleton College, graduated medical school at the University of Massachusetts, and completed pathology residency and fellowship in Genitourinary Surgical Pathology at the University of Michigan.
On Twitter,
Dr. Wasco said
, "[I] am honored and privileged to serve in this role, and to represent those of us who have time-limited certification (and therefore have to participate in the recertification process). Thanks to all of you who supported and encouraged me!"
The ABPath's Board of Trustees is made up of 12 board-certified pathologist members and one public member. Each member is highly esteemed and accomplished in their respective fields and/or subspecialty. Trustees are elected for 3-year terms and may serve up to four terms.
Registration is now open for the Pathology Informatics Summit 2021.
Scheduled for May 5-7, 2021, the Pathology Informatics Summit (PI Summit) is an annual educational conference designed for world-wide collaboration, technology, and learning to come together in one meeting place virtually for 2021. The meeting offers direct interaction with physicians, researchers, residents and graduate students, industry-related developers, engineers, imaging informatics professionals, vendor representatives and many others interested in how informatics and imaging are transforming pathology.
The 2021 summit will be the best assemblage to date of the top thought leaders in clinical laboratory informatics and anatomic pathology informatics, with in-depth coverage of machine learning and artificial intelligence, imaging analytics and whole slide imaging workflow solutions.
Online registration ends on April 30, 2021.

Voicebrook's Pathology News Roundup features industry headlines and insights that pathology professionals are talking about. Think we should be covering something in particular?
Send your suggestions to content@voicebrook.com