The College of American Pathologists (CAP) wraps up its annual meeting today. CAP21 "Advancing Medicine Today & Tomorrow" gave members the option to attend virtually or in-person at the Hyatt Regency in Chicago, Ill. from Sept. 25-28.
The CAP recognized several of its members for their contributions to pathology and laboratory medicine during CAP21.
In recognition of his long and distinguished career in pathology, the CAP named W. Stephen Black-Schaffer, MD, FCAP, with the Pathologist of the Year Award. Dr. Black-Schaffer has served on many committees, councils, and task forces during his 30 years as a CAP member. He currently chairs the Policy Round Table Workforce and Graduate Medical Education Workgroup and the Economic Affairs Committee (EAC).
Dr. Black-Schaffer is an associate professor of pathology at Harvard Medical School, and associate chief of pathology and Pathology Residency Training Program director at Massachusetts General Hospital.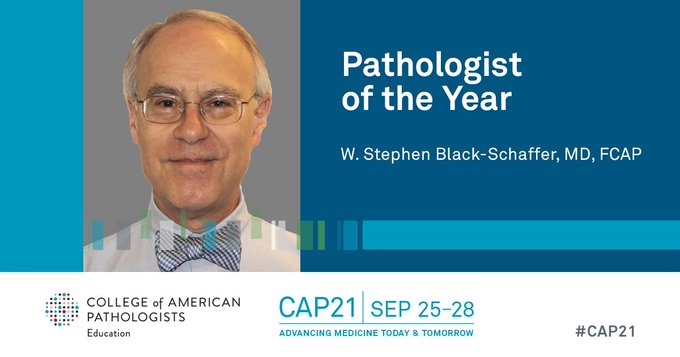 In addition to the Pathologist of the Year award, the CAP recognized 30 other members/residents. This year's honorees are:
CAP Advocate of the Year Award
CAP Distinguished Patient Care Award
Mary E. Fowkes, MD, PhD, FCAP
CAP Distinguished Service Award
Rajesh C. Dash, MD, FCAP
Eva M. Wojcik, MD, FCAP
CAP Laboratory Accreditation Program Service Award
Gregory A. Gagnon, MD, FCAP
CAP Laboratory Improvement Programs Service Award
Christina M. Wojewoda, MD, FCAP
Daniel D. Rhoads, MD, FCAP
CAP Lifetime Achievement Award
David N. Alter, MD, DABCC, FCAP
Christine N. Booth, MD, FCAP
Andrew J. Evans, MD, PhD, FRCPC, FCAP
David A. Novis, MD, FCAP
John D. Olson, MD, PhD, FCAP
R. Ross Reichard, MD, FCAP
CAP Outstanding Communicator Award
Valerie A. Fitzhugh, MD, FCAP
CAP Outstanding Educator Award
Robert D. Hoffman, MD, PhD, FCAP
CAP Outstanding Service Award
CAP Pathology Advancement Award
David F. Keren, MD, FCAP
Mark S. Synovec, MD, FCAP
Kamran M. Mirza, MD, PhD, FCAP
Cullen M. Lilley, MS
Christina A. Arnold, MD, FCAP
Michael A. Arnold, MD, PhD, FCAP
Adam L. Booth, MD
Jerad M. Gardner, MD, FCAP
Xiaoyin "Sara" Jiang, MD, FCAP
Sanam Loghavi, MD, FCAP
CAP Public Service Award
CAP Resident Advocate Award
Nicole D. Riddle, MD, FCAP
CAP Resident of the Year Award
Mariam Anwar Molani, DO, MBA
CAP Staff Outstanding Achievement Award
Mary F. Kennedy, MPH, CT(ASCP)

After serving for two years as the CAP's President-Elect, Emily E. Volk, MD, FCAP was sworn in as the organization's 37th president during the CAP21 annual meeting. Dr. Volk is an associate professor of pathology at the University of Louisville School of Medicine and chief medical officer at Baptist Health Floyd in New Albany, IN.
In a statement, Dr. Volk said her priorities over her two-year term include encouraging diversity and fostering innovation for the profession and CAP services for pathologists to deliver to patients.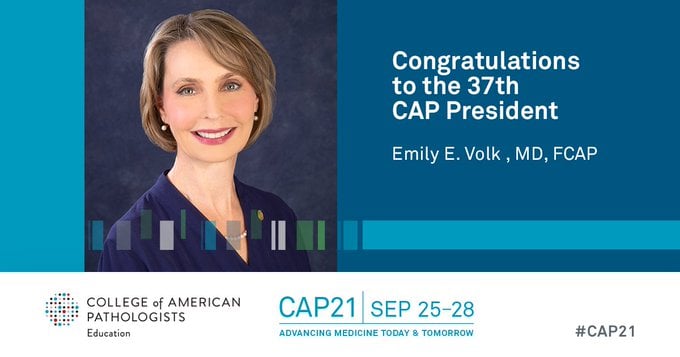 "When my term is over in two years, I'd like to leave the CAP in an even better place, fostering innovation for the profession and CAP services for pathologists to deliver to patients," stated Dr. Volk. "I'd also like to create more opportunities for pathologists of diverse backgrounds to move into leadership roles. If my role resonates with individuals in healthcare, such as women and minorities, who continue to be underrepresented in leadership roles in their field and gives even one more person the courage to step into a leadership position, my efforts will have been worthwhile."
Dr. Volk has served on the CAP's Board of Governors since 2013 and has been an active member of the organization for more than 20 years. She has served on various councils and committees during that time, including as chair and vice-chair of the Council on Government and Professional Affairs, chair of the Pathologists Quality Registry Ad Hoc Committee, and member of the Council on Membership and Professional Development.
Hear more from Dr. Volk about her vision for leading the CAP in the most recent CAPcast. Dr. Volk and the CAP's Immediate Past President Patrick Godbey, MD, FCAP discuss what it's like to lead the profession during the COVID-19 pandemic.
Dr. Donald Karcher was appointed the CAP's president-elect during CAP21. Dr. Karcher is a professor of pathology and a practicing hematopathologist at George Washington University in Washington, DC.

The Association for Molecular Pathology has cancelled its upcoming annual meeting, scheduled for Nov. 17th.
"Due to the continuing COVID-19 pandemic, it has become impossible to hold our 2021 Annual Meeting & Expo in Philadelphia this November," AMP said in a statement on its website. "Therefore, our Board of Directors has made the difficult decision to cancel the event. The Program Committee has organized a fabulous program and that content will be made available. Please stay tuned for more information."

AMP says they will be in contact with all attendees, exhibitors and vendors in the coming days.
"Please know that resolving tasks pertaining to this cancellation is taking a great deal of time; AMP staff are working to address all of them as quickly as possible. Thank you for your patience and understanding as we move forward."

Voicebrook's Pathology News Roundup features industry headlines and insights that pathology professionals are talking about. Think we should be covering something in particular?
Send your suggestions to content@voicebrook.com