CAP Praises Bill to Delay Medicare Cuts
CAP President Patrick Godbey, MD, FCAP said the bill would "stop Medicare cuts set to hit our pathology practices serving patients across the country beginning January 1, 2021. The Holding Providers Harmless From Medicare Cuts During COVID-19 Act of 2020 will address this issue by giving providers a hold harmless payment for the next two years. The CAP appreciates that this bill will prevent sharp decreases to pathologists and support the very diagnostic services that drive health care decisions to keep patients healthy."

In addition to the lead sponsors, the CAP commended the efforts of the bill's original sponsors: Reps. Brendan Boyle; George Holding; Raul Ruiz, MD; Phil Roe, MD; Abby Finkenauer; and Roger Marshall, MD.

The Centers for Medicare & Medicaid Services (CMS) outlined the cuts in the proposed 2021 Medicare Physician Fee Schedule published in August. The CAP and the other provider groups supported the bipartisan letter to House leadership that specifically urged Congress to pass legislation canceling the cuts for 2021 and beyond.

ASIP: Mentors Wanted
The American Society for Investigative Pathology (ASIP) is seeking mentors for first-time attendees to the ASIP Annual Meeting.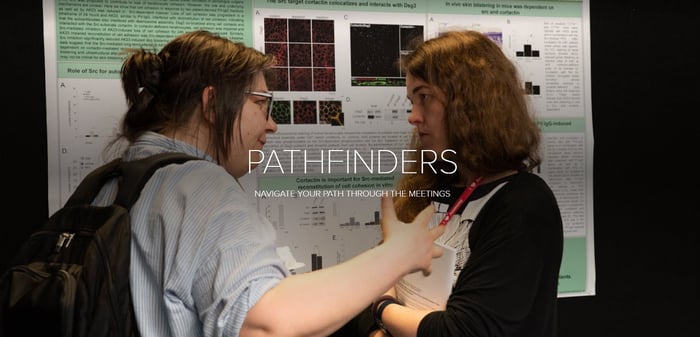 Image courtesy of ASIP.
The Pathfinders program was created by the ASIP Committee for Career Development and Diversity, to offer guidance and build camaraderie between ASIP trainees and regular members and offer guidance to trainees who attend the meeting without their institutional advisor. By leveraging the guidance and expertise of current ASIP members, this program will allow trainees to be introduced to the Society on a more personal level, and to maximize their conference experience.
Trainees will be notified about the mentor pairing and will be given the mentor's contact information. Mentors and trainees will connect prior to the meeting, and trainees will be asked to complete a write-up of their experience to be published.
To join Pathfinders, visit the ASIP website.
Attention Job Hunters!
Job hunting is never easy for those nearing the end of their pathology residencies. But like everything else lately, job searching will likely look differently this year. With most interviews being conducted over virtual meetings rather than in-person, how can you effectively connect with interviewers and snag the pathology job of your dreams?
Good news... the #pathtwitter community is able to help. Join in a Twitter #capchat discussion on Tuesday, November 10 from 9:00 to 10:00 p.m. Eastern time.
This #capchat will be hosted by Nicole Riddle, MD, FCAP. Dr. Riddle is a member of CAP's Digital Content Committee (DCC), and she will host the conversation from the CAP Twitter handle. Dr. Riddle will be joined by expert guest panelists Tyler Teichmeier, MD, FCAP and Richard Owings, MD, FCAP.
Check out the #capchat information page for more details and some helpful reading to prepare you for the discussion.

Voicebrook's Pathology News Roundup features industry headlines and insights that pathology professionals are talking about. Think we should be covering something in particular?
Send your suggestions to content@voicebrook.com
---