CAP's Hill Day Recap
A record-breaking number of College of American Pathologists members advocated to protect the value of pathology services while meeting with their federal legislators on May 4 during the CAP's Hill Day.
More than 200 CAP members discussed how Congress can preserve patient access to pathology services by mitigating a 6 percent Medicare payment cut set to take effect in 2022.
In about 268 virtual meetings with congressional offices, pathologists urged lawmakers to mitigate the upcoming Medicare cuts that pathologists and other physicians are facing. Pathologists confidently made their cases while speaking with legislative staff members and received positive responses.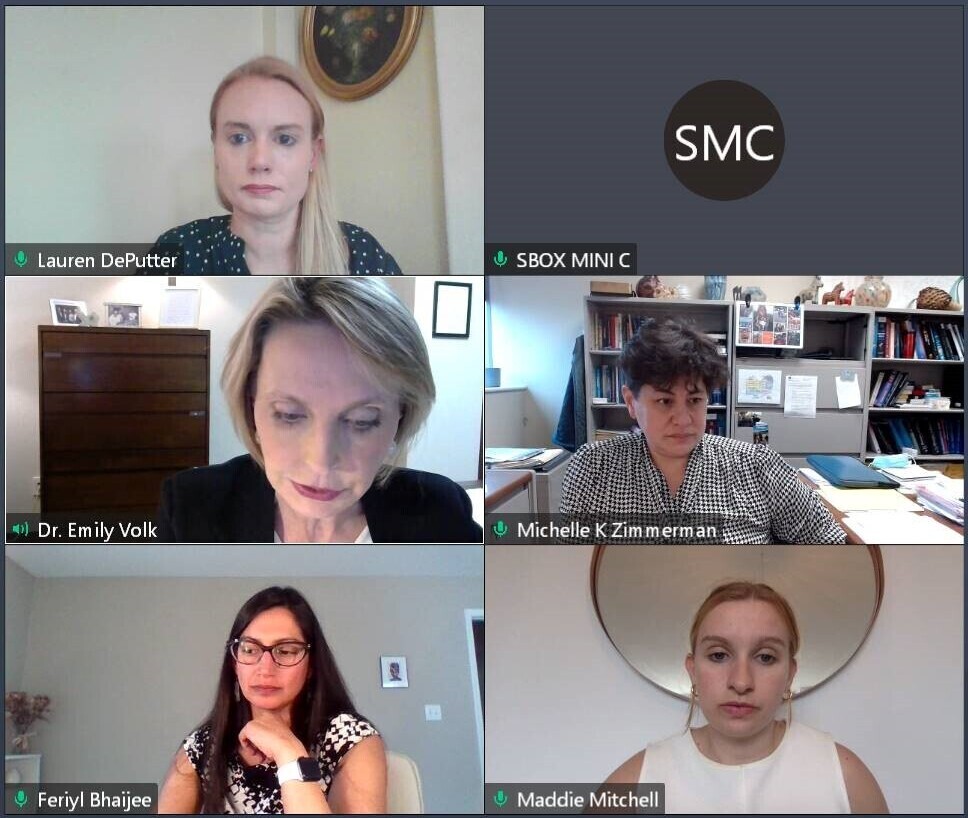 CAP President-Elect Emily Volk MD, FCAP; CAP members Michelle Zimmerman, MD, MBA, FCAP and Feriyl Bhaijee, MD met with Health Legislative Staffer Maddie Mitchell from Rep Hollingsworth's (R-IN) office. Image courtesy of the CAP.
The CAP's Hill Day ended the four-day virtual Pathologists Leadership Summit, where hundreds of pathologists attended the House of Delegates, educational courses, and advocacy session. In most meetings with congressional offices, legislative staffers were familiar with the issue as it remains the top legislative priority for the CAP and other physician organizations.
Pathologists paired in groups outlined how the devastating cut would adversely affect pathology practices, which have suffered due to major financial disruptions caused by the pandemic.

Women in Pathology Month
This May is the second annual Women in Pathology Month.
Women in Pathology is a community within the membership of the American Society for Investigative Pathology (ASIP) that is focused on issues that face women in science, and is committed to recognizing women's scientific achievements and fostering their career development and advancement in pathobiology research.
Women in Pathology can be found on Facebook, Instagram, Twitter, and other social media outlets. Follow along on social media during the month of May, to see profiles on some of the incredible women being honored for their contributions to pathology and medical science. You'll be inspired!
CAP Committee Applications
Want to apply for a CAP 2022 Committee position? Don't delay... the deadline is fast approaching!
Applications must be received on or before May 30, 2021.
With more than 60 committees, project teams, and member survey panels to apply for, the CAP has many opportunities to become engaged and have an impact on the specialty of pathology. You can refer to the Committee Guide available on the CAP website for more details on all of the council/committee profiles.
CAP member and non-member pathologists, pathology residents and/or laboratory professionals interested in immediate and future volunteer service on a CAP committee, project team, member survey panel, etc., should apply via the CAP website.
Final Board of Governors approval of committee appointments occurs in late summer. Governance staff notifies appointed applicants via email in early fall. Applicants not selected to serve on a council or committee will receive notification via email by the end of the calendar year.

Voicebrook's Pathology News Roundup features industry headlines and insights that pathology professionals are talking about. Think we should be covering something in particular?
Send your suggestions to content@voicebrook.com