The College of American Pathologists (CAP) is rebuking the spread of misleading and inaccurate COVID-19 information, and warning its members to take heed.
In a statement posted on its website, the CAP says: "As the leading organization of board-certified pathologists, the CAP asserts that misinformation about COVID-19 vaccination and alternative self-prescribed treatments is a danger to public health. While the CAP fosters and honors robust exchanges of varying professional opinions in the practice of medicine, we stand against the spread of COVID-19 information that is not firmly grounded in science."
Beginning with the initial distribution of COVID-19 vaccines, the CAP has steadfastly encouraged vaccinations for all who are eligible. In the statement, the CAP once again asserts its commitment to maintaining public trust in vaccination and accurate COVID-19 testing.
The statement ends on a serious note, with a strongly-worded warning for all members of the organization: "Members of the CAP who disseminate misinformation violate the CAP's Principles of Ethical and Professional Conduct, which state that a pathologist 'shall place the interests of the patient foremost,' and 'shall recognize a professional responsibility to contribute to community improvements and the betterment of public health.' Every member of the College of American Pathologists is a physician. A basic tenet of our profession, which is so important that it is taught to each one of us very early in our careers, is primum non nocere: First, do no harm."

The American Association of Pathologists' Assistants is extending early bird registration rates for its upcoming annual conference.
Register by September 22nd to save up to $200. The 46th Annual AAPA Conference, "The Future of Pathology" is scheduled for Oct. 31-Nov. 4, 2021 in Seattle. This hybrid event offers two methods of attendance: virtual or in person. The AAPA will require masks for in-person attendees, and recommends COVID-19 vaccination.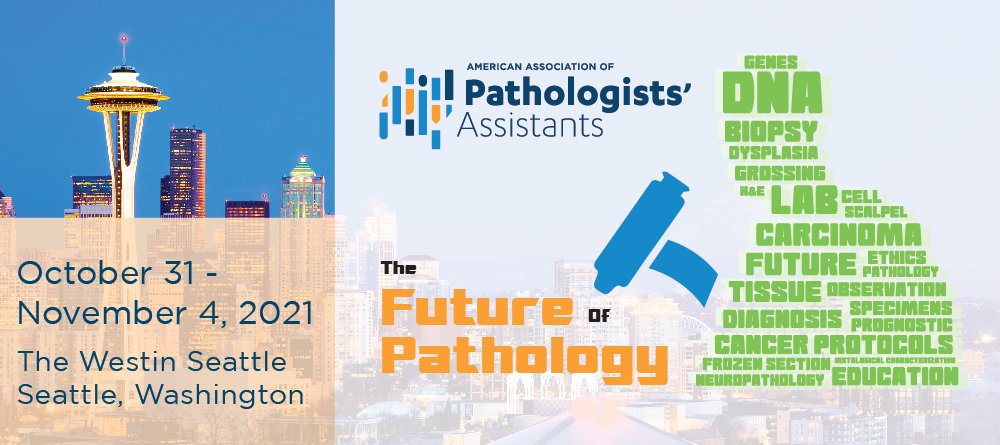 For a full list of speakers and events, check out the AAPA website.
The College of American Pathologists has launched a new monthly CAPcast series dedicated to the top pathology news and important CAP updates every month.
The inaugural CAP Advocacy Recap episode reviews the CAP's opposition to a recent VA initiative and takes a look at the 3.5 trillion dollar infrastructure bill in Congress. It also features an interview with Dr. Jonathan Myles, chair of the Council on Government and Professional Affairs, to discuss what pathologists need to know about the proposed 2022 Medicare Physician Fee Schedule.

Voicebrook's Pathology News Roundup features industry headlines and insights that pathology professionals are talking about. Think we should be covering something in particular?
Send your suggestions to content@voicebrook.com