Happy Anniversary, CAP: The College of American Pathologists celebrates its 75th anniversary in 2021, marking the achievement by publishing a history of its first 75 years.
The e-book, titled "In Further Pursuit of Excellence: The College of American Pathologists, 1946-2021," is a follow up to the CAP's first commemorative book published in 1996 following its 50th anniversary, "In Pursuit of Excellence: The College of American Pathologists, 1946-1996."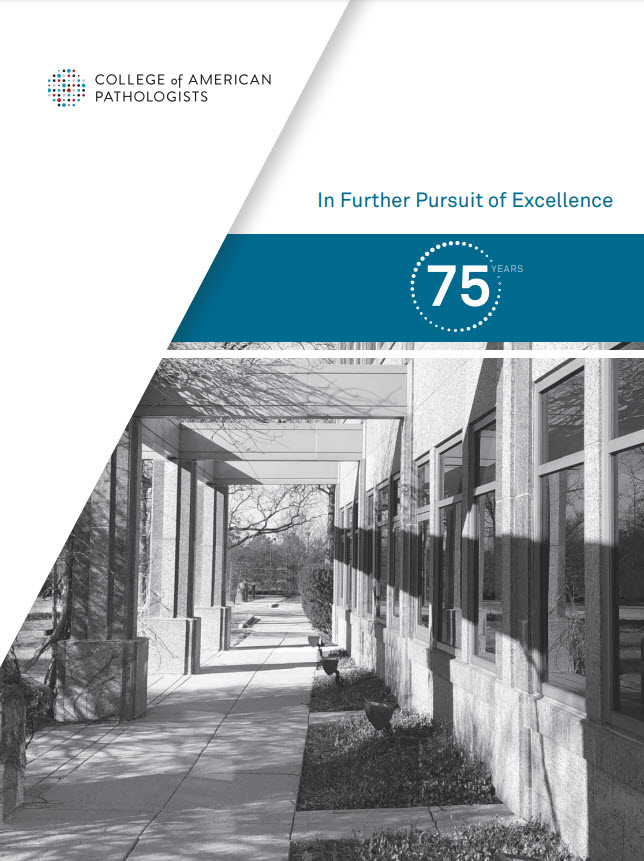 The book includes a brief reprise of the early history of the CAP as well as a recap of organization's core missions—science and laboratory improvement; advocacy for the profession and for patients; education and standard setting; and services to members and the public. It also covers the responses of the CAP to the COVID-19 pandemic, plus a chapter that looks to the future and offers insights by CAP experts into new technologies and opportunities.
For links to the anniversary books, as well as a historical timeline, visit the CAP website.

Surprise Billing Rule: CAP members sent more than 200 letters to their members of Congress, speaking out in opposition to new federal regulations regarding the No Surprises Act.
The No Surprises Act passed in late 2020 and addresses the independent dispute resolution (IDR) process. It mandated a process allowing both insurers and physicians to bring offers to an independent arbitrator. The final legislation included several provisions the CAP adamantly supported, such as holding patients financially harmless, fair reimbursement for care delivered out-of-network, and efforts to address network adequacy standards. Congress established a balanced IDR process to ensure physicians are paid appropriately for the services they provide.
But the CAP now says the interim final regulation for the IDR process, released on Sept. 30, disregarded Congress's intentions of directing the arbitrator to consider all factors equally, instead of giving more weight to the qualifying payment amount (QPA) controlled by insurers.
Reps. Tom Suozzi (D-NY-3) and Brad Wenstrup (R-OH-2) drafted a letter that has the support of many medical societies that they are sending to the Department of Health and Human Services. CAP members have asked their representatives in Congress to sign onto the letter drafted by Reps. Suozzi and Wenstrup.

Give It A Listen: A recent CAPcast focuses on an unusual concept... pathologist-patient consults.
The podcast features host Emily Green, MD, FCAP in discussion with Favia Dubyk, MD, FCAP and Lija Joseph, MD, FCAP. Both Dr. Dubyk and Dr. Joseph are pathologists with unique practices where they interact directly with patients regarding their pathology results.

Voicebrook's Pathology News Roundup features industry headlines and insights that pathology professionals are talking about. Think we should be covering something in particular?
Send your suggestions to content@voicebrook.com