New Guideline: Laboratory Workup of Lymphoma
The College of American Pathologists (CAP) and the American Society for Clinical Pathology (ASCP) released a new evidence-based clinical practice guideline, "Laboratory Workup of Lymphoma in Adults" that focuses on the preanalytic phase of tissue handling and lymphoma diagnosis to help clinical teams improve patient care.
Recent estimates show that more than 75,000 new cases of non-Hodgkin lymphoma will be diagnosed this year in the U.S., with an additional 8,400 cases of Hodgkin lymphoma projected. Pathologists are challenged to diagnose lymphoma on samples of decreasing tissue volume, including those from fine needle aspirations and needle biopsies. Furthermore, advancements in lymphoma knowledge require clinical teams to perform a growing number of ancillary tests to differentiate specific lymphoma subtypes with complex diagnostic criteria to better optimize therapy for individual patients. This can lead to varied approaches depending on practice settings, and the new guideline provides direction and leadership to bridge the gaps.
"This guideline is an important steppingstone," says Matthew Cheung, MD, co-chair of the guideline's expert panel. "We can now detail areas in which well-designed prospective studies are essential to clarify the ideal specimen requirements required for modern ancillary testing techniques."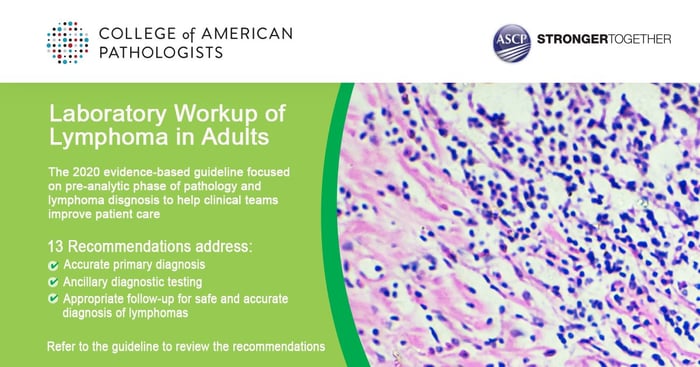 Developed following the standards endorsed by the National Academy of Medicine, and published jointly in the American Journal of Clinical Pathology and Archives of Pathology & Laboratory Medicine, the guideline is a collaborative effort by ASCP, the CAP, and the American Society of Hematology (ASH). Patient advocates were also included in the development of the guideline to provide non-clinical perspectives. The expert panel reviewed more than 6,000 articles from peer-reviewed literature.
The 13 evidence-based recommendations address the pre-analytic phase of testing, with an emphasis on specimen requirements, as well as ancillary diagnostic testing, and appropriate follow-up for safe and accurate diagnosis of indolent and aggressive histology lymphomas. To learn more, find guideline details on cap.org or visit ajcp.com.

What We're Reading: Digitize to Overcome
The Pathologist magazine serves up an excellent read on how the pandemic has accelerated pathology's digitization. In "Digitize to Overcome," Dr. Monika Lamba Saini, a pathologist in Belgium, makes a good case for further adoption of the technology.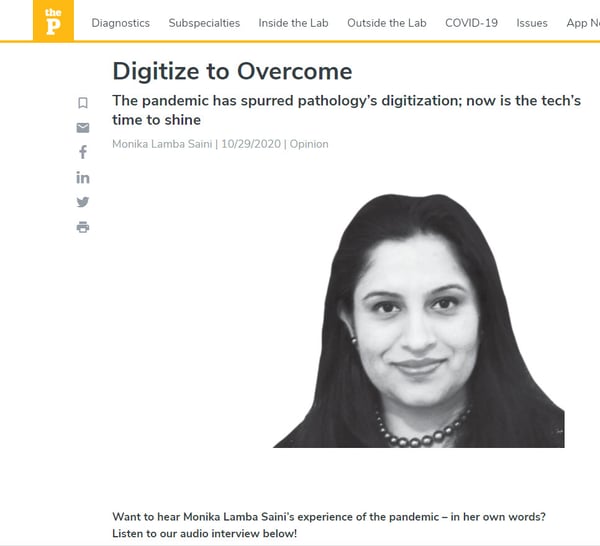 Survey: Stress Levels High for Pathologists
A recent survey by the CAP shows that pathologists are experiencing elevated stress levels due to the COVID-19 pandemic.
The CAP surveyed board-certified pathologists nationwide and 85 percent reported that the pandemic has negatively affected them. The CAP's latest survey confirmed the pandemic's ongoing adverse effects on pathologists as the United States has relied on COVID-19 testing throughout this national crisis.
The CAP, which routinely conducts socioeconomic surveys of its members to better inform its advocacy, fielded this survey from August 31 through September 11. The CAP received 811 responses, constituting a 5.5 percent response rate, making the sample nationally representative with a +/-3.4 margin of error.
In this latest survey, the most prevalent impacts reported by pathologists were reductions in compensation and/or benefits, hiring freezes, delayed or postponed recruitment of pathologists, temporary furloughs, and requirements to take paid time off (PTO) or annual leave.
Approximately 90 percent reported a decrease in their practice's estimated year-to-date anatomic pathology testing volume and 75 percent reported a decrease in their practice's clinical pathology test volume relative to the same period in 2019.
Another by-product of the pandemic for pathologists is increased stress. Seventy percent of pathologists surveyed reported having higher stress levels. Reports of increased stress levels are higher among practice leaders than nonpractice leaders.
In addition, 20 percent of the pathologists surveyed reported they began performing remote sign out after the pandemic began. When the pandemic started, the CAP advocated for pathologists to perform remote sign-out of primary diagnosis. Approximately 5 percent of survey respondents were using remote sign-out to perform digital pathology primary diagnosis (such as whole slide imaging).

Voicebrook's Pathology News Roundup features industry headlines and insights that pathology professionals are talking about. Think we should be covering something in particular?
Send your suggestions to content@voicebrook.com
---