Supporting Medicare Providers Act of 2021: The College of American Pathologists is throwing its support behind a new bill that would delay Medicare payment cuts.
The Supporting Medicare Providers Act of 2021 (HR 6020) would extend the 2021 Medicare physician payment adjustment of 3.75% for an additional year.
U.S. Representatives Ami Bera, M.D. (D-CA) and Larry Bucshon, M.D. (R-IN) introduced the bipartisan legislation on November 19 in the House of Representatives. The legislation would provide critical relief to physicians responding to the COVID-19 pandemic who are currently scheduled to receive Medicare payment cuts next year.
"The CAP thanks Rep. Ami Bera, M.D., and Rep. Larry Bucshon, M.D., for introducing the Supporting Medicare Providers Act of 2021 and appreciates their leadership on this important issue," CAP President Dr. Emily Volk said in an official statement. "On behalf of pathologists serving seniors in communities across the country, the CAP strongly urges Congress to address the pending Medicare cuts to all pathology services by enacting Reps. Bera and Bucshon's bill into law. If the relief prescribed in their legislation is not granted, the effect of these cuts will be felt in every state and will further exacerbate health care disparities that exist in rural and urban areas. Our chief concern is that if the Medicare cuts go through in 2022, access to health care services will decrease disproportionally and will grossly affect the physicians caring for our most vulnerable patients."
Learn more about the bill and read the full-text version of the legislation here.

"Long COVID" Research: Researchers at University of Michigan Health, part of Michigan Medicine, are examining lung biopsies from patients living with persistent respiratory symptoms after COVID-19, often known as "long COVID." They're hoping to better define the pattern of damage associated with COVID-19. The researchers' work has led to a surprising finding: some patients' symptoms could be due to damage that existed before getting COVID-19.
In a recent blog post published on the University of Michigan website, the researchers explain their findings thus far.
"Some of the early publications and popular press around long COVID has implied or assumed that once you had COVID, everything that happens next is COVID-related," said senior author Jeffrey Myers, M.D., professor of anatomic pathology at U of M Pathology. "Of course, that might or might not be true."

Myers, along with Kristine E. Konopka, M.D., associate professor of thoracic pathology, and their Department of Pathology team, examined lung biopsies from 18 living patients who had ongoing respiratory symptoms or abnormal CT scans after recovering from COVID-19. Five patients were reported to have lung disease prior to their COVID-19 diagnosis. Fourteen patients had what is known as ground glass opacities on radiological scans, areas of the lungs that appear as a cloudy gray color as opposed to the dark color of normal air-filled lungs, on a chest X-ray or CT scan.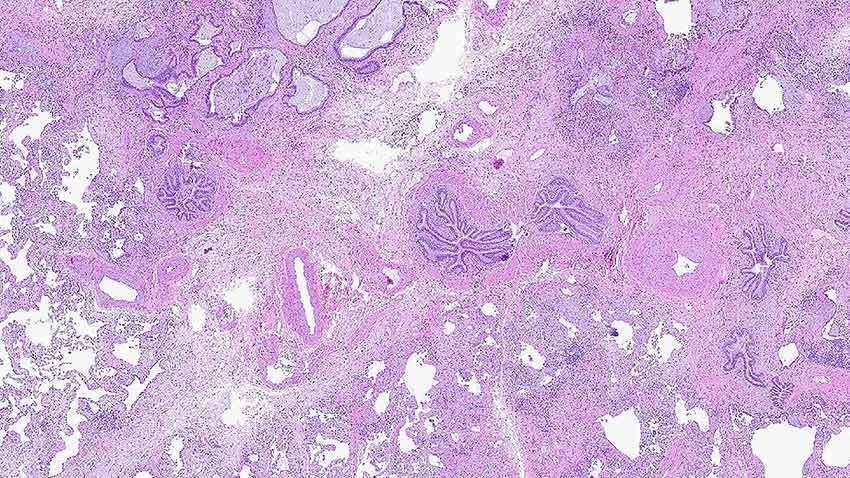 Image courtesy of Michigan Medicine Department of Pathology.
The most common finding in this set of patients was a condition known to pathologists as usual interstitial pneumonia, or UIP, also known clinically as idiopathic pulmonary fibrosis, or IPF, a well-studied chronic lung disease. IPF is the most common type of pulmonary fibrosis and causes scarring and stiffening of the lungs.

"We were seeing a lot of UIP, which isn't the pattern we tend to associate with acute lung injury," said Konopka, lead author on the study. "So, we think these are patients who had lung disease prior to COVID and maybe they just weren't being followed by primary care physicians. They then had COVID, are still sick, and their UIP is finally being picked up."
Read the authors' full paper published online in EClinicalMedicine.

ASIP Abstract Deadline: Today's the last day to submit abstracts to the American Society for Investigational Pathology's Annual Meeting. #ASIP2022 is scheduled for April 2-5, 2022 and is held in conjunction with Experimental Biology 2022. Experimental Biology is the world's largest meeting in the life sciences covering research in anatomy, biochemistry and molecular biology, investigative pathology, pharmacology, and physiology.
Today, November 30, is the deadline for abstract submissions. Experimental Biology welcomes research in all areas of experimental biology — in particular, anatomy, biochemistry and molecular biology, investigative pathology, pharmacology and physiology.
Learn more about submitting your abstract at the ASIP website.

Voicebrook's Pathology News Roundup features industry headlines and insights that pathology professionals are talking about. Think we should be covering something in particular?
Send your suggestions to content@voicebrook.com