Fauci Announced as CAP20 Keynote Speaker
The College of American Pathologists (CAP) has announced that Dr. Anthony Fauci will be the keynote speaker at its 2020 Annual Meeting.
Dr. Fauci, the nation's top infectious disease expert, will appear in a livestreamed event on Tuesday, October 13. CAP20 attendees can expect to hear an informative update on the research community's response to the COVID-19 pandemic.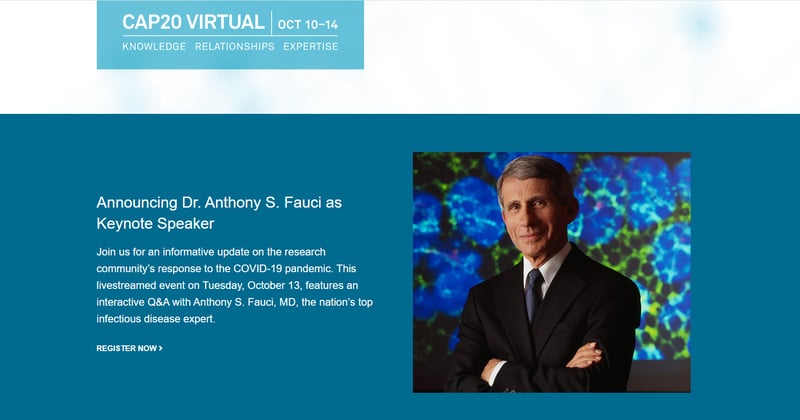 Dr. Fauci will also take part in an interactive Q&A with the audience.
In June, the CAP announced that this year's annual meeting would be held virtually due to the pandemic. "After thoughtful deliberation, we have decided to transition CAP20 from an in-person gathering in Las Vegas, to a virtual meeting starting on October 10," the CAP said on its annual meeting webpage.
Click here to register for the event, scheduled for October 10 through October 14.

Remote Digital Pathology Validation
A new paper in Modern Pathology validates the use of a remote digital pathology system during the COVID-19 pandemic.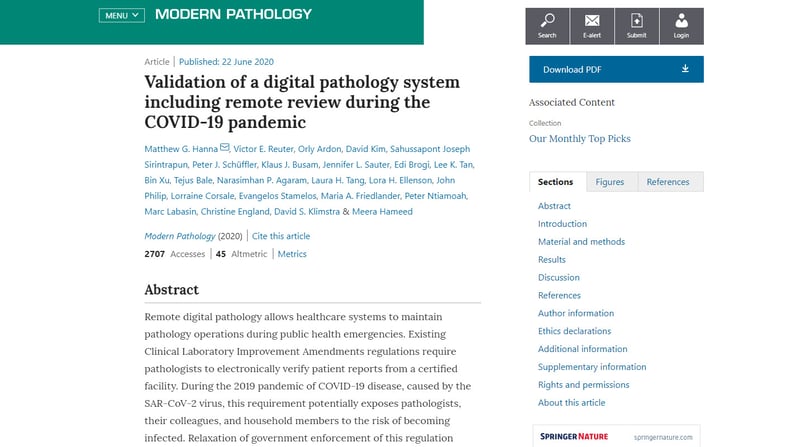 Remote digital pathology allows healthcare systems to maintain pathology operations during public health emergencies. Existing Clinical Laboratory Improvement Amendments (CLIA) regulations require pathologists to electronically verify patient reports from a certified facility. During the pandemic this requirement potentially exposes pathologists, their colleagues, and household members to the risk of becoming infected. Relaxation of government enforcement of this regulation allows pathologists to review and report pathology specimens from a remote, non-CLIA certified facility.
The availability of digital pathology systems can facilitate remote microscopic diagnosis, although formal comprehensive (case-based) validation of remote digital diagnosis has not been reported.
All glass slides representing routine clinical signout workload in surgical pathology subspecialties at Memorial Sloan Kettering Cancer Center were scanned on an Aperio GT450 at ×40 equivalent resolution (0.26 µm/pixel). Twelve pathologists from nine surgical pathology subspecialties remotely reviewed and reported complete pathology cases using a digital pathology system from a non-CLIA certified facility through a secure connection. Whole slide images were integrated to and launched within the laboratory information system to a custom vendor-agnostic, whole slide image viewer. Remote signouts utilized consumer-grade computers and monitors connecting to an institution clinical workstation via secure virtual private network. Pathologists subsequently reviewed all corresponding glass slides using a light microscope within the CLIA-certified department.
Intraobserver concordance metrics included reporting elements of top-line diagnosis, margin status, lymphovascular and/or perineural invasion, pathology stage, and ancillary testing. The median whole slide image file size was 1.3 GB; scan time/slide averaged 90 s; and scanned tissue area averaged 612 mm. Signout sessions included a total of 108 cases, comprised of 254 individual parts and 1196 slides. Major diagnostic equivalency was 100 percent between digital and glass slide diagnoses; and overall concordance was 98.8 percent (251/254). This study reports validation of primary diagnostic review and reporting of complete pathology cases from a remote site during a public health emergency.
Read the paper in its entirety at Modern Pathology.

Study: Pathology Workforce Undercount
Members of the College of American Pathologists found a massive undercount of pathologists in a database of working U.S. physicians that the Association of American Medical Colleges (AAMC) maintains and is referenced in recent published works on the pathology workforce. The CAP members wrote about the undercount in an article published by the Journal of the American Medical Association (JAMA) Network Open and further call for previous works citing the data to be corrected.
The JAMA Network Open article "Re-evaluation of the US Pathologist Workforce Strength" by Stanley J. Robboy, MD, FCAP, et al., explored unintended flaws in the methods used by various entities, and why most recent workforce counts have understated by about 40 percent the number of actively practicing pathologists in the US. The authors recommend that AAMC alter how it reports pathology workforce numbers so that it includes all physicians the American Medical Association masterfile who are actively practicing pathologists. Currently, the AAMC database does not include in its count those pathologists who are also trained any of the various pathology subspecialties, such as cytopathologists, dermatopathologists, hematopathologists, forensic pathologists and eight others.
The authors estimated that AAMC's current methodology, as reported in a May 2019 JAMA Network Open article "Trends in the US and Canadian Pathologist Workforces From 2007 to 2017" by David Metter, MD, FCAP et al., excluded about 8,000 pathologists. The article used the AAMC database and reported a decrease in the US pathologist workforce in absolute and population-adjusted numbers from 2007 to 2017. The article stated that U.S. pathologist supply decreased 17.5 percent while Canadian pathologist supply, based on the Canadian Medical Association Physician Masterfile, increased by 20.5 percent during that time period.
The authors recommend that all previously published reports, presentations, and other uses of the data from the AAMC be reexamined. Statements based on the AAMC data that report a pathology workforce shortage or decline must be reconsidered.

Voicebrook's Pathology News Roundup features industry headlines and insights that pathology professionals are talking about. Think we should be covering something in particular?
Send your suggestions to content@voicebrook.com
---