CAP Cancer Protocols Updated
The College of American Pathologists (CAP) has released updates to the CAP Cancer Protocols, clinical guidance for reporting pathologic features in the treatment of cancer patients. The updates include changes to the CAP Biomarker Protocols which provide reporting guidance for commonly ordered biomarkers.
New or significantly revised protocols, accessible at Cancer Protocol Templates, include:
Prostate needle biopsy, specimen level
Prostate needle biopsy, case level
Quantitative immunohistochemistry (IHC) reporting
Head and neck biomarkers
Lung biomarkers
"Since the late 1980s, when the CAP embarked on the creation of the first cancer protocols, the CAP has been committed to standardized reporting of pathologic information, knowing its importance for patient care and treatment," said Joseph D. Khoury, MD, FCAP, CAP Cancer Committee chair. "Further, we work in partnership with colleagues across medical disciplines and practice settings to ensure content accuracy and utility in medical practice. Collaboration is critical to the development of our protocols."
Collaborations also include the CAP working with cancer standards organizations to incorporate their criteria and guidelines in CAP protocols. Examples of such changes in the June 2021 release are:
Updates in the gynecologic, bone and soft tissue, and thorax protocols to reflect the World Health Organization (WHO) Classification of Tumours, 5th Edition
Changes to how some pathologic stage classifications or TNM classifications from the American Joint Committee on Cancer (AJCC) are used.
Two CAP committees, primarily made up of practicing pathologist members, are responsible for the development and maintenance of the protocols. The Cancer Committee serves as content expert body. The Pathology Electronic Reporting Committee creates electronic versions, the CAP electronic Cancer Checklists (CAP eCC) of the protocols for use in a laboratory information system. Biomarker protocols were developed by a workgroup comprised of pathologists from both committees. The CAP eCCs will be released along with the updated protocols.


New PathElective Modules
Looking for free, high quality pathology education resources? PathElective is releasing new modules on the eve of its first birthday.
PathElective is an adaptable pathology elective experience. It's multi-functional, featuring a variety of modules as well as sections for career enhancement and development, myth busting, and other useful resources. Users simply sign up, complete the lessons, and earn certificates. PathElective is completely flexible and users can learn at their own pace.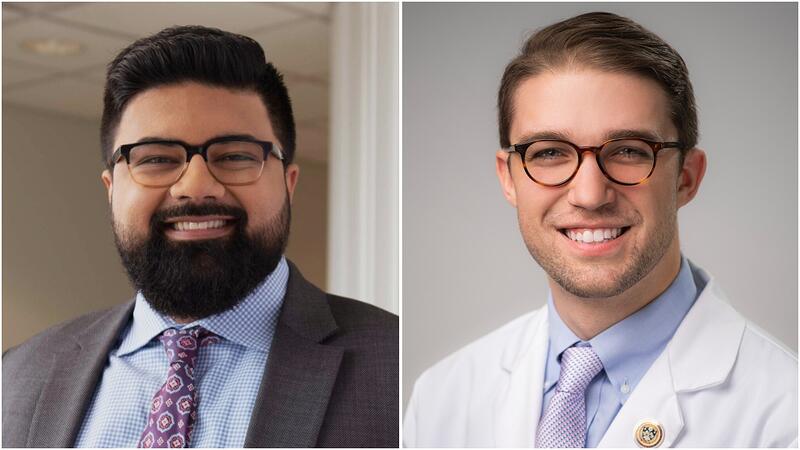 PathElective.com founders Kamran Mirza, MD, Ph. D (left) and Cullen M. Lilley, MS (right). Images courtesy of PathElective.
The new forensic pathology/autopsy module has video stories and experiences from pathologists. Lab medicine modules are also now available. The new neuropathology module has an all-new surgical pathology lesson.
Keep an eye out for more new modules coming soon, including GI/liver pathology, pulmonary pleural and mediastinal pathology, and digital pathology.
Also, mark your calendars for PathElective's first birthday bash from August 2nd to 6th. Stay updated on events by following PathElective on Twitter.

CAP Laboratory Inspections
COVID-19 forced the College of American Pathologists to adjust the ways in which laboratory inspections were conducted, forgoing traditional inspections on-site for other methods.

An article in the current issue of CAP Today explains how that shift affected labs, and what happens now that the worst of the pandemic is hopefully over.

"Traditional inspection, virtual inspection, and remote document review, often blended together, is essentially how we are tackling inspections as the pandemic lingers," Richard M. Scanlan, MD, CAP Council on Accreditation Chair, says in the article.

For a thorough explanation of the differences between virtual and blended inspections, check out the June issue of CAP Today.

Voicebrook's Pathology News Roundup features industry headlines and insights that pathology professionals are talking about. Think we should be covering something in particular?
Send your suggestions to content@voicebrook.com