New Immunotherapy Guidelines. A new College of American Pathologists (CAP) evidence-based guideline is among the first to address testing based less on the cancer type or tumor origin—and more on the methodology and status of a biomarker—in this case, microsatellite testing and deficient mismatch repair process assessment.
The "Mismatch Repair (MMR) and Microsatellite Instability (MSI) Testing for Immune Checkpoint Inhibitor Therapy" guideline provides clarity for pathologists and oncologists to improve the evaluation of patients with colorectal, endometrial, gastroesophageal, small bowel, and certain other cancers who may be eligible for immunotherapies known as immune checkpoint inhibitors.
Published in an early online release in Archives of Pathology & Laboratory Medicine, the guideline also breaks new ground with recommendations on the role of tumor mutational burden in MMR testing and the evaluation for Lynch Syndrome, a hereditary cancer syndrome that may be unexpectedly detected in the work-up of these patients with advanced cancers. The CAP developed the guideline in collaboration with experts from the Association for Molecular Pathology (AMP), the American Society of Clinical Oncology (ASCO), and the patient advocacy group Fight Colorectal Cancer (Fight CRC).

"We've seen that patients whose cancers had high levels of MSI or defective MMR can respond well to immune checkpoint inhibitor therapy, and now we have objective guidance to assess that status across a range of cancer types," explains pathologist Russell Broaddus, MD, PhD, FCAP, who led the expert panel to develop the guideline.

Dr. Broaddus noted that when the FDA approved immunotherapy treatment for patients with MSI-high or MMR-deficient tumor status, regardless of cancer type, it did not detail how to test for that status. The new CAP guideline helps to fill that gap, providing oncologists, pathologists, and laboratories of all sizes with objective, evidence-based recommendations to efficiently deploy specific assays and accurately identify patients eligible for treatment.

With six recommendations and three good practice statements, the guideline provides data and details regarding the efficacy and utility of specific testing modalities across applicable cancer types, including MMR by immunohistochemistry, MSI by polymerase chain reaction, and MSI by next generation sequencing, for patients being treated with immune checkpoint inhibitors. In addition, the guideline identifies gaps in our current knowledge base, which, when addressed, may represent opportunities to help improve the methodological approach for identifying the patients with advanced cancers who are most likely to respond to this therapeutic approach.

To ensure patients receive more effective testing with consistent, high-quality results, and expert interpretations, the CAP provides free, open access tools and resources with each evidence-based guideline to help clinical and laboratory teams adopt the recommendations. MMR-MSI guideline resources are downloadable on the CAP website.

The Power List 2022. The Pathologist magazine has announced its 2022 Power List, which honors 75 of the most outstanding and inspirational pathology and laboratory medicine professionals.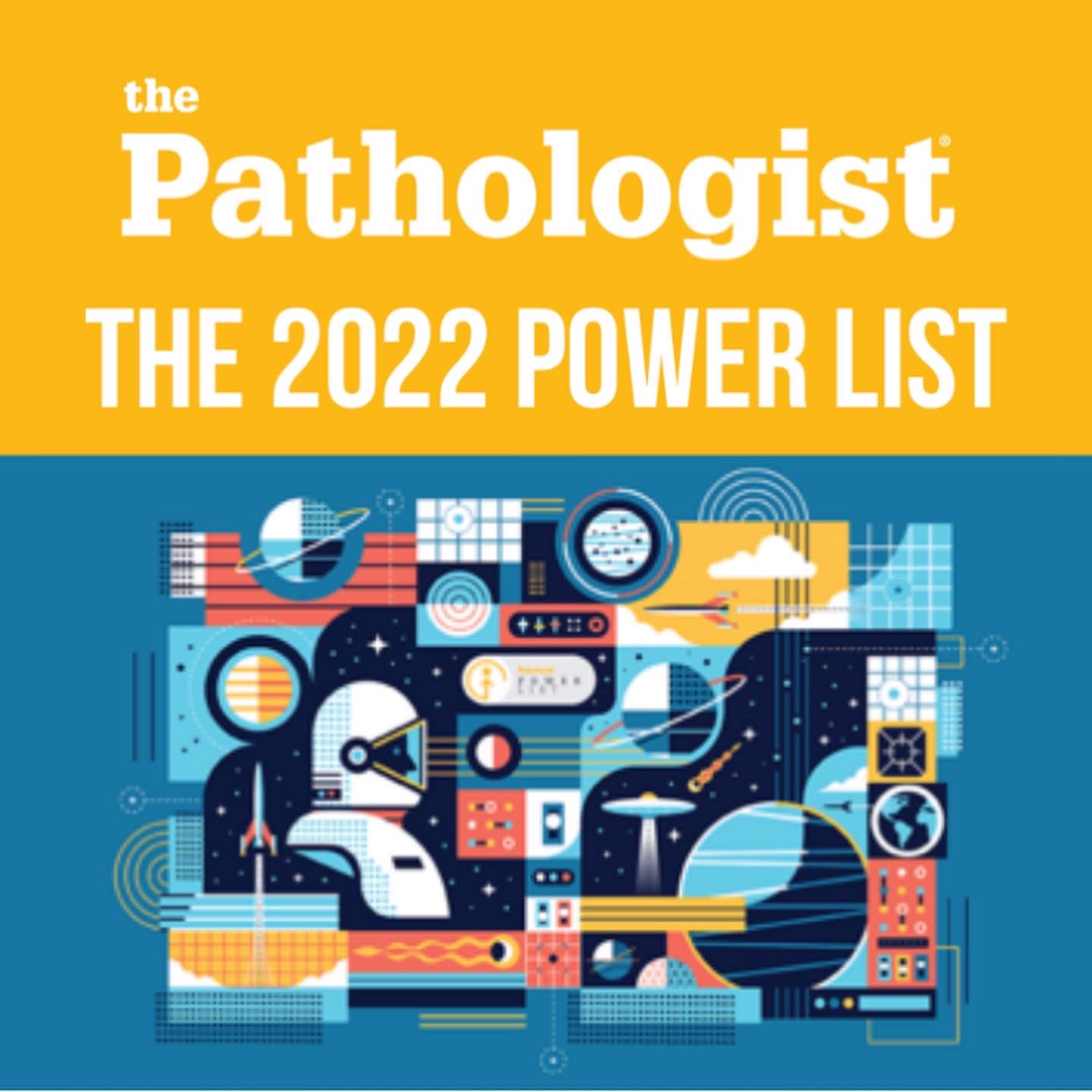 This year, The Pathologist accepted nominations in five categories.
Ready for Take-Off: early-career laboratory professionals
Ground Control: non-pathologist laboratory professionals
Voyage of Discovery: educators and mentors
First Contact: outreach and advocacy
Strange New Worlds: discoveries and innovations
Congratulations to all of the honorees!

PathVisions 2022. Have you signed up for the Digital Pathology Association's annual meeting? Scheduled for October 16-18 in Las Vegas, Pathology Visions 2022 is an innovative and informative conference that brings together experts across the field of digital pathology. PathVisions addresses the real-world, practical applications of digital pathology today, as well as the future of the field through new technologies and developments.

Pathology Visions 2022 delivers education and best practice purveyance while influencing industry standards and contributing to the advancement in the standards of patient care. Attendees at Pathology Visions will have access to expert presenters, thought-leaders, and pioneers in digital pathology as well as the latest product solutions and much more. Presentations cover two tracks to accommodate a wide variety of digital pathology and AI applications.
Visit the DPA website to learn more about the meeting and check out the agenda online Register to attend by August 19 to get the early bird discount.

Voicebrook's Pathology News Roundup features industry headlines and insights that pathology professionals are talking about. Think we should be covering something in particular?
Send your suggestions to content@voicebrook.com