New Release of Grossing Guidelines: The American Association of Pathologists' Assistants (AAPA) is releasing the 3rd edition of AAPA Macroscopic Examination Guidelines: Utilization of the CAP Cancer Protocols at the Surgical Bench (Grossing Guidelines). It includes sixteen new grossing guidelines in alignment with the most current CAP Cancer Protocols.

The 3rd Edition of the Grossing Guidelines has a new and streamlined format that is designed for ease of use at the gross bench and is a valuable reference for the new graduate pathologists' assistant as well as the experienced pathologists' assistant, pathology resident, or pathologist.
The 3rd Edition Grossing Guidelines include:
Structured data elements utilizing the CAP Cancer Case Summary macroscopic elements
Recommended block allocation key
Specimen handling / dissection guidelines
Educational information including incidence, epidemiology, morbidity and mortality, clinical presentation, imaging considerations, pertinent anatomy, macroscopic features of tumor, treatment and therapy guidelines, prognosis and prognostic features, and metastatic sites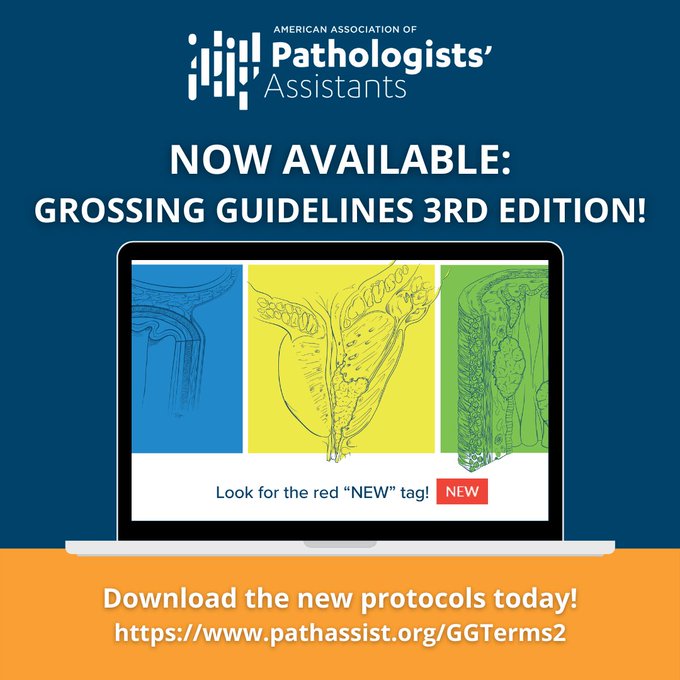 The Grossing Guidelines also incorporate four appendix sections in an organized format and include AJCC TNM criteria tables, ancillary testing information, frozen section considerations, and narrative macroscopic descriptions.
The Grossing Guidelines are based on specified relevant source documents, drafted by pathologists' assistant experts, and supported by the information provided by the College of American Pathologists (CAP), American Joint Committee on Cancer (AJCC), and other peer-reviewed references.

These guidelines will continue to serve patients by ensuring that the macroscopic examination of cancer resection specimens is compliant with the most up-to-date CAP Cancer Protocols, the AJCC Cancer Staging System, and provide optimization of the pre-analytic steps necessary to promote appropriate ancillary studies.
The remainder of the protocols are in progress or in the final stages of review by CAP experts, and the AAPA anticipates posting all protocols, fully aligned with AJCC and CAP updates, by late 2022.

CAP Residents Forum. The College of American Pathologists is looking for applicants for the CAP Residents Forum Executive Committee.
The CAP Residents Forum (RF) gives pathology residents a voice in organized pathology, promotes involvement of young leaders in CAP activities, and establishes a network for pathology residents.
Residents Forum Executive Committee elections will be held at the 2022 Fall Residents Forum meeting on Saturday, October 8, 2022, in New Orleans, Louisiana. The following positions are open for election:
Chair (1 position)
Vice Chair (1 position)
Secretary (1 position)
Alternate Delegate to the American Medical Association (AMA), Resident and Fellow Section (RFS) (1 position)
Alternate Delegate to the CAP House of Delegates (1 position)
Member-at-Large (1 position)
Digital Strategy Liaison (1 Position)
To apply, complete the application online by July 25, 2022.

What We're Reading. There's a great article in the current edition of The Pathologist magazine that considers the future of digital pathology and artificial intelligence (AI), making the case for embracing these technologies as pathology continues to evolve.
In his opinion piece, Dr. Martin Potash, Managing Director of AmeriPath Denver, Quest Diagnostics, says he's confident that digital pathology and AI will play an even larger role in anatomic pathology's future.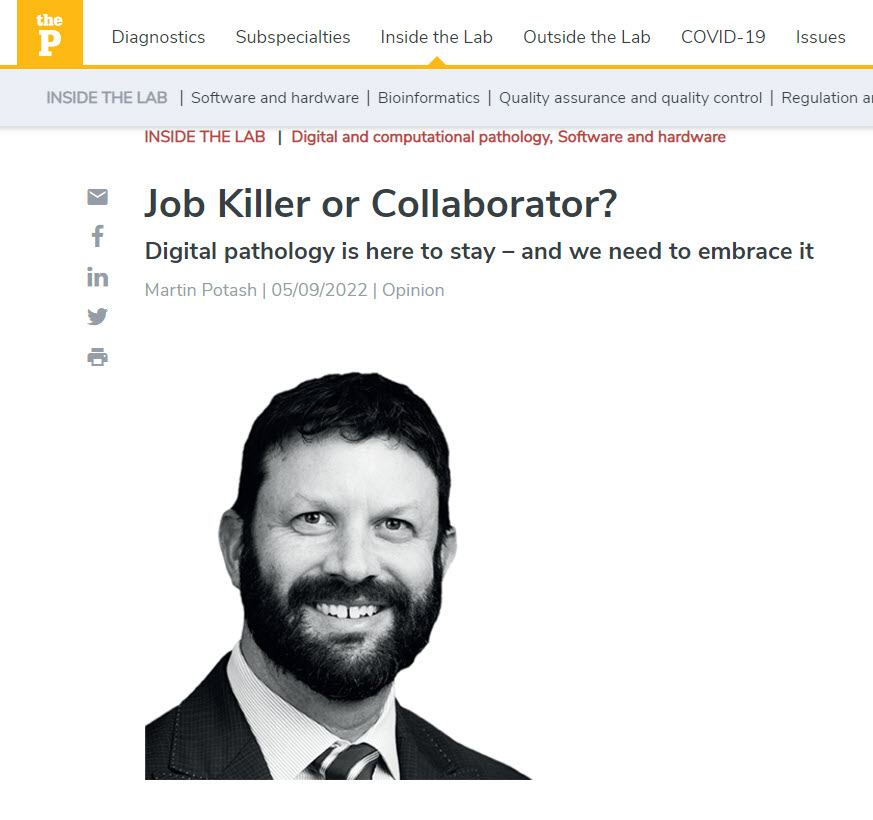 "Digital pathology and AI are now FDA-approved for primary diagnosis – and together they can revolutionize surgical pathology," Potash writes. "Digital platforms can serve as a re-envisioned microscope, a logistics solution, and a medium to allow pathologists to take advantage of AI tools.
He also sees those tools as a solution to the projected workforce shortage of pathologists over the next ten years.
Read the article in its entirety at The Pathologist magazine online.

Voicebrook's Pathology News Roundup features industry headlines and insights that pathology professionals are talking about. Think we should be covering something in particular?
Send your suggestions to content@voicebrook.com