New CAP Guidelines: Lung Specimens
The College of American Pathologists (CAP) has released new guidelines for lung specimens to help ensure that patients get the best diagnostic testing. Patients battling lung disease are frequently diagnosed through minimally invasive procedures that allow clinicians to perform vital ancillary tests on increasingly small specimens. But how small is too small? What is considered adequate for ancillary testing? And what are the essential steps to ensure that an adequate specimen is collected?
The new evidence-based guideline from the CAP has the answers. Published as an early online release in Archives of Pathology and Laboratory Medicine, "Collection and Handling of Thoracic Small Biopsy and Cytology Specimens for Ancillary Studies" clarifies procedures and methods to optimize test outcomes.
"Often times, people give little thought to how specimens are collected, but as our guideline demonstrates, pathologists and clinical teams are always focused on improving procedures to ensure we get the best results for patients," explained Sinchita Roy-Chowdhuri, MD, PhD, FCAP, the pathologist leading the guideline development.
Dr. Roy-Chowdhuri and Christopher R. Gilbert, DO, MS, FCCP, a member of the American Thoracic Society, co-chaired an interdisciplinary panel of pathologists, thoracic specialists, and other experts who reviewed more than 3,100 articles to develop the guideline's 16 recommendations. Members of the expert panel represented eight collaborating medical societies.
The guideline divides the recommendations into six main categories of procedures and considerations for the diagnosis of lung cancer or infectious diseases such as tuberculosis. The CAP and the collaborating medical societies encourage their members to adopt the guideline recommendations. Pathologists and their clinical colleagues should discuss the recommendations to coordinate efforts and determine how best to implement them. Resources to support guideline adoption are published on the CAP website as part of the guideline launch.

Free COVID-19 Information Resource for Labs
If you're like us, you're closely following how COVID-19 is affecting the nation's clinical laboratories, pathology practices, and hospitals. Now there's a resource to aggregate all of the information laboratories need to know in order to meet the business challenges of the pandemic.
The Dark Intelligence Group (DIG) is widely followed in the laboratory industry for essential market intelligence and business news. Best known as the publisher of The Dark Report, DIG has announced the launch of the COVID-19 STAT Intelligence Briefings Service.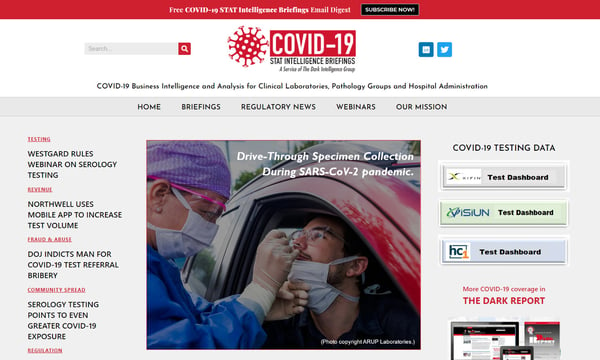 The COVID-19 STAT Intelligence Briefings Service is free of charge and updates daily. It includes news briefings, interviews with leading subject matter experts, podcasts and webinars, plus timely analysis of the daily changes in the pandemic. It features actionable information, supplemented with real-time national lab test dashboards.
DIG says it has plans to introduce twice-weekly conference calls, so attendees can hear updates from nationally-known thought leaders and get answers to their critical questions on managing laboratories during the SARS-CoV-2 outbreak.

Study: COVID-19 Autopsy Protocols
Throughout the history of medicine, the role of autopsy has been fundamental to the understanding of multiple pathogenic processes that are investigated postmortem through autopsy. COVID-19 is partly changing the manner in which forensic pathologists and all those who work in autopsy services operate, but above all, it is changing the patterns established for years by which
cadavers were analyzed postmortem.
A new study published in Archives of Pathology & Laboratory Medicine proposes an operating protocol that can be useful for all clinical and forensic autopsies with a focus on the examination of positive or suspected COVID-19 cases.
"Besides the published recommendations for hygiene during autopsy, there are no guidelines for the postmortem diagnosis of COVID-19, nor have the procedures for collecting biological samples for judicial or scientific research purposes been defined," the authors say in the study. "Our protocol aims to help operators in this field to perform postmortem analyses of cadavers associated with suspected or positive cases of COVID-19."
The study authors propose a five-phase autopsy protocol for postmortem diagnosis and the conservation of samples for forensic and research purposes.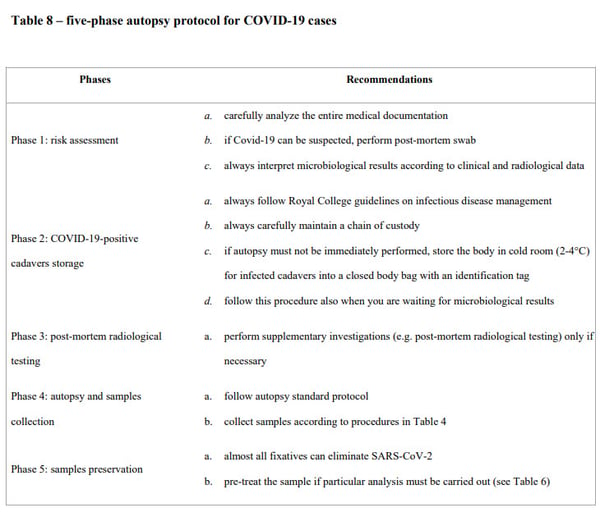 Voicebrook's Pathology News Roundup features industry headlines and insights that pathology professionals are talking about. Think we should be covering something in particular?
Send your suggestions to content@voicebrook.com
---