Digital Pathology Codes. With the start of the new year, there are new digital pathology codes now in effect. The College of American Pathologists worked with the American Medical Association (AMA) CPT Editorial Panel last year, to establish 13 new digital pathology add-on codes. The new codes are intended to capture and report additional clinical staff work and service requirements associated with digitizing glass microscope slides for primary diagnosis. Digitization of glass microscope slides enables remote examination by the pathologist and/or in conjunction with the use of artificial intelligence (AI) algorithms.
As a result of CAP advocacy, the new codes will help pathologists, pathology practices, and laboratories providing digital pathology digitization procedures appropriately report these services. The new digital pathology codes have been effective since January 1, 2023.

2023 ABPath Leadership. The American Board of Pathology (ABPath) has announced the ABPath Board of Trustees and Executive Committee for 2023.
In its recent newsletter, ABPath outlined its leadership, including:
President

Ritu Nayar, MD, Chicago, Ill.

Vice President Barbara Sampson, MD, PhD, New York, N.Y.

Secretary Kathleen G. Beavis, MD, Chicago, Ill.

Treasurer Mohiedean Ghofrani, MD, MBA, Vancouver, Wash.

Immediate Past President Jeffrey Goldstein, MD, Los Angeles, Calif.
The following Trustees were re-elected to additional terms:
Edward R. Ashwood, MD elected to a 4th term

Mohiedean Ghofrani, MD, MBA elected to 3rd term

Barbara A. Sampson, MD, PhD elected to a 3rd term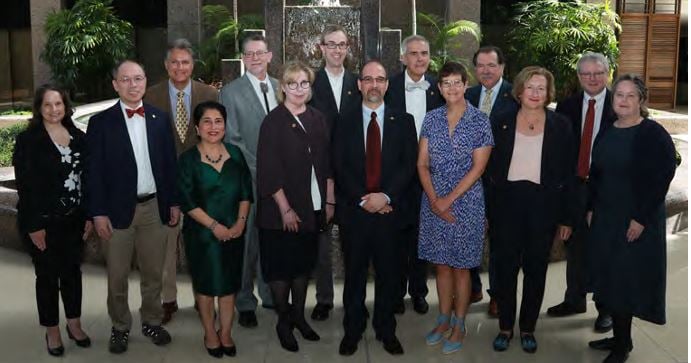 In addition to the officers, Trustees of the American Board of Pathology are:
Edward R. Ashwood, MD, Aurora, Colo.

James R. Cook, MD, PhD, Cleveland, Ohio

Constance M. Filling, EdD, Washington, D.C.

Mark K. Fung, MD, PhD, Burlington, Vt.

Eric F. Glassy, MD, San Pedro, Calif.

Julie D. Kingery, MD, Gainesville, Fla.

Jennifer Laudadio, MD, Little Rock, Ark.

Matthew J. Wasco, MD, Ann Arbor, Mich.
ABPath also thanked the trustees that completed the last year of their term on the board in 2022, including Susan A. Fuhrman, MD, of Columbus, Ohio; Karen L. Kaul, MD, PhD, of Evanston, Ill.; and Steven H. Swerdlow, MD, of Pittsburgh, Penn.

Pathologists Leadership Summit. Registration is open for the 2023 Pathologists Leadership Summit, scheduled for April 15 - 18 in Washington, D.C. Whether you choose to attend in person or virtually, the Pathologists Leadership Summit is the meeting where members can come together to strengthen their leadership skills and move the pathology profession forward.
Attendees can also participate in the CAP's annual Hill Day event and be an active advocate for the pathology community, meeting virtually with representatives, senators, and/or congressional staff to educate them on the health care issues impacting pathology.
CAP members can attend this event for free and will receive CME (Continuing Medical Education).
Register for this event online.

Voicebrook's Pathology News Roundup features industry headlines and insights that pathology professionals are talking about. Think we should be covering something in particular?
Send your suggestions to content@voicebrook.com