COVID-19 Update: CAP Suspends Lab Inspections
Due to the COVID-19 public health crisis, the College of American Pathologists (CAP) has successfully petitioned the Centers for Medicare & Medicaid Services (CMS) to suspend all inspections except Immediate Jeopardy Complaint inspections (and associated follow-up revisit inspections) until April 10, 2020.

CAP says this decision will be evaluated on an ongoing basis and could potentially be extended, depending on how the situation evolves. Concerning the suspension of inspections, here's what it means for you and your laboratory should your inspection fall within this time frame:
You will remain CAP accredited.
To maintain quality and safety, continue proficiency testing (PT) participation.
Continue to follow all CAP-accreditation checklist requirements.
As the situation is fluid, CAP will communicate with impacted laboratories regarding rescheduling inspections.
CAP had also requested that the CMS temporarily allow pathologists to utilize remote sign-out for pathology interpretation/diagnosis and allow other licensed health care professionals to utilize remote data reviews. However, at the time of the post's publication, the CMS has not authorized allowing this flexibility. The CAP argued that this would allow laboratories to employ appropriate protocols to reduce the risk of infection among their own teams and to avoid hindering their ability to test and treat patients. If laboratory personnel were to be significantly impaired, it could become difficult for the country to continue to respond to this crisis. Providing this waiver would serve to minimize the disruption to the workforce that is occurring while maintaining the best possible patient care.
You can keep up with the latest CAP news on COVID-19 by visiting the CAP webpage devoted specifically to coronavirus updates for pathologists.

ASCP and API: Labs Need More Flexibility During COVID-19
The American Society for Clinical Pathology (ASCP) and the Association for Pathology Informatics (API) are urging the federal government to take immediate action to help laboratories better adapt their workforce needs to the demands of testing for COVID-19. The two organizations are working together to get the Centers for Medicare and Medicaid Services (CMS) to provide laboratories with the temporary flexibility needed to allow pathologists and laboratory professionals to meet their patients' pathology needs remotely.
CMS requires that individuals reviewing or interpreting digital slides must do so at a Clinical Laboratory Improvement Amendments of 1988 (CLIA)-certified location. Securing a CLIA certificate can take months or longer. ASCP and API say this creates an unnecessary burden on clinical laboratories during this pandemic.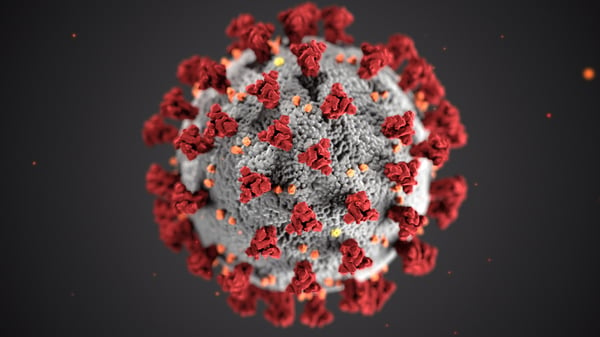 Illustration of ultrastructural morphology exhibited by coronaviruses. Image courtesy of the CDC.
ASCP and API believe that allowing pathologists and laboratory professionals to provide services remotely would help laboratories better adjust to the current testing environment, which is also a recent recommendation by the federal Clinical Laboratory Improvement Advisory Committee. Given severe shortages of pathologists and laboratory professionals at many U.S. laboratories and the need to follow calls for social distancing, they assert that the existing CLIA requirement unnecessarily creates barriers to optimum patient care and puts the laboratory workforce at risk.

You can help ASCP and API in their effort to push the federal government to help laboratories meet the nation's testing needs. Go to the ASCP eAdvocacy Center to help.

Docuseries Highlights Labs on COVID-19 Front Lines
The American Society for Clinical Pathology (ASCP) is showcasing the behind-the-scenes work that laboratories across the nation are doing to care for the citizens of America in a docuseries called "Laboratories on the Front Lines: Battling COVID-19."
The series profiles the work of NorthShore University HealthSystem, Cleveland Clinic, University of Washington, and UCLA Health System. With in-the-moment interviews, viewers can learn how clinical laboratories are working to meet the needs of patients who need diagnostic testing and support the health systems as best they can. Each video features ASCP CEO Dr. E. Blair Holladay, interviewing the leaders of laboratories.
This is an unprecedented time in our nation and our world's history as we respond and attempt to mitigate the spread of a pandemic, known as COVID-19. Pathologists and laboratory professionals are the unsung heroes in this effort, as they comprise the backbone of the medical laboratories, which are conducting testing for the coronavirus. Pathologists and laboratory professionals are on the front lines 24/7, making sure that all of the tests are functioning, that we have the materials that we need, and most importantly, that patients are receiving the appropriate diagnosis and treatment in an efficient manner." -The American Society for Clinical Pathology

Voicebrook's Pathology News Roundup features industry headlines and insights that pathology professionals are talking about. Think we should be covering something in particular?
Send your suggestions to content@voicebrook.com
---