U.S. Lab Inspections Suspended
The Centers for Medicare & Medicaid Services (CMS) has agreed to suspend all laboratory inspections except Immediate Jeopardy Complaint inspections (and associated follow-up revisit inspections) until further notice.
In accordance with this decision by CMS, the College of American Pathologists (CAP) has suspended all routine inspections during the national state of emergency due to the COVID-19 pandemic.
Once CAP resumes routine inspections, laboratories will receive prior notification of the inspection date to ensure the inspection can occur as planned.
During this time, impacted laboratories will remain CAP accredited. Additionally, to maintain quality and safety during this time, impacted laboratories must continue proficiency testing (PT) participation and follow all CAP requirements.
Internationally, CAP has postponed all scheduled and requested laboratory inspections until at least June 1, 2020. Additionally, CAP granted a 30-day extension to all laboratories (both U.S. and international) that have a self-inspection due by June 1, 2020.

Forensic Pathologists' Role in Pandemic
Forensic pathologists are heavily involved in managing the COVID-19 crisis, ensuring the proper management of victim's bodies, minimizing the spread of the virus, and guiding authorities, hospitals and funeral directors about the "do's and don'ts" of dealing with the deceased.
We appreciated this article by Ahmad Samarji, a Lebanon-based scholar of forensic science, who reported on the extraordinary challenges facing coroners and pathologists in outbreak zones around the world.
Check it out:


Lab Week 2020
It's Lab Week! Medical Laboratory Professionals Week takes place during the last full week each April and celebrates its 44th anniversary this year.
There is no better time to celebrate the thousands of heroes in laboratory coats working to support the health of patients and communities across America right now.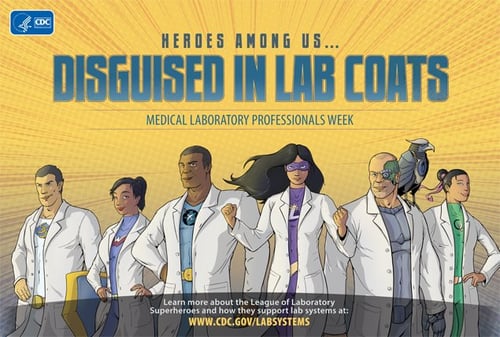 Of course, COVID-19 has put a damper on most of the usual Lab Week events (womp, womp) but there are still a few ways to celebrate while maintaining social distance:
The College of American Pathologists can help you send an e-card to say thanks to your favorite lab professional.
The

American Society for Clinical Laboratory Science is holding a

virtual Lab Week Run, something that everyone can safely do to support our community and stay connected.
The National Society for Histotechnology is running an "Art of the Stain" contest. Submit your original histology stains by April 23.
How is your lab honoring the United States' critical healthcare workforce?

Voicebrook's Pathology News Roundup features industry headlines and insights that pathology professionals are talking about. Think we should be covering something in particular?
Send your suggestions to content@voicebrook.com
---