Advocating Against Medicare Cuts in 2021
The American Medical Association (AMA), the College of American Pathologists (CAP), and more than 100 medical societies have called on the Department of Health and Human Services (HHS) to mitigate Medicare cuts that will adversely impact specialty physicians in 2021.
The CAP has persistently asked the administration, as well as Congress, to stop the cuts, which will amount to a -8 percent Medicare decrease to pathologists next year.
In the July 1 letter led by the AMA, the groups said they're "concerned that the financial instability created by this [COVID-19] public health crisis will be exacerbated by budget neutrality adjustments required when CMS implements a widely supported Medicare office visit payment policy finalized for 2021."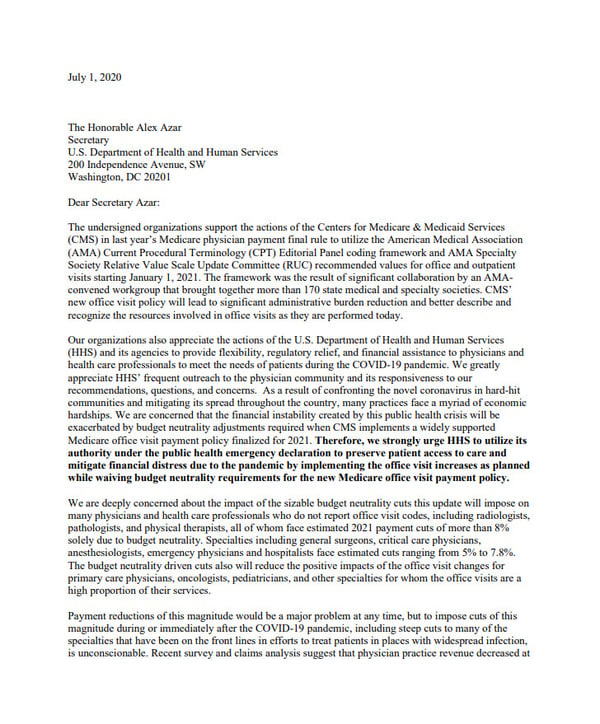 In November of 2019, the Centers for Medicare and Medicaid Services (CMS) finalized a changes and payment increases to evaluation and management (E/M) services. These changes take effect in January 2021. Due to budget neutrality requirements, the change will reduce payments to non-E/M services beginning next year. The CMS decided that physicians, such as primary care doctors, should be paid more to reflect their work and the value they provide to patient care. To accomplish this and comply with budget neutrality requirements, the CMS will shift funds from specialists, like pathologists, who do not bill E/M codes.
"To impose cuts of this magnitude during or immediately after the COVID-19 pandemic, including steep cuts to many of the specialties that have been on the front lines in efforts to treat patients in places with widespread infection, is unconscionable," the letter said. "For these reasons, our organizations strongly urge HHS to use its authorities and flexibilities under the public health emergency to implement the office visit increases and waive the requirement for CMS to adjust Medicare physician payments for budget neutrality."
The CAP launched a summer campaign of virtual advocacy demanding that Congress delay, mitigate, or cancel the -8 percent Medicare cut for pathology services that will take effect on January 2021. Congress can stop this cut by waiving budget neutrality for Medicare E/M services. The CAP is asking its members to use this form to sign up for advocacy activities.

ABPath: Fall 2020 Exams Go Remote
The American Board of Pathology has announced that, due to the ongoing health risks of COVID-19, the ABPath Fall 2020 Primary and Subspecialty exams will be administered as remote, secure, live tele-proctored exams taken a candidate's home or office.
"The health and safety of our candidates and staff are our highest priority," ABPath noted on its website. "No exams will be administered in the Tampa, Fla. exam center in 2020. When it is safe to do so and for exam security, we anticipate returning to the administration of certification exams in our exam center... We know this has been a stressful time and hope that remote exams will allay many of our candidate's concerns. We greatly appreciate your patience as we finalize the details."
Candidates who were registered for the Fall 2020 Primary and Subspecialty exams were sent an email and a survey link to the address they have provided in their PATHway account.

COVID-19 Autopsy Study: Blood Clots in "Almost Every Organ"
From the NYU Langone Health News Hub: Autopsies performed on those who died from COVID-19 can provide crucial information about the virus. That information is being used to help understand the disease and how to treat COVID-19.
Amy V. Rapkiewicz, MD, chair of the Department of Pathology at NYU Winthrop Hospital and director of autopsies for NYU Long Island School of Medicine, shared her observations with The Washington Post. Dr. Rapkiewicz's study outlining her findings was published at the end of June in The Lancet journal EClinicalMedicine.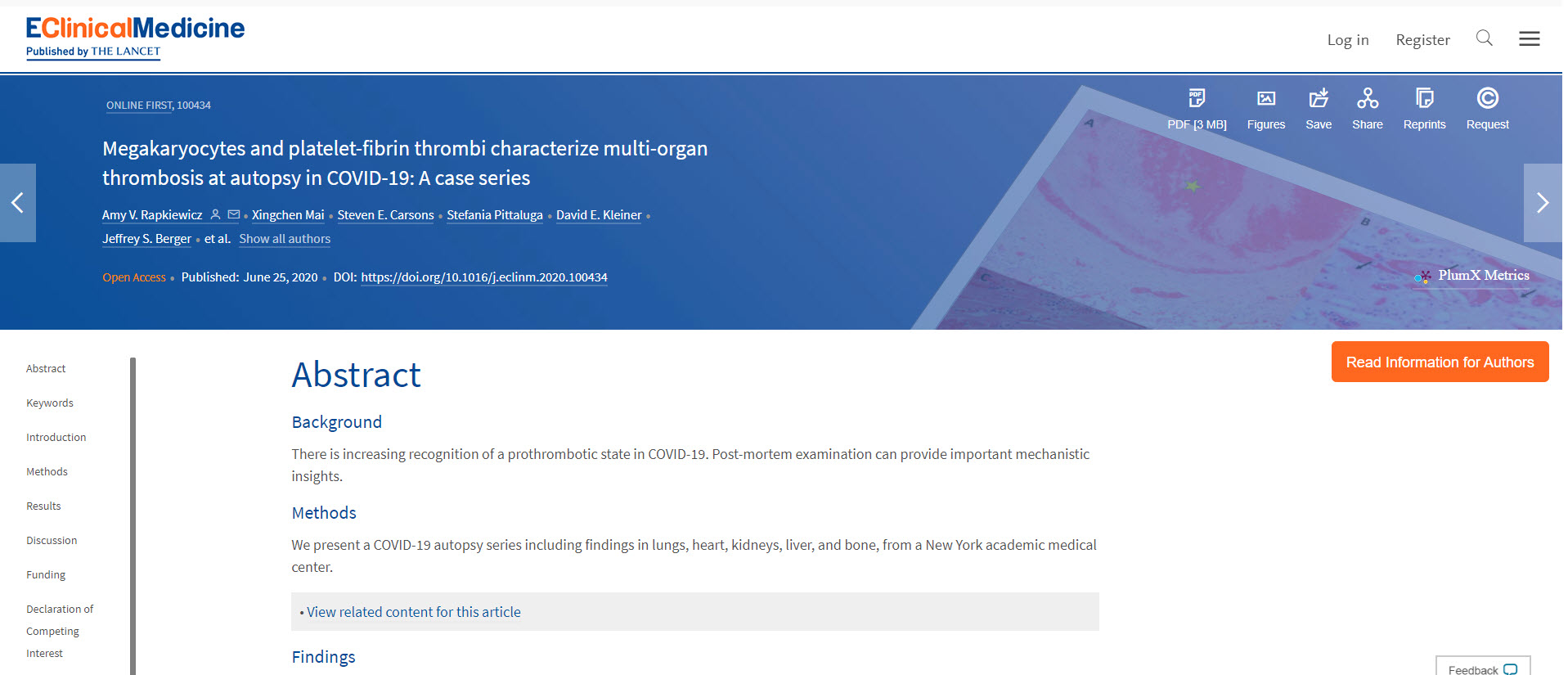 Although it is too early to tell whether her findings will lead to new treatments, Dr. Rapkiewicz says they open up new areas of study.
Jeffrey S. Berger, MD, director of NYU Langone's Center for the Prevention of Cardiovascular Disease, is one of the clinician–scientists taking the information discovered from autopsies and testing possible COVID-19 treatments.
Dr. Rapkiewicz's reports suggest antiplatelet medications, like aspirin, could be helpful to stave off complications caused by COVID-19, and Dr. Berger is currently recruiting for a clinical trial to answer this question.
"It's only one piece of a very big puzzle, and we have a lot more to learn," Dr. Berger says. "But if we can prevent significant complications, and if more patients can survive the infection, that changes everything."
Read more from The Washington Post.

Voicebrook's Pathology News Roundup features industry headlines and insights that pathology professionals are talking about. Think we should be covering something in particular?
Send your suggestions to content@voicebrook.com
---