American Board of Pathology Announces New Officers and Trustees
The American Board of Pathology (ABPath), the leading organization that certifies physicians in pathology, has announced the election of new officers, as well as the Board of Trustees for 2021.

President: Edward R. Ashwood, MD, of Aurora, Colo.
Vice President and Treasurer: Jeffrey D. Goldstein, MD, of Los Angeles, Calif.
Secretary: Ritu Nayar, MD, of Chicago, Ill.
Immediate Past President: Steven H. Swerdlow, MD, of Pittsburgh, Pa.
Constance M. Filling, EdD, of Washington, D.C. (Public Member) was re-elected to an additional term as a Trustee.
In addition to the officers, Trustees of the American Board of Pathology are:
Kathleen G. Beavis, MD, of Chicago, Ill.
Susan A. Fuhrman, MD, of Columbus, Ohio
Mark Fung, MD, PhD, of Burlington, Vt.
Mohiedean Ghofrani, MD, MBA, of Vancouver, Wash.
Eric F. Glassy, MD, of San Pedro, Calif.
Karen L. Kaul, MD, PhD, of Evanston, Ill.
Barbara Sampson, MD, PhD, of New York, N.Y.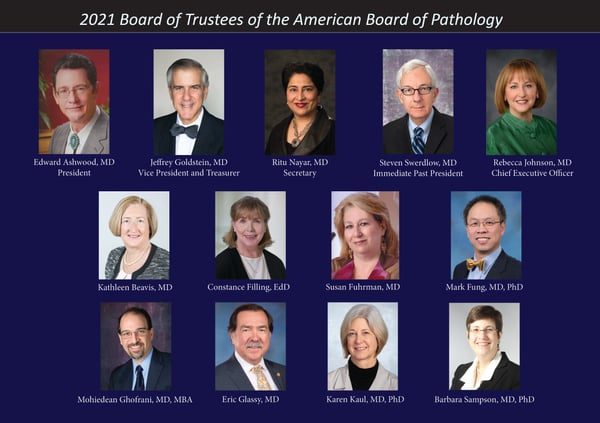 "ABPath extends our sincere appreciation to our Trustees for their continued support and dedication," the organization said in a press release. "As leaders in the profession of pathology, their guidance and willingness to serve are critical for the Board to fulfill its mission in serving the public and promoting excellence in the field of pathology."

CAP Foundation's Future Leaders Fund
CAP Foundation board director Alvin M. Ring, MD, FCAP, has worked to support future pathologists during his entire career. Dr. Ring has helped lead several initiatives as a board member of the CAP Foundation and most recently gave a significant donation to establish the Future Leaders Fund.
Throughout his 50-year career as a pathologist, professor, and mentor, Dr. Ring understood the importance of cultivating the future leaders of the specialty and said he was pleased to help lead the Foundation's efforts via the fund.
Dr. Ring also shares concerns regarding a lack of interest in pathology from prospective medical students in the US. "The positive features of pathology need to be impressed on students and negative impressions countered," he said. "The best ones to do this are the contemporaries of the students."
However, there is also a role for practicing pathologists and even emeriti, whom Dr. Ring likens to "alumni"—the "college" receiving support in this case being the College of American Pathologists.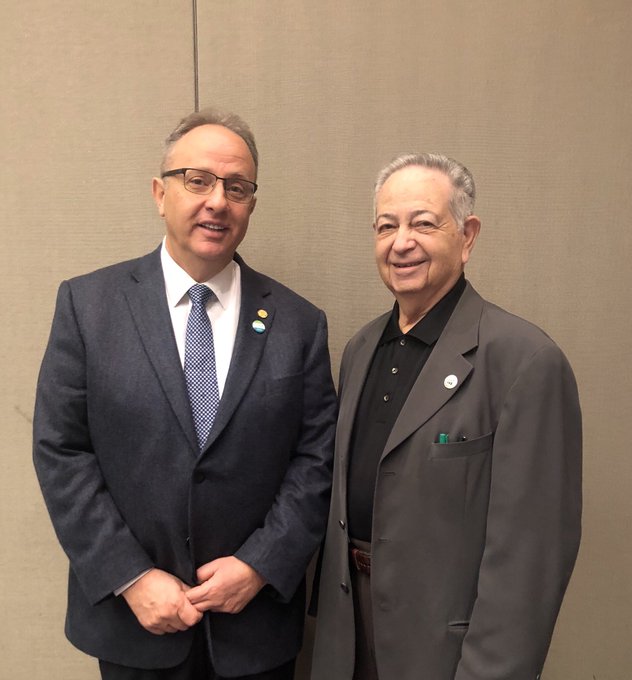 Former CAP Foundation President (left) and CAP Foundation Board Director Dr. Alvin Ring (right) at a 2018 event. Image courtesy of the CAP Foundation.
The Medical Student Travel Award aims to foster connections by giving medical students the opportunity to attend a CAP event like the annual meeting and Residents Forum. These students are paired with an early-career pathologist who can help guide them through the event, answer questions about the specialty, and help them network and plan for a career in the field.
After hearing back from medical student awardees who attended CAP20 Virtual, Dr. Ring and the Foundation are confident that the program is inspiring medical students to choose the specialty—students who could soon become CAP leaders.

Roche Launches Algorithms for Breast Cancer Diagnosis
Biotech company Roche has announced the launch of two automated digital pathology algorithms, uPath HER2 (4B5) image analysis and uPath Dual ISH image analysis for breast cancer to help determine the best treatment strategy for each patient.
The image analysis algorithms use artificial intelligence to support pathologists in making faster, more accurate patient diagnoses in breast cancer.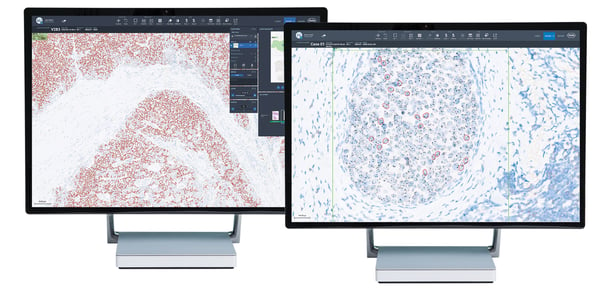 Image courtesy of Roche.
A mutation in the HER2 gene, which occurs in as many as 20 percent of the 2.1 million cases of breast cancer diagnosed globally each year, is responsible for aggressive growth in some patients. Identifying this mutation is important in determining which patients may benefit from targeted treatment.
The uPath HER2 (4B5) image analysis for breast cancer helps pathologists to quickly determine whether tumors are positive for the HER2 biomarker, highlighting positively stained tumor cell membranes with a clear visual overlay for easy reference. uPath HER2 Dual ISH image analysis for breast cancer assists the pathologist in the determination of HER2 gene amplification. A heatmap is provided to guide pathologists to areas of interest where the algorithm can identify cells to inform the determination of a treatment strategy.

Voicebrook's Pathology News Roundup features industry headlines and insights that pathology professionals are talking about. Think we should be covering something in particular?
Send your suggestions to content@voicebrook.com
---