The College of American Pathologists (CAP) released its 2021 edition of the CAP Laboratory Accreditation Program checklists. The checklists outline the stringent requirements laboratories must achieve to comply with the Centers for Medicare and Medicaid Services' (CMS) regulations for laboratory testing.
CAP inspection teams use the checklists as a tool to monitor laboratory compliance with CMS regulations. The CMS regulates all laboratory testing (except research) performed on humans in the U.S. through the Clinical Laboratory Improvement Amendments (CLIA). The CAP is a CMS-approved accreditation organization with deeming authority to inspect laboratories under CLIA, and accredits nearly 8,000 laboratories in the U.S. and 70 other countries.
"CAP members and affiliated experts scrutinize the checklists annually, working to integrate advancements in medicine, technology, and laboratory management," said Richard Scanlan, MD, FCAP, chair, CAP Council on Accreditation, which oversees the accreditation program. "For 75 years, the CAP has committed itself to providing programs for laboratories to achieve the highest standards for accurate patient testing."
The CAP Accreditation Cycle. Image courtesy of cap.org
The 2021 edition includes 21 discipline-specific checklists with approximately 3,000 requirements. The CAP made some of the most significant changes in the following checklists: Anatomic Pathology, Cytopathology, Laboratory General, All Common, Molecular Pathology, Microbiology, and Transfusion Medicine.
The CAP will host a webinar, "2021 CAP Accreditation Checklist Updates: Changes that Matter," on Weds. Oct. 20 for laboratory professionals to review the updates.

Biotech company Roche has introduced the Roche Digital Pathology Open Environment, allowing software developers to easily integrate their image analysis tools for tumor tissue with Roche's uPath enterprise software, an application for pathologist workflow. This open environment allows for the secure exchange and flow of data so that pathologists can access advanced algorithms from third parties alongside Roche's menu of artificial intelligence-based image analysis tools. This enables software developers globally to distribute their digital products through Roche's uPath software, offering a broader set of diagnostic tools for pathologists and ultimately the potential for better and faster answers for patients.
On its website, Roche says: "Pathology is undergoing a transformation towards digitization. The need for a pathology workflow solution that can enable pathologists to efficiently complete their daily workload and enable easy access to new digital tools is essential for wider adoption. Roche Digital Pathology expands its commitment to improving patient outcomes and advancing personalized healthcare through open environment innovation."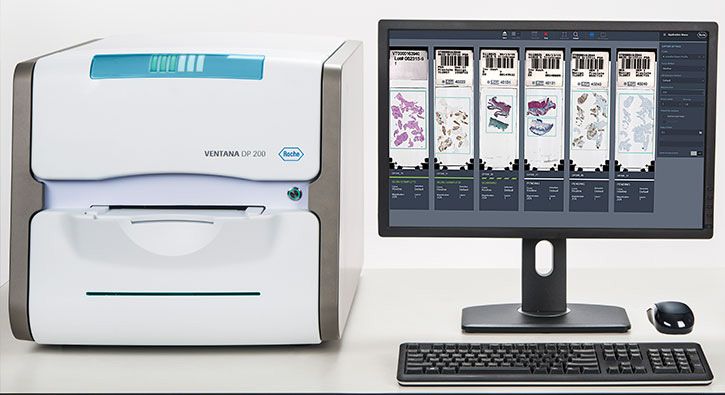 Image courtesy of Roche.
As artificial intelligence tools proposed for clinical use continue to develop, industry and research partners may leverage Roche's Open Environment. This access expands the ability for pathologists to more easily read images generated from the VENTANA DP 200 slide scanner, which is needed for image analysis algorithm development. This also allows for partnerships between researchers and developers, which can result in greater access to innovative imaging tools for laboratories and healthcare providers for both research and clinical use.


The CAP is voicing strong opposition to new federal regulations that the CAP says "give insurance companies the upper hand during what should be an impartial independent dispute resolution (IDR) process" as set in the No Surprises Act.
Congress passed the No Surprises Act in December 2020. The final legislation included several provisions the CAP adamantly pushed for, such as holding patients financially harmless, fair reimbursement for care, and efforts to address network adequacy standards. Congress established a balanced IDR process to ensure physicians are paid appropriately for the services they provide.

The CAP is opposed to the interim final rule for the IDR process, released on Sept. 30, which the organization says disregards Congress's intentions of creating a fair system where physicians and health insurers can resolve disputes without one single factor having more weight than another.

"The new rules to implement the No Surprises Act ignore congressional intent," said CAP President Emily E. Volk, MD, FCAP. "Congress was quite clear that to ensure an equitable and balanced system to resolve disputes no single factor should be given preference over others. However, the new rules will favor payment rates developed by insurance companies, which will only exacerbate ongoing health plan manipulation and disincentivize insurers from offering fair contracts to physicians caring for patients."

In the regulations effective January 1, 2022, the Centers for Medicare & Medicaid Services (CMS) stated that when making a payment determination, certified IDR entities must begin with the presumption that the insurer's initial qualifying payment amount for an out-of-network service is the appropriate amount. For an IDR entity to deviate from the offer closest to that qualified payment amount any information submitted must demonstrate that the value of the service is materially different.

However, the No Surprises Act states that an impartial IDR entity must equally consider many factors, such as training and quality outcomes, patient acuity or complexity of services, and prior contract history between the two parties over the previous four years.

The CAP says it will remain engaged with CMS to address the regulations and ensure they follow the statute.

Voicebrook's Pathology News Roundup features industry headlines and insights that pathology professionals are talking about. Think we should be covering something in particular?
Send your suggestions to content@voicebrook.com