USCAP 2023. We're already into the month of February -- and that means USCAP 2023 is right around the corner!
Voicebrook is attending the USCAP's 112th Annual Meeting, scheduled for March 11-16 in New Orleans.

Be sure to stop by and visit Voicebrook at booth 149 in the exhibition hall from March 13-15.
USCAP's annual meeting is the largest gathering of pathologists in the world. Attendees get to learn first-hand from pathology legends, network with peers, gain a broader knowledge base, and be the first to learn about groundbreaking research.
Learn more and register for the event online. We hope to see you there!

New Info on Digital Pathology Codes. There's new info now available on digital pathology codes on the College of American Pathologists' website.
The CAP has curated resources for pathologists and their practices on the new Category III Digital Pathology codes. These resources include a website with all the codes, information, and frequently asked questions. The new codes are intended to capture and report additional clinical staff work and service requirements associated with digitizing glass microscope slides for primary diagnosis. Digitization of glass microscope slides enables remote examination by the pathologist and/or in conjunction with using artificial intelligence (AI) algorithms.

The CAP worked with the American Medical Association (AMA) CPT Editorial Panel to establish the 13 new digital pathology add-on codes. As a result of CAP advocacy, the codes will help pathologists, pathology practices, and laboratories providing digital pathology digitization procedures appropriately report these services. The new digital pathology codes have been in effect since January 1, 2023.

Worth a Listen. February is Black History Month, a time to reflect on the remarkable history and contributions of Black people. It's also an excellent opportunity to learn more about diversity, equity, and inclusion.
Look no further than the fantastic podcast created by Dr. Michael Williams, a neuropathology fellow at the University of Alabama-Birmingham and a founding member of the Society of Black Pathologists. Dr. Williams' Diversify in Path podcast, which launched in August 2021, studies how diversity, equity, and inclusion can benefit pathology and laboratory medicine, and features the personal stories of diverse voices in the field.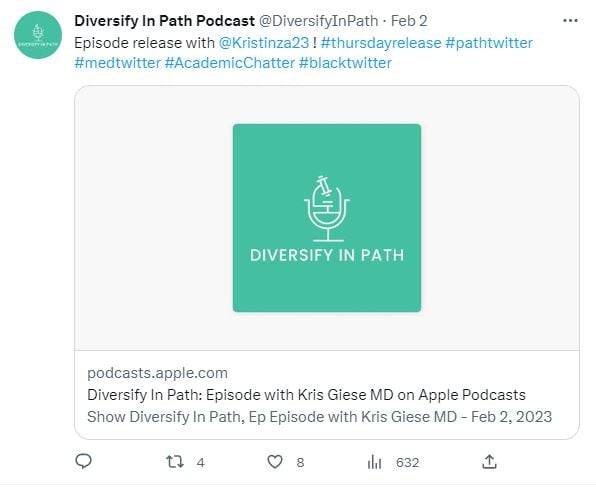 Do a deep dive into all of the episodes, or start with the most recent podcast featuring forensic pathologist Dr. Kristinza Giese.

Voicebrook's Pathology News Roundup features industry headlines and insights that pathology professionals are talking about. Think we should be covering something in particular?
Send your suggestions to content@voicebrook.com