CAP Advocacy Saves Pathologists $85 million in 2021
This year, the College of American Pathologists coordinated a sustained lobbying campaign against Medicare payment cuts to pathologists in 2021. That campaign is paying off, with news that Congress will mitigate the cut by adding $3 billion to next year's Medicare fee schedule and delaying implementation of a new evaluation and management add-on code for three years (the implementation delay is expected to restore roughly 3 percent to pathologists each year). The result amounts to $85 million more for pathologists in 2021, according to an analysis by the CAP.
What was once a -9 percent Medicare cut to pathologists' total reimbursement in 2021 has now been drastically reduced to an estimated -2.25 percent next year pending congressional action. On December 20, leaders in the House and Senate announced key provisions in a $900 billion COVID-19 relief package and a $1.4 trillion federal spending bill that will keep the government open through September 2021.
In addition to government spending bills and several measures providing financial relief to Americans, the year-end legislation included sections to mitigate and reduce the Medicare cut. The legislation passed by overwhelming margins in the House and Senate on December 21. After a delay, President Trump finally signed the bill into law on December 27.
Due to Medicare policy to increase reimbursement to evaluation and management services, an overall Medicare payment decrease of -9 percent to pathology services was scheduled to take effect to maintain budget neutrality. The CAP had strongly opposed the cuts and rallied CAP members to contact their federal legislators to fight the Medicare cuts throughout 2019 and 2020.
In another section of the legislation, Congress also delayed a -2 percent budget sequester cut to Medicare that was scheduled for January 2021. The cut is delayed for three months and would apply to Medicare services beginning April 1, 2021, unless Congress delays the cut further.

Path Diaries
The creators of PathElective.com have been working on another project... this one designed to shared the stories of pathologists and facilitate connection in the pathology community.
Dr. Kamran Mirza and Cullen Lilley are the editors-in-chief of Path Diaries—Physician Narratives of a Calling to a Career Behind the Scenes. They decided to create Path Diaries to give a voice to the individuals who decided to pursue pathology and laboratory medicine or had a meaningful experience in the field they wanted to share.
Keep an eye out for quarterly PDF editions of Path Diaries where all featured stories and essays will be available. All accepted and edited pieces will be posted to the website shortly after a short peer review and approval by one of the editors. After submission, writers will have the opportunity to serve as a peer reviewer or apply for an officer position, if desired. Submissions should be narrative in nature, reflect on a formative experience in pathology and/or laboratory medicine, and serve as a means to reflect on ones experiences and connect with others in a more formal way.
"Reflection has become a vital component of medical education, and with the rising awareness placed on mental health and physical wellbeing amongst medical professionals, reflective writing can be an amazing way to get your experiences out there," says Lilley. "At Path Diaries, we hope to offer a one-of-a-kind space for pathologists, medical students, and laboratorians to contribute essays about their experiences in the field while allowing others to engage with the author's content in a meaningful way."

Pathologists Quality Registry Earns 2021 Approval
On December 18, the CAP's Pathologists Quality Registry once again received its qualified clinical data registry status from the Centers for Medicare & Medicaid Services (CMS). This recognizes the registry's ability to improve care for patients and collect quality data to submit for the Merit-based Incentive Payment System (MIPS). The Pathologists Quality Registry reduces pathologists' burdens when participating in MIPS by providing practice-specific guidance, consolidating reporting for both the Quality and the Improvement Activities categories and providing pathology practices with real-time performance benchmark reports.
"Quality diagnostic patient care is at the foundation of the CAP's mission," said CAP President Patrick Godbey, MD, FCAP. "Our Pathologists Quality Registry guarantees that pathologists have the best qualified clinical data registry for continuous quality improvement. It helps us improve our practices and successfully fulfill the requirements of Medicare's Merit-based Incentive Payment System. Our registry enhances the pathologist's ability to get paid fairly for the value he or she provides to Medicare patients."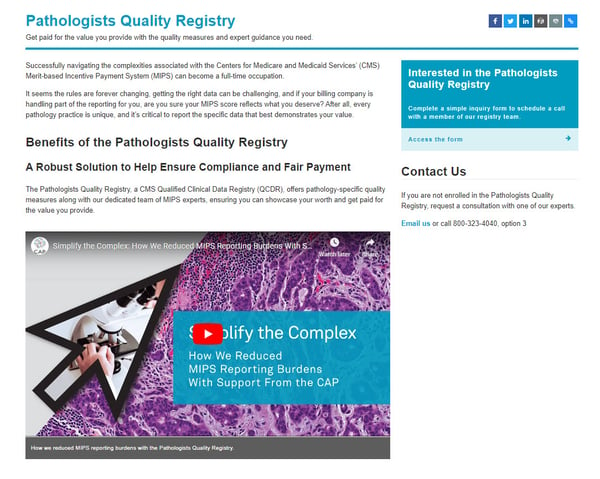 To support pathologists, the Pathologists Quality Registry offers pathology-specific quality measures and the ability to integrate with a practices' laboratory information system or billing system for automated and simplified data collection for practices that prefer not to use the web data entry tool. The registry will offer a choice of 15 quality reporting measures, most of which are exclusively available in the Pathologists Quality Registry. Moreover, the CAP's expert staff can guide participants through the measure selection and reporting process.
The CMS is offering, again for 2021, its Extreme and Uncontrollable Circumstances policy for eligible clinicians unable to meet requirements for the MIPS program in 2021, but they also said many physicians will opt to report MIPS data. Despite the potential exemption, almost 1,000 pathologists are using the CAP's registry. Since its inception, 100 percent of the CAP's registry participants submitting MIPS data have been eligible for positive adjustments.

Voicebrook's Pathology News Roundup features industry headlines and insights that pathology professionals are talking about. Think we should be covering something in particular?
Send your suggestions to content@voicebrook.com
---