World Health Day Celebration
April 7 of each year marks the celebration of World Health Day. Sponsored by the World Health Organization (WHO), this global health awareness event began in 1950.
Sometimes these types of celebration days are overlooked by the public at large, but not this year. With healthcare workers on the front lines of the COVID-19 pandemic, people all over the world are taking time to express their appreciation.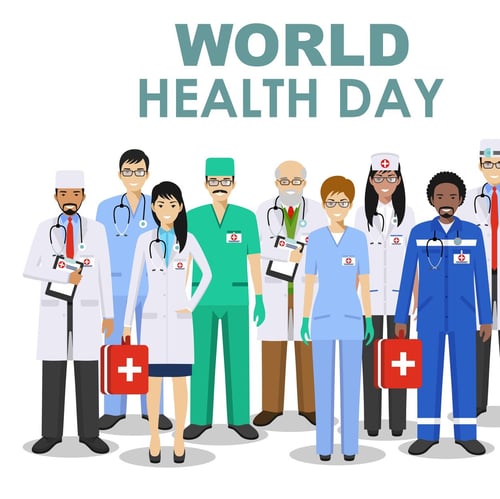 Every year, World Health Day focuses on a specific theme, such as mental health, maternal and child care, and climate change. This year, WHO is honoring the contribution of nurses and midwives, recognizing their vital role in keeping the world healthy. Nurses and other health workers are leading the COVID-19 response, putting their own health at risk to protect the broader community.
Comprising more than two-thirds of the health workforce in the WHO Western Pacific Region, nurses are critical in responding to health needs in all settings and across the lifespan. In the 2020 International Year of the Nurse and the Midwife, World Health Day is an opportunity to acknowledge the impact of nursing and midwifery around the world, while celebrating this workforce as one of the most valuable resources of every country.
Take time to celebrate our medical professionals by checking out #WorldHealthDay and #ThanksHealthHeroes on social media.

CAP Guidance for Remote Sign-Out of Cases
Recognizing the urgency created by the current COVID-19 pandemic, the Centers for Medicare & Medicaid Services (CMS) has exercised enforcement discretion to ensure pathologists may review slides and sign out remotely. CMS has temporarily waived the requirement for remote locations to have separate CLIA licenses, provided that the designated primary site or primary laboratory has a Clinical Laboratory Improvement Amendments (CLIA) certificate.
Waiving this requirement allows remote sign out of pathology cases using digital pathology or glass slide review. It also includes review of clinical pathology images and data (e.g., electropherograms, gel images, fluorescence in situ hybridization, molecular results, flow cytometry dot plots, blood bank and HLA data).
Other types of personnel, such as cytotechnologists, toxicologists and cytogeneticists may also review slides/data/images remotely at a temporary location during this time without obtaining a separate CLIA number. This waiver preserves the continuity of patient care, ensures ongoing quality by getting cases to the appropriate pathologists where subspecialty review is required. It optimizes the safety of pathologists by minimizing their exposure to busy hospitals with a concentration of patients, specimens and surfaces harboring SARS-CoV-2.
The College of American Pathologists (CAP) is providing guidance to CAP members on critical issues related to remote sign-out during this emergency. CAP has prepared a frequently asked questions (FAQ) document to guide those who elect to engage in remote sign-out during the COVID-19 crisis. The document is not intended to be prescriptive nor is it all-inclusive. Additional questions will be addressed as the pandemic continues to unfold.
Be sure to follow CAP's frequent online updates on COVID-19 issues affecting pathologists.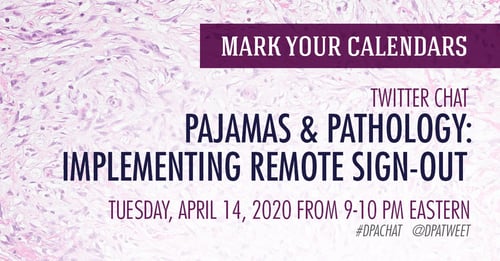 You can also check out the Digital Pathology Association's upcoming Twitter chat on implementing remote sign-out. Dr. Adam L. Booth will moderate via the DPA Twitter handle and will be joined by other digital pathology experts on Tuesday, April 14.

Media Focus on Lab Workers During COVID-19
Laboratory workers are getting some well-deserved attention and appreciation in the media lately, thanks to their heightened responsibilities during the coronavirus pandemic.
ABC News recently shared a report that looked into the numerous jobs laboratory staff are handling during this public health crisis. The report by Angela N. Baldwin, M.D., M.P.H., a pathology resident at Montefiore Health System in the Bronx, acknowledges the extraordinary work of pathologists, medical technologists, and other laboratory professionals. Illustration of ultrastructural morphology exhibited by coronaviruses. Image courtesy of the CDC.
Another excellent report by the TODAY show features an interview with a lab technician. Offering an inside look at the testing process, it highlights the heroic and stressful work that happens behind the scenes.
If you're looking for a one-stop-shop for coronavirus news, we highly recommend following updates from UW Medicine. You'll find carefully curated content in one central location that makes it easy to keep up with the latest media coverage of COVID-19.

Voicebrook's Pathology News Roundup features industry headlines and insights that pathology professionals are talking about. Think we should be covering something in particular?
Send your suggestions to content@voicebrook.com
---