Medical Laboratory Professionals Week is here!
Medical Laboratory Professionals Week (MLPW) is an annual celebration of medical laboratory professionals and pathologists, now in its 45th year. These essential workers are the ones behind the scenes who dedicate their careers to helping patients and providing accurate diagnoses.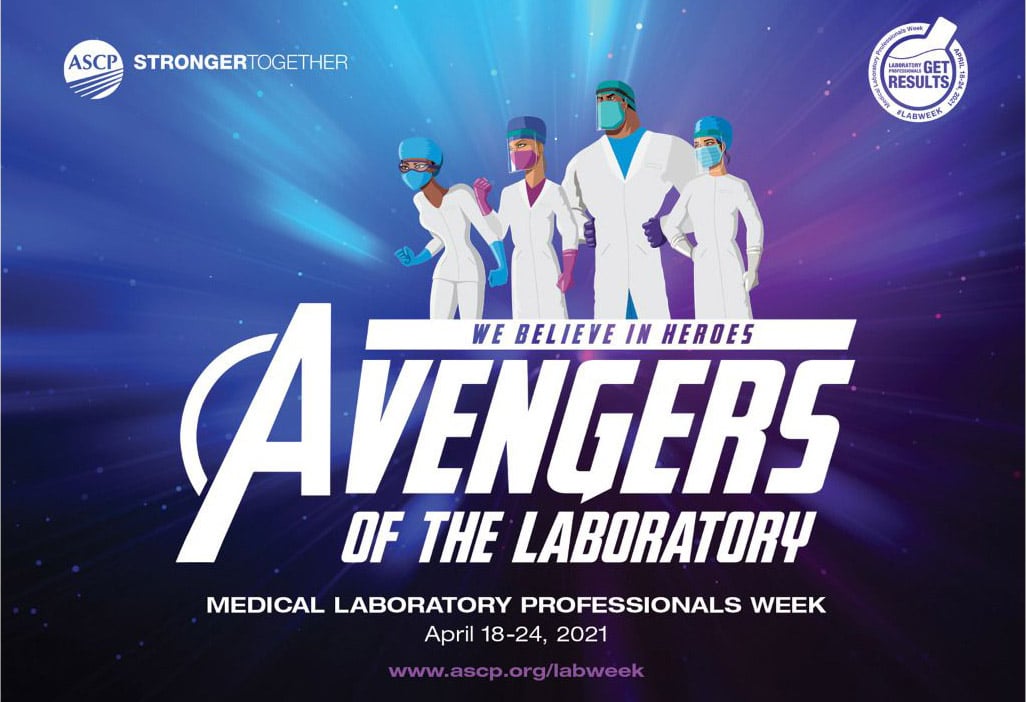 Standing Strong to Fight COVID
Over the past year of the COVID-19 pandemic, these healthcare heroes have often faced an increased workload and helped to carry the burden of patient care during a harrowing and unprecedented time.
"If it weren't for the efforts of our pathology teams, a lot of public health officials and colleagues would have to be guessing as to how to best handle the pandemic," said Christine Kizer, M.T., senior medical technologist in the Clinical Microbiology Laboratory at Michigan Medicine. "So we take incredible pride in what we do — and that makes it easy for us to sleep at night."
The unsung heroes of the pandemic have been behind the scenes processing thousands of COVID-19 related specimens and tests. In honor of Medical Laboratory Professionals Week, we take a closer look at the role pathology has played over the past year: https://t.co/ZKRLQejP0O

— Michigan Medicine (@umichmedicine) April 20, 2021
"Our amazing lab team has worked so hard this past year in the fight against COVID-19," said Toni Rathborne, pathology supervisor at RWJ Barnabas. "Since March 2020, the lab has processed 39,000 PCR tests and 1,300 antigen tests. While volumes were lower in anatomic pathology due to a halt of elective procedures, staff assisted in other areas of the lab, and also validated 17 new antibodies."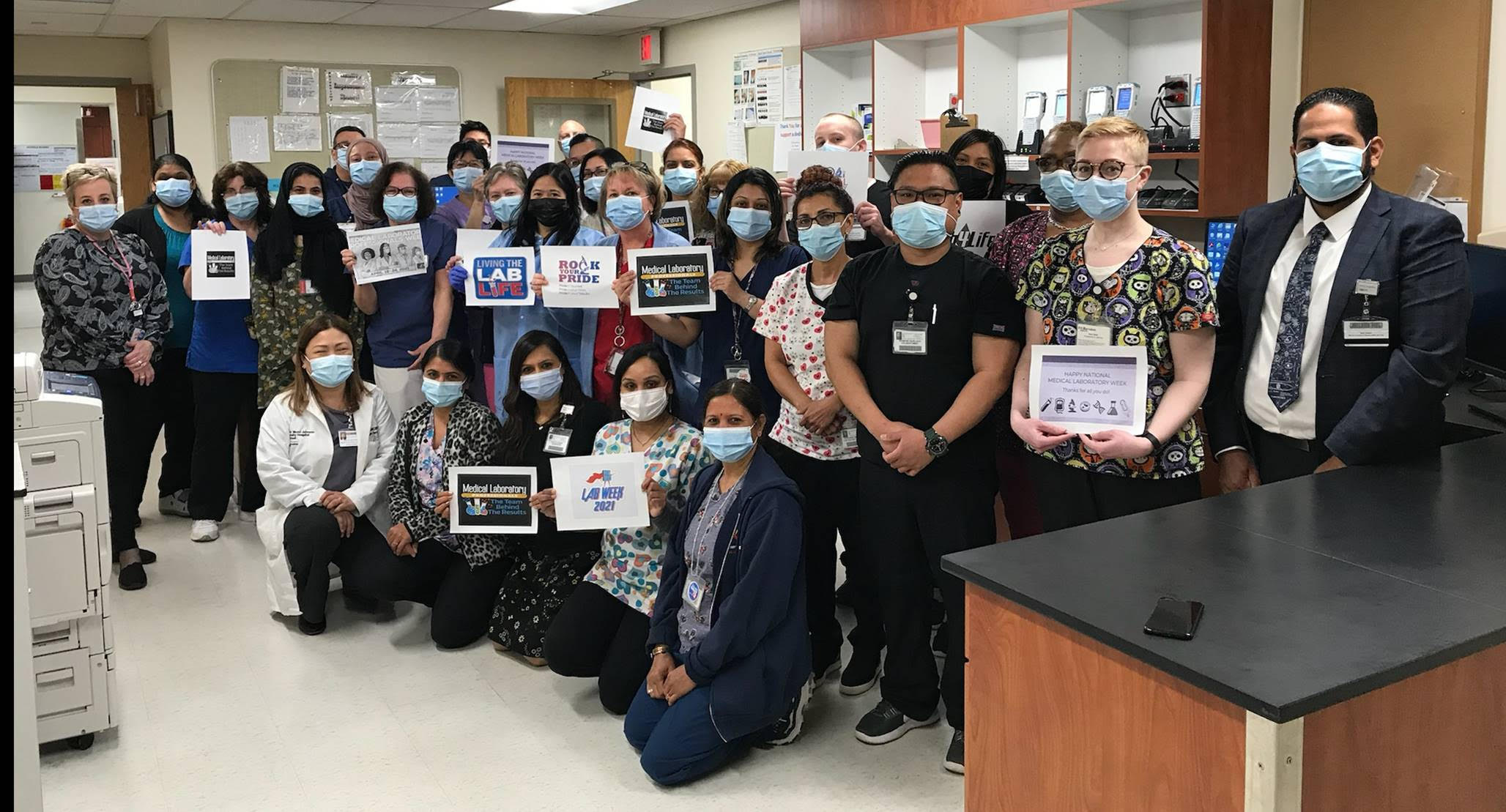 The lab team at RWJ Barnabas. Image courtesy of Toni Rathborne.
Saying Thanks
Often the daily demands of work stand in the way of pausing to offer appreciation. But MLPW has made its mark, setting aside one week annually to increase public understanding of and appreciation for laboratory personnel.
Meet the second shift of our Accessioning team! Our accessioners work hard to process every sample that comes to our lab and prepare them for testing. They are diligent and meticulous in all aspects of their work. #LabWeek2021 #Assurance #LabWeek2021 pic.twitter.com/UNMv0ZueZ0

— Assurance Scientific Labs (@AssuranceLabs) April 20, 2021
"I could not work with a better team of medical laboratorians," said Cory Nash, a Pathologists' Assistant at the University of Chicago Medicine. "I know the patients' samples are in good hands here, because of these people."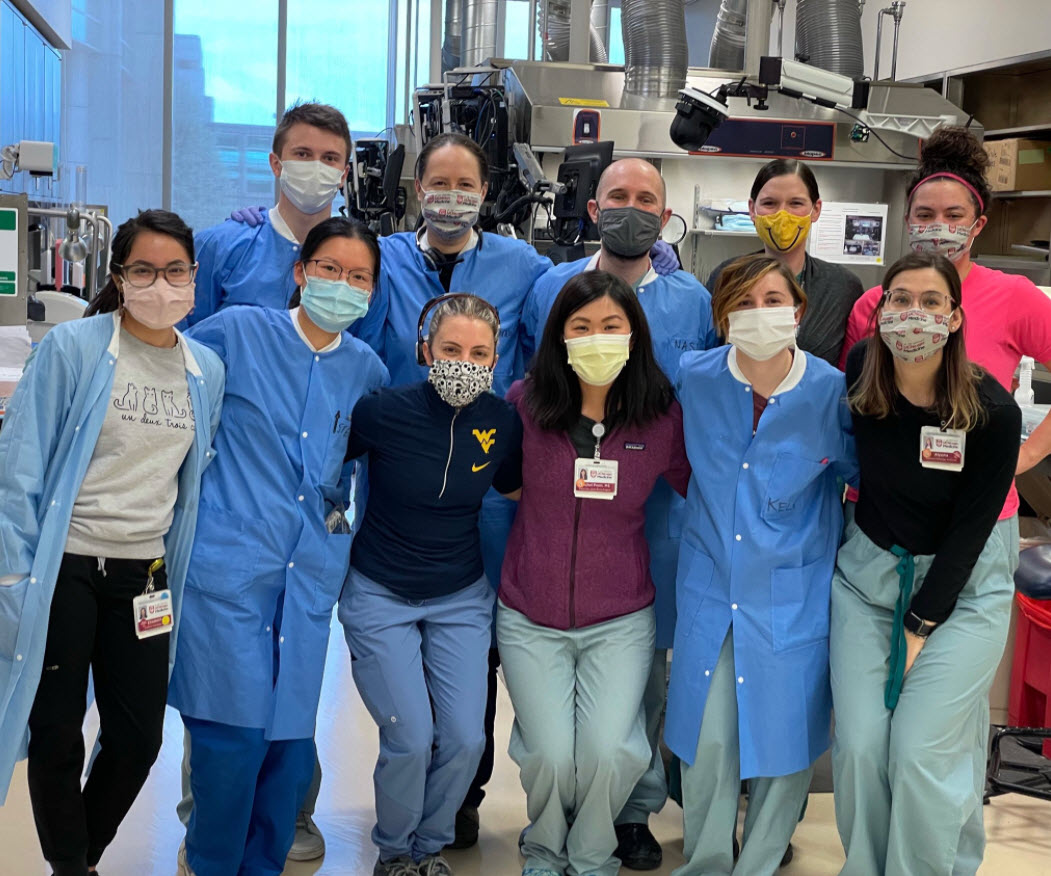 Employees at the Surgical Pathology laboratory at the University of Chicago Medicine. From left to right, bottom row: Elizabeth Escobar, Stella Siu, Alexis Snyder, Rachel Poon, Kelly Pokrywiecki, Alyssha Glass. Top row: John Parilla, Sarah Rose, Cory Nash, Brittany Grantham, Kelsey Johnson. Image courtesy of Cory Nash.
"Our lab would not function if it were not for these amazing, dedicated medical professionals," Nash told Voicebrook. "They ensure our lab works smoothly and efficiently."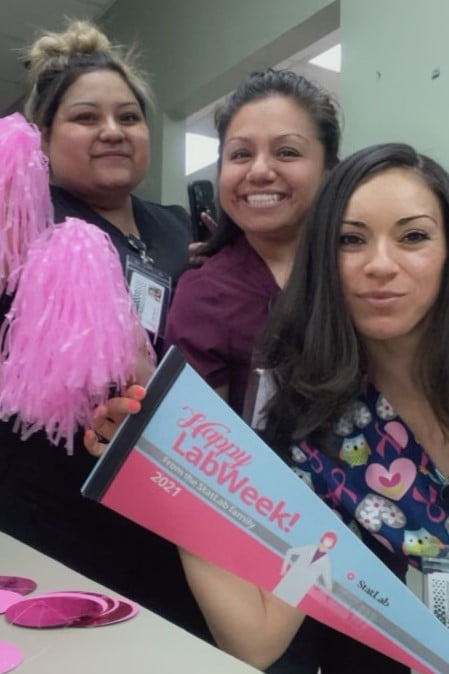 Yosemite Pathology staff during Lab Week 2021. Image courtesy of Sovie Cruz.
Many healthcare organizations take time this week to hold celebrations for their laboratory employees. Yosemite Pathology made sure to treat their staff all week long, filling the days with games, trivia, and gifts.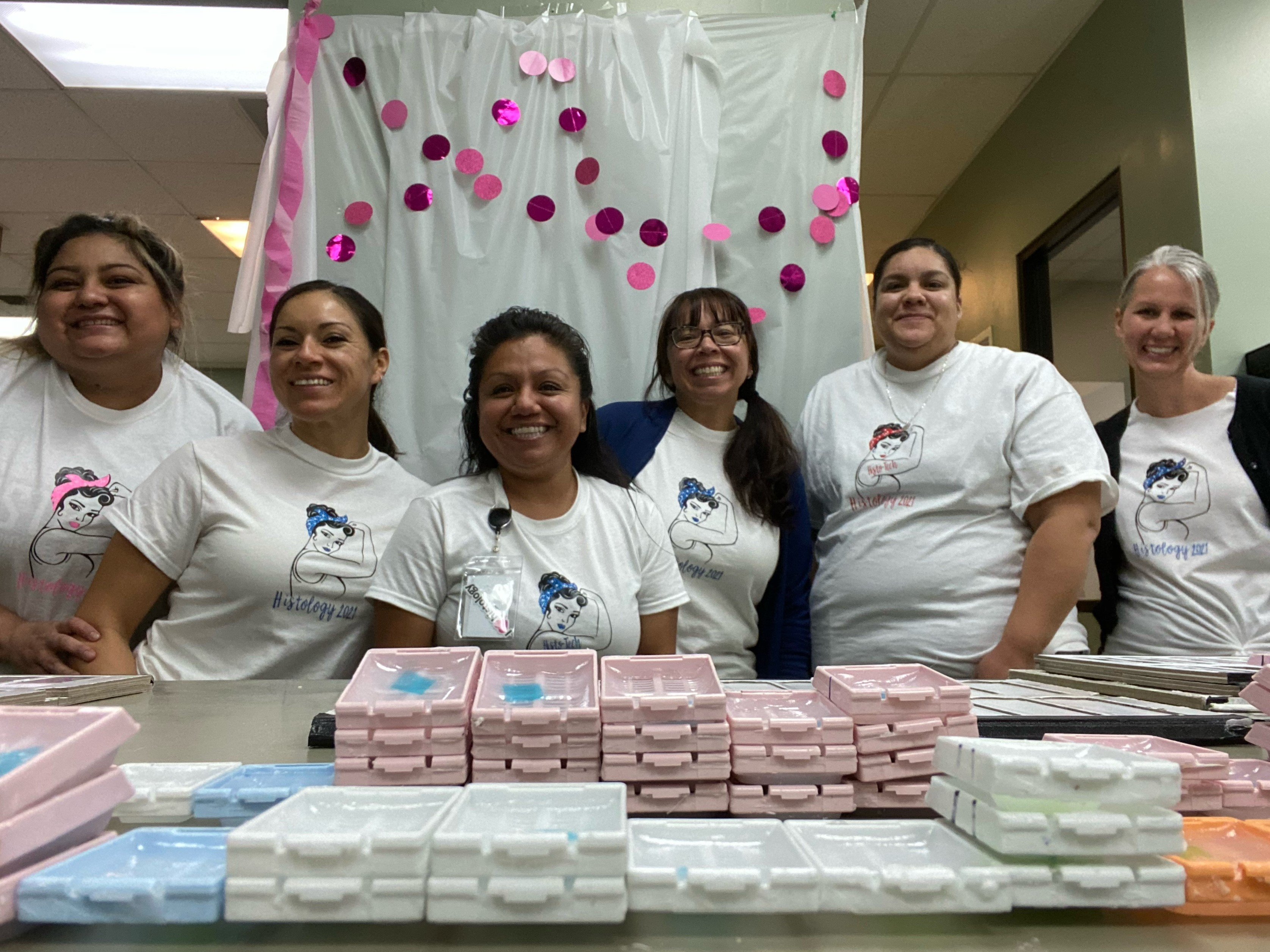 Yosemite Pathology's histology and pathology teams during Lab Week 2021. Image courtesy of Sovie Cruz.
Boston Scientific Pathology Laboratory clearly went all-in on the MLPW Avengers theme, as indicated by the photos they shared with us. The lab is holding special activities and providing meals all week to say "thanks" to their employees.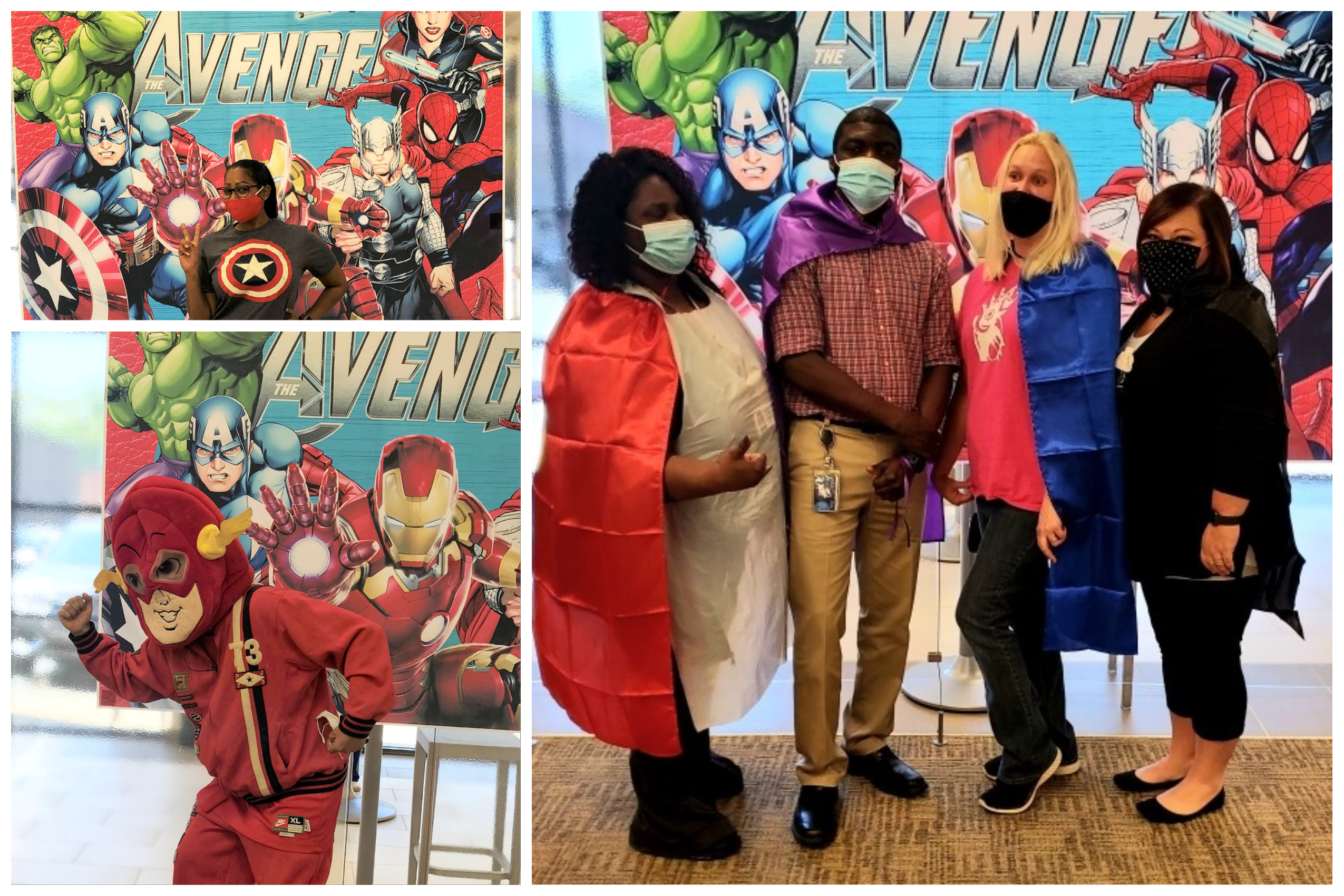 Celebrating lab professionals at Boston Scientific Pathology Laboratory. Image courtesy of
Lindsay Rivenburgh.
Social Shout-Outs
In addition to in-person celebrations, healthcare organizations are taking to social media to publicly share their appreciation for the professionals who do the important work of diagnosing patients, setting the stage for prompt treatment and care.
Summa Health in Ohio created the following video to honor their laboratory staff. "While they often work behind closed doors, they play a crucial role when it comes to our patients receiving the proper care," Summa Health said in a Facebook post on Monday. "These dedicated and highly trained professionals provide accurate and timely results to physicians to help make critical care decisions. Join us in celebrating our medical laboratory professionals this week and say thank you with us!"
Happy Lab Week!

Check out our amazing accessioning team in their custom shirts by our own manager of Client Services, Robin McAllister

We thank our team for all their hard work and their commitment to deliver accurate and fast results.#LabWeek #LabWeek2021 #teamwork pic.twitter.com/Vlp0EDEGcY

— Acupath Laboratories (@AcupathLabs) April 20, 2021
We are celebrating #LabWeek2021! Please join us in recognizing our heroes in lab coats 🔬🧫🥼🧪

Read more: https://t.co/4XSW1U4ZRQ#LabWeek #ASCPLabWeek21 pic.twitter.com/8pHZXQMJSX

— UW Dept. of Laboratory Medicine and Pathology 🔬 (@uwlabmedpath) April 19, 2021
Pathologists' Assistant Dennis Strenk snapped these photos of his colleagues at Wisconsin Diagnostic Laboratories.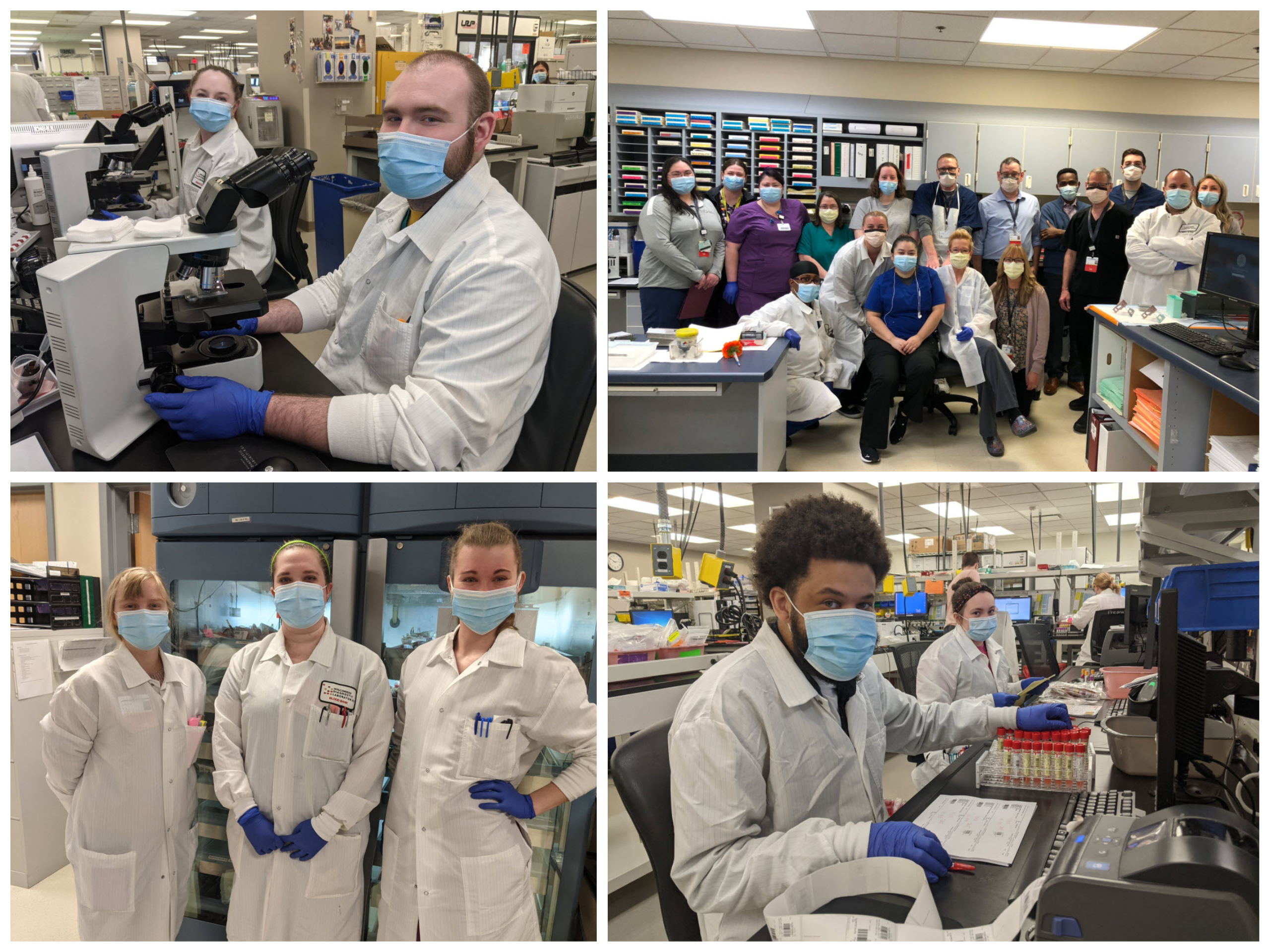 Lab staff at Wisconsin Diagnostic Laboratories. Image courtesy of Dennis Strenk.
"Their dedication to our patients is inspiring, especially throughout the pandemic," Strenk said. "I'm proud to be part of this team."

Voicebrook extends our thanks to all laboratory professionals for your hard work, commitment to excellence, and focus on quality patient care. We appreciate you and enjoy working with you!