Medical laboratories are intrinsic to the ultimate well-being of patients everywhere. That's never been more evident than now, during our current public health crisis. As a professional membership organization focused on delivering the services and programs members need, the College of American Pathologists serves an essential role in making people healthier.
The CAP has released its 2019 annual report highlighting the ways in which the professional organization worked toward advances in laboratory quality, advocated for patients and pathologists via public policy initiatives, and invested in its members to support and promote the field of pathology via educational offerings.
"This organization empowers members to harness their collective energy to become the best pathologists they can be and receive fair compensation for their work," CAP President Dr. Patrick Godbey said in the report's opening letter. "The ultimate goal is to improve the health of our patients by diagnosing disease accurately and guiding effective therapy."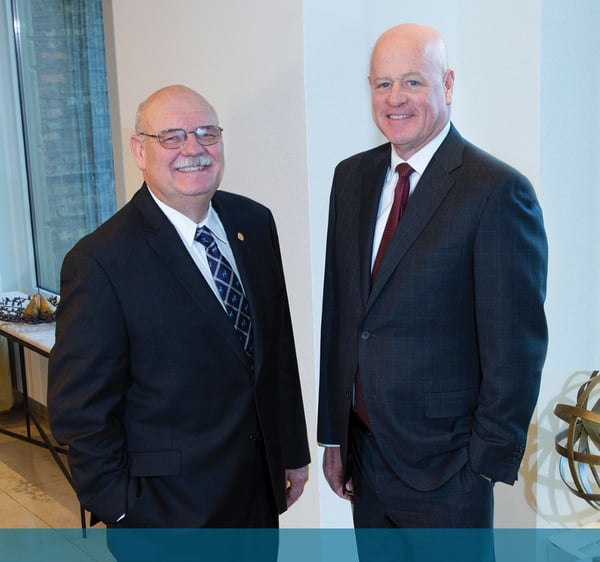 CAP President Patrick Godbey, MD, FCAP, and Chief Executive Officer Stephen Myers. Image courtesy of the CAP Annual Report.
Highlights from the 2019 annual report include: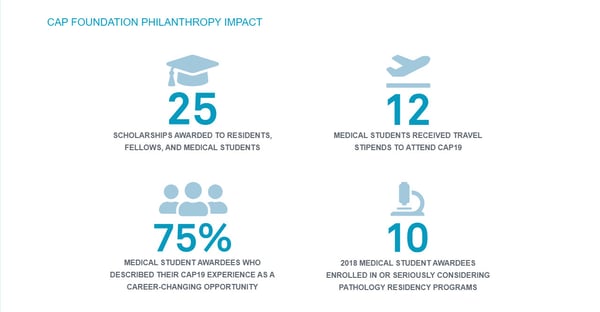 Image courtesy of the CAP Annual Report.
The annual report also included financial data. The CAP reported total operating revenues for the year ended December 31, 2019, were $231.4 million—0.6 percent better than the board-approved 2019 target and a 6.1 percent increase over fiscal year 2018.
With both revenue and expenses better than budget, and investment earnings of $20.0 million, 2019 net income (excess revenue over expenses after investments and adjustments) was $23.0 million.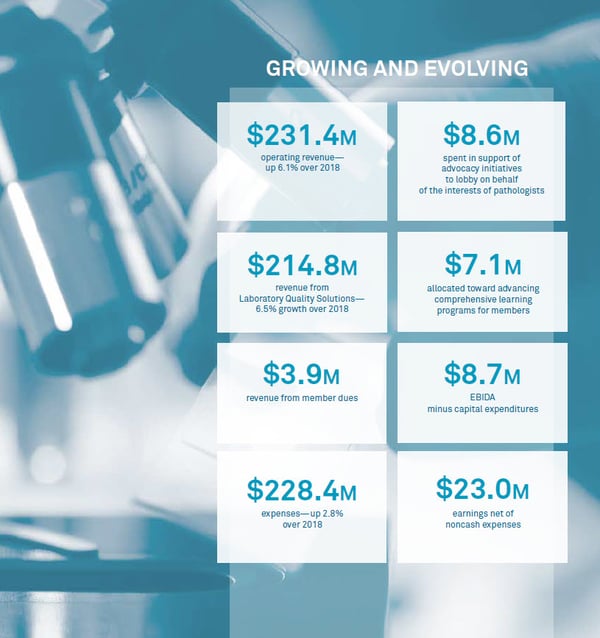 Image courtesy of the CAP Annual Report.
"The work of the CAP happens because of the staunch engagement of members who dedicate their time and expertise," the report says. "They partner with highly skilled staff to serve their fellow members, customers, and patients in a dynamic, evolving health care environment. Change requires a strong, steady hand to guide the profession into the future. When pathologists succeed, patients win."

Voicebrook is dedicated to sharing the industry headlines and insights that pathology professionals are talking about. Think we should be covering something in particular?
Send your suggestions to content@voicebrook.com