When it comes to pathology reports, one size doesn't fit all. Different labs, different users, different needs. That's why Voicebrook is expanding our suite of reporting solutions, so pathology professionals can choose the version of VoiceOver PRO that works best for their lab and budget.
Introducing VoiceOver PRO: Basic
VoiceOver PRO: Basic is a slimmed-down version of our flagship offering, VoiceOver PRO: Premium. PRO is the leading speech recognition-based reporting solution tailored to the unique needs of pathology, allowing users to effortlessly create high-quality, standardized reports.

While PRO: Premium comes with all the bells and whistles and a full suite of smart features to completely customize pathology reporting, we recognize that not every lab needs all those bells and whistles. That's where PRO: Basic comes in, with the foundational tools and essentials to simplify and improve lab workflows.

"Current users of Voicebrook's VoiceOver 5 software would feel right at home using Basic. Basic is similar to VoiceOver 5, just in a different wrapper and offering a spruced up interface built on the latest and greatest technology," says Andrew Boutcher, Associate Product Manager.

Customers will certainly appreciate that slick architecture, but it's what happens behind the scenes that really sets Basic apart from Voicebrook's previous offerings.

"On the back end, we can do a whole lot more, and a whole lot easier and faster. We're always improving and updating our software, and Basic is much easier to upgrade. Once a workstation has VoiceOver PRO installed, it never has to be touched again. All future upgrades are carried out on the server which then automatically upgrades all workstations, requiring little-to-no IT involvement," says Jesse Spates, Associate Product Manager.
Basic Versus Premium
So which version of VoiceOver PRO is best for your lab? Basic or Premium? The answer depends upon what you expect from your pathology reporting software, the types of reports you need to create, and can even vary from user to user within your lab. For example, some pathologists appreciate a more narrative, free-text approach and might use PRO: Basic, while the gross room could use the structured templates available in PRO: Premium. Some pathologists may prefer Premium for specific specimens, and Basic for others.

Basic is budget-friendly, with the essential reporting tools labs need to create traditional narrative reports. This includes Report Builder Basic, CAP eCC functionality, standardized templated content, delegated medical workflow (speech recognition with 3rd party editing) and custom alert messages and workflow.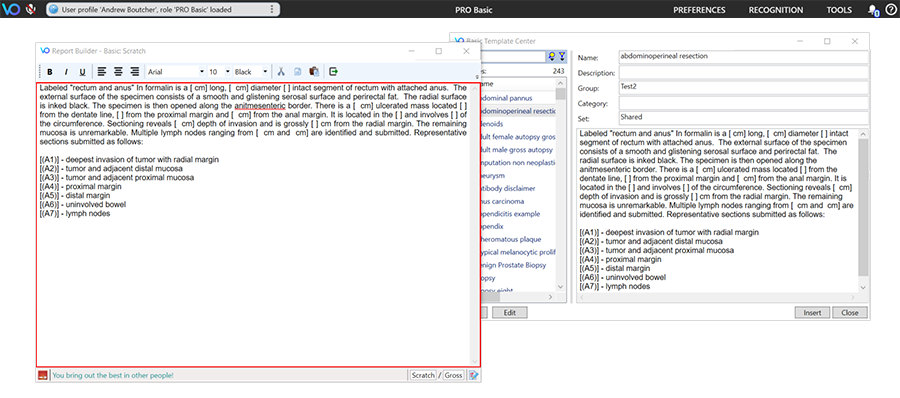 Premium offers more extras, including synoptic templates, which include structured data in the form of standardized vocabulary, drop-down lists, checklists, etc. In contrast, a Basic user will build reports using a combination of free-text and templates. There is a level of "self-service" that users can opt to use in Basic, which gives them flexibility in how they wish to use the software.

"We do still have the 'special sauce' we can add on our end if a user requests it," says Boutcher. "Even with the Basic offering, we can still get creative with commands that will automate various aspects of the workflow that are specific from customer to customer."

Those seeking more automation and synoptic reporting will find that Premium fits their needs better. PRO: Premium comes with all the features of Basic, plus lots of smart behaviors via the virtual PRO Assistant. It has a full suite of synoptic reporting tools and role-based templates for different laboratory employee positions. Premium maximizes efficiency and accuracy, while still tailoring workflows to each individual's needs.

"With Premium's Report Builder, all data in the report is discrete, not just simple text," Spates says. "When data is discrete, we can take advantage of that fact to do things like automatically calculating fields based on other fields, changing plurality, providing picklists, and much more."

Both Premium and Basic also feature PRO's new Template Center, which allows pathology professionals to build, manage, and edit their own templates for use in Report Builder.

Want to see PRO: Basic in action?