Today, on the 10th anniversary of Pathologists' Assistant Day, Voicebrook is honored to feature guest blogger Dennis Strenk, PA (ASCP).

Dennis is a pathologists' assistant (PA) at Wisconsin Diagnostic Laboratories and the creator and host of the People of Pathology podcast.

Today is Pathologists' Assistants Day, and in fact it is the tenth anniversary of this day. I've been around long enough to remember the first one. I still remember the sense of accomplishment many of us felt to have our own recognized day. Our field has grown since that time, and while we don't have the recognition we might want just yet, it is growing as well.

For me, this year is also special as I just celebrated my five year anniversary at my current job. Just like that first PA Day, I still remember the feeling of uncertainty that comes with starting something new. Luckily for me, I was surrounded by a great group of people who made me feel welcome.

Because of these two events, I have been thinking a lot about teams and teamwork. Neither of these things would have happened without them. The team that runs the American Association of Pathologists' Assistants (AAPA) is responsible for creating and promoting PA Day. It's important to note that the AAPA is run by volunteers who give their time freely to advance our profession. Much of that work is behind the scenes, and the people who do this work are often not properly recognized, in my opinion. It is amazing what it takes to run an organization like this, and I am thankful to the team that does it.

I am also thankful for the team I work with, since it is a large part of the reason why I'm there. I knew my colleagues Becky and Heather before I had the pleasure of working with them, and we all knew we would work well together. And we did, right from the start. Two years ago Nicole joined our team, and again, we clicked immediately. Because that's the thing about a team, the whole is greater than the sum of its parts. We complement each other's strengths, and it makes us all better. Of course it helps that we have a similar sense of humor, which made them (kind of) willing to pose for a ridiculous photo with me.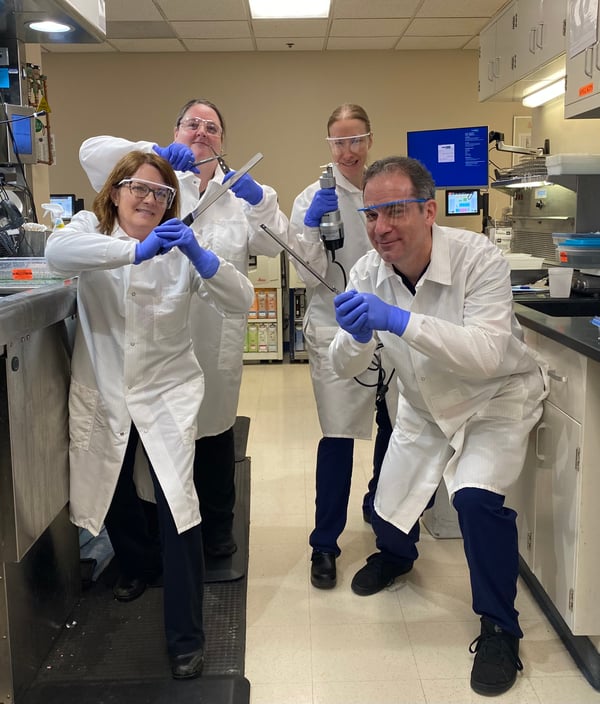 The PA team at Wisconsin Diagnostic Laboratories.
But of course our team is more than just the four of us. We couldn't do what we do without our group of lab assistants. And nothing we do would matter without our histotechs turning our sections into slides. Those slides would be useless without our pathologists, residents, and fellows. If I really wanted to overextend the metaphor, the team could also include surgeons, radiologists, oncologists, and on and on.

A team is a group of people united to achieve a common goal. For all of the teams I have mentioned, the goal is really the same: to provide the best care for patients. That's the reason we're all here. Even though most of the patients have never heard of us, and may never hear of us, we all do our best to provide them with the most accurate diagnosis.

Being a pathologists' assistant is a job that I love. I enjoy the work that I do, and the people with whom I do that work. So on this 10th annual Pathologists' Assistant Day, let's celebrate what we do and how far we as PA's have come in those ten years. But let's also celebrate the people around us, because teamwork is key to our success in the pathology lab.

Thank you to Dennis Strenk for authoring this guest post for the Voicebrook blog!
Be sure to check out his People of Pathology podcast, recently noted as the #2 "Best Pathology Podcast" by Feedspot.
Follow Dennis on Twitter @dstrenkPA and @peopleofpath.