Philips and Paige Team Up to Provide AI to Pathology Labs
Royal Philips, a leader in health technology, and Paige, a leader in computational pathology, announced a strategic collaboration in December to deliver clinical-grade artificial intelligence (AI) applications to pathology laboratories. These AI technologies, starting with Paige Prostate, aim to help pathologists identify, quantify, and characterize cancer in tissue samples and make precise diagnoses more efficiently. This may, ultimately, positively impact pathologists' workflow and treatment planning for patients.
Image Courtesy of Royal Phillips/Philips IntelliSite Pathology Solution
Paige's technology has demonstrated promising results, and the collaboration aims to deliver this kind of technology into routine clinical practice. Several pathology laboratories have already converted their glass slide-based workflow to digital, using the clinically-approved digital pathology solution from Philips. Once digital images are available, the CE marked Paige Prostate software is applied automatically to detect and localize prostate cancer. This technology provides pathologists with valuable information they can use in their evaluation of prostate biopsies.
Philips plans to offer Paige Prostate to European pathology labs beginning in 2020. AI solutions for other markets and additional disease areas are expected to follow suit.

Netto Named Editor-in-Chief of Modern Pathology
George J. Netto, M.D., professor and the Robert and Ruth Anderson Endowed Chair of the Department of Pathology at the University of Alabama at Birmingham, has assumed the role of editor-in-chief of Modern Pathology, the scientific journal of the United States and Canadian Academy of Pathology.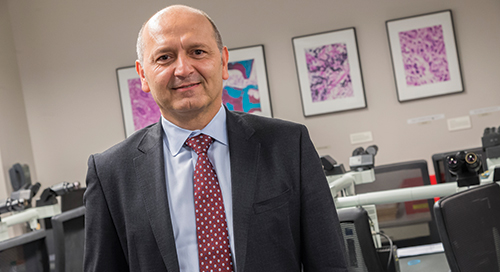 George J. Netto, M.D., Image Courtesy of University of Zagreb School of Medicine
Dr. Netto took over as editor-in-chief on Jan. 1, 2020, succeeding John Eble, M.D., of the Indiana University School of Medicine, who spent 20 years in the role and built Modern Pathology into one of the country's top pathology publications.
Dr. Netto brings to the position a strong plan to continue evolving the journal with a new editorial team, a restructured review process, and an enhanced social media footprint.
"While the revolutionary progress in human genomics will continue to offer a major source of content to Modern Pathology, a robust effort will be made to seek original manuscripts on the emerging areas of predictive biomarkers for immune therapy, the promising impact of machine learning and artificial intelligence on digital pathology, and applied bioinformatics," Dr. Netto said.

CMS Approves Pathologists Quality Registry for 2020
The Centers for Medicare & Medicare Services (CMS) approved the College of American Pathologists (CAP) Pathologists Quality Registry as a qualified clinical data registry for complying with requirements under Medicare's Quality Payment Program (QPP) and Merit-Based Incentive Payment System (MIPS). The registry features pathology-specific quality measures and expert guidance, so pathologists get paid without further penalty by the Medicare program.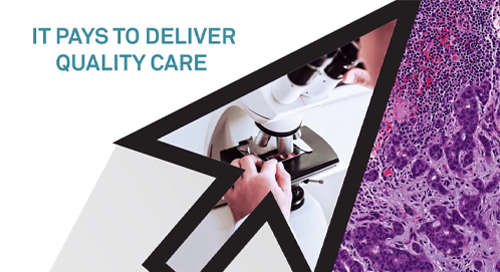 The registry can integrate with a practice's laboratory information system or billing system for automated and simplified data collection, offering pathologists the ability to choose from 30 quality reporting measures, most of which are exclusively available in the CAP's Pathologists Quality Registry. It reduces pathologists' burdens for MIPS by consolidating Quality and Improvement Activities reporting and providing real-time performance benchmark reports.
"Our registry optimizes your opportunity to get paid for the value you provide to Medicare patients," said CAP President Dr. Patrick Godbey. "Our experts at the CAP ensure each participating pathologist in the Pathologists Quality Registry utilizes the best quality measures and reporting methods to fit their practice. As a result, we've had great success with now more than 1,000 pathologists currently using the registry to qualify for incentives."
As the CMS continues to move away from claims-based reporting for MIPS, it no longer allows practices of 16 or more pathologists to report quality measures on claims via a billing company. The Pathologists Quality Registry supports larger practices for their MIPS reporting and helps subspecialties, who may find it difficult to identify enough relevant quality measures for MIPS reporting, to maximize Medicare incentive payments. The CAP's registry also supports smaller practices by providing multiple ways to submit quality data and by helping them demonstrate that some measures do not apply to their practice. By submitting data for the 2020 reporting period, MIPS-eligible pathologists can avoid a nine-percent negative payment adjustment and potentially be eligible for a positive payment adjustment in Medicare Part B reimbursement in 2022.

Voicebrook's Pathology News Roundup features industry headlines and insights that pathology professionals are talking about. Think we should be covering something in particular?
Send your suggestions to content@voicebrook.com
---