CAP Updates Whole Slide Imaging Guideline
As clinical applications for whole slide imaging and digital pathology rapidly advance, the College of American Pathologists (CAP), in collaboration with the American Society for Clinical Pathology (ASCP) and the Association for Pathology Informatics (API), has updated the guideline "Validating Whole Slide Imaging for Diagnostic Purposes in Pathology," published as an early online release in Archives of Pathology & Laboratory Medicine.
Since publication of the original 2013 guideline, the US Food and Drug Administration has approved select digital Whole Slide Imaging (WSI) systems for primary diagnoses in surgical pathology, ushering in new applications for digital pathology but also underscoring the value of the updated guidance and the need to conduct validation before diagnoses are made using WSI.

"Validation of WSI systems is crucial to ensure the quality and consistency of diagnostic performance as an alternative to light microscopy," said chair for the guideline update, Andrew J. Evans, MD, PhD, FCAP. "For patients, this could mean receiving their pathologic diagnosis more quickly with the same quality test results and thereby possibly receiving treatment sooner."

Dr. Evans led an expert panel of pathologists, histotechnologists, and a methodologist in the systematic reviewed of nearly 1,400 titles and abstracts, 163 manuscripts, and extracted data from 62 studies to update the guideline, following standards established by the National Academies of Medicine.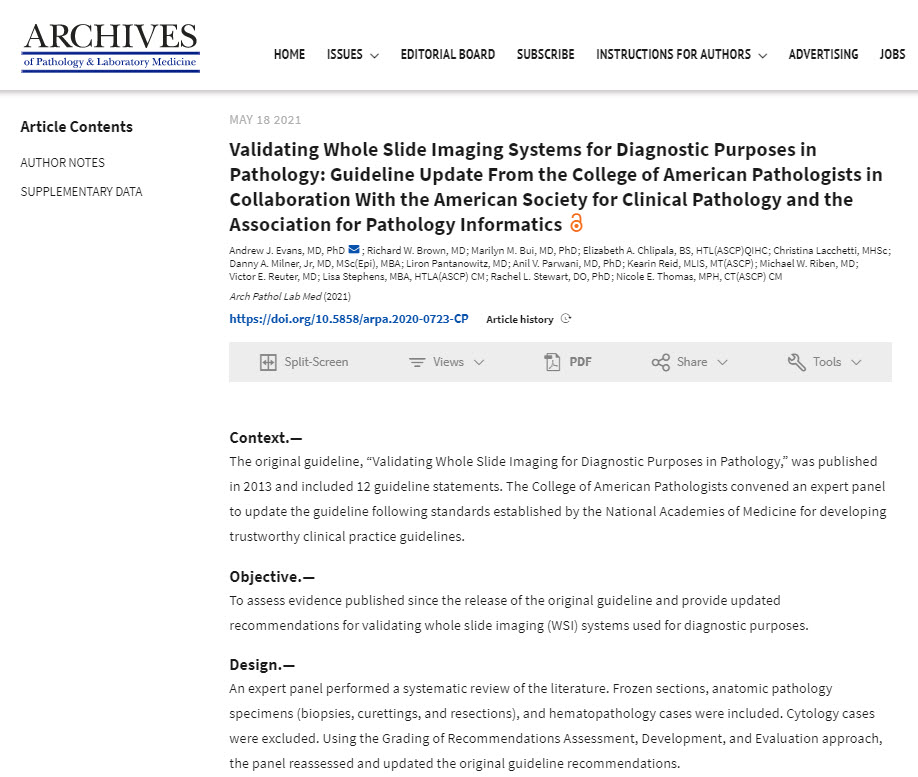 The updated guideline reaffirms most of the original recommendations but differs in two ways. First, ASCP and API collaborated on the update, which expanded the reach for the guideline open comment period. Second, the CAP recently adopted the globally recognized evaluation method known as GRADE, for Grading of Recommendations Assessment, Development and Evaluation, which impacts both the strength and number of recommendations.
As a result, the update provides three strong recommendations that reaffirm the original findings on the validation process, case concordance levels, and washout period.
Additionally, the update reaffirms nine additional recommendation statements from the 2013 guideline, but using GRADE, now describes them as "good practice statements," which indicates a high level of certainty, but a lack of direct, published evidence.
The CAP and collaborating societies encourage members to adopt the guideline recommendations. Pathologists and their colleagues should discuss the recommendations to coordinate efforts to implement them. Resources to support guideline adoption are published on cap.org as part of guideline launch.

Register Now for CAP21
The College of American Pathologists is now accepting registrations for its annual meeting. CAP21 is scheduled for September 25 to 28 in Chicago, in person! However, there's also a virtual option to attend as well.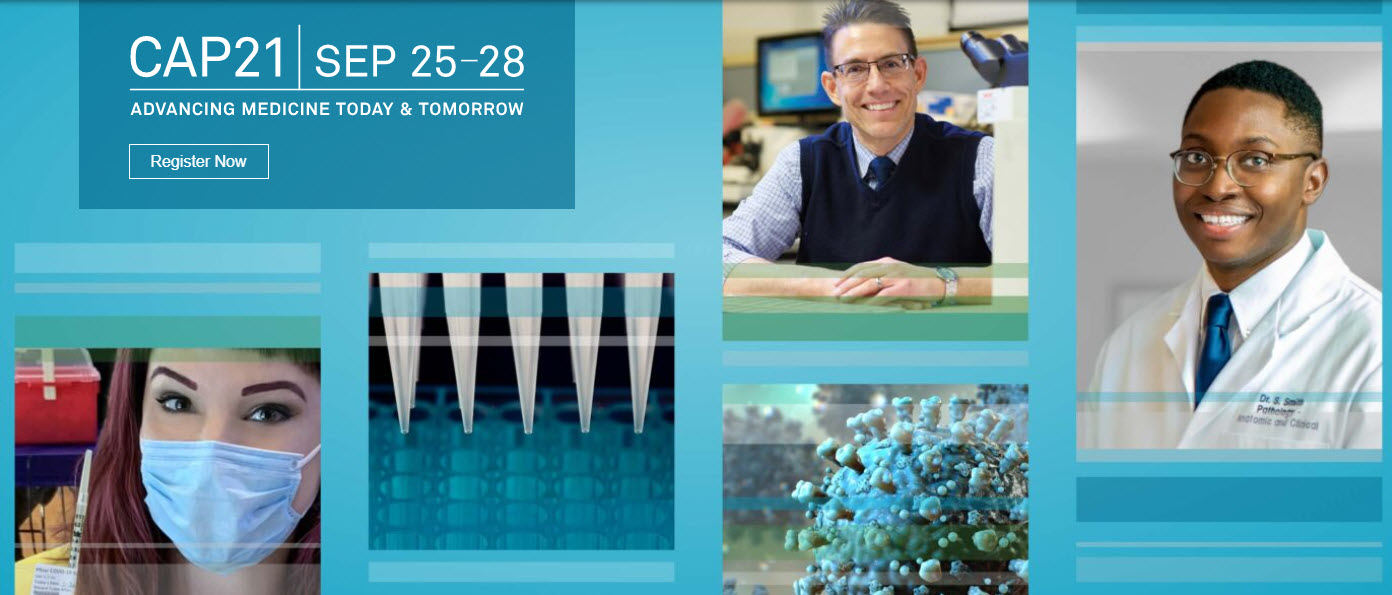 "We will be gathering in-person for a vibrant experience in the cosmopolitan environs of Chicago—following all recommended safety protocols. But we will also be getting together to learn and network in a reimagined digital event—the choice is yours," the CAP says on its annual meeting website.
CAP21 features a comprehensive agenda of 90+ educational courses and workshops ranging from clinical and anatomic pathology to advocacy and practice management to everything in between—plus four days of networking with pathology leaders. There are also more than 60 virtual courses available.
For more details and to register online, visit the CAP21 website.
2021 Practice Leadership Survey
Pathologists asked to take the CAP 2021 Practice Leadership Survey received emailed invitations on June 8. This survey will produce a report for CAP members on data regarding pathology practice economics, demographics, and market trends in the evolving business environment.

The survey specifically targets practice leaders and is designed to receive one response from each pathology practice in the United States. Invitations were sent to practice leaders on June 7 and the survey will remain open until June 18. Data from the survey will help CAP leaders determine which advocacy issues are most important to pathology practices and further assist CAP advocacy efforts on behalf of the pathology specialty. The survey is targeted to practice leaders who can answer the questions for the whole practice.

The survey will provide pathology practices with the objective data they need to understand how they compare to their peers, how others are dealing with current health care trends, and what business practices are becoming more or less common. Survey participants will have early access to survey results and will receive a $20 gift card. The survey should take approximately 20 minutes to complete.

The survey invitation was sent to all board-certified pathologists with five or more years in practice, but only one leader per practice should complete the survey. If your practice has not received an invitation, please contact practicesurvey@cap.org.

Voicebrook's Pathology News Roundup features industry headlines and insights that pathology professionals are talking about. Think we should be covering something in particular?
Send your suggestions to content@voicebrook.com