CAP Committee Applications: The College of American Pathologists (CAP) is accepting applications for 2023 committee appointments. With more than 60 committees, project teams, and member survey panels to apply for, the CAP has numerous opportunities for engaging and impacting the specialty of pathology.
The application link opened on January 10, 2022. All CAP Fellows and Junior members are welcome to apply. Those individuals who are not eligible for CAP membership (including PhDs, non-board-certified pathologists, and medical technologists) may also apply.
Final Board of Governors approval of committee appointments occurs in late summer. Governance staff notifies appointed applicants via email in early fall. Applicants not selected to serve on a council or committee will receive notification via email by the end of the calendar year.
The 2023 Committee Application closes on April 29, 2022.

Keynote Speaker for AAPA Annual Conference. The American Association for Pathologists' Assistants (AAPA) has announced the keynote speaker for its 47th Annual Conference.
Dr. Jim Wright will kick off the event with a lecture titled "History of the Pathologists' Assistant Profession." Dr. Wright is Professor of Pathology & Laboratory Medicine, Professor of Pediatrics, and a Research Scientist with the Julia McFarlane Diabetes Research Centre at the University of Calgary in Alberta, Canada. Dr. Wright is also the Medical Director of the NAACLS-accredited pathologists' assistant training program at the University of Calgary.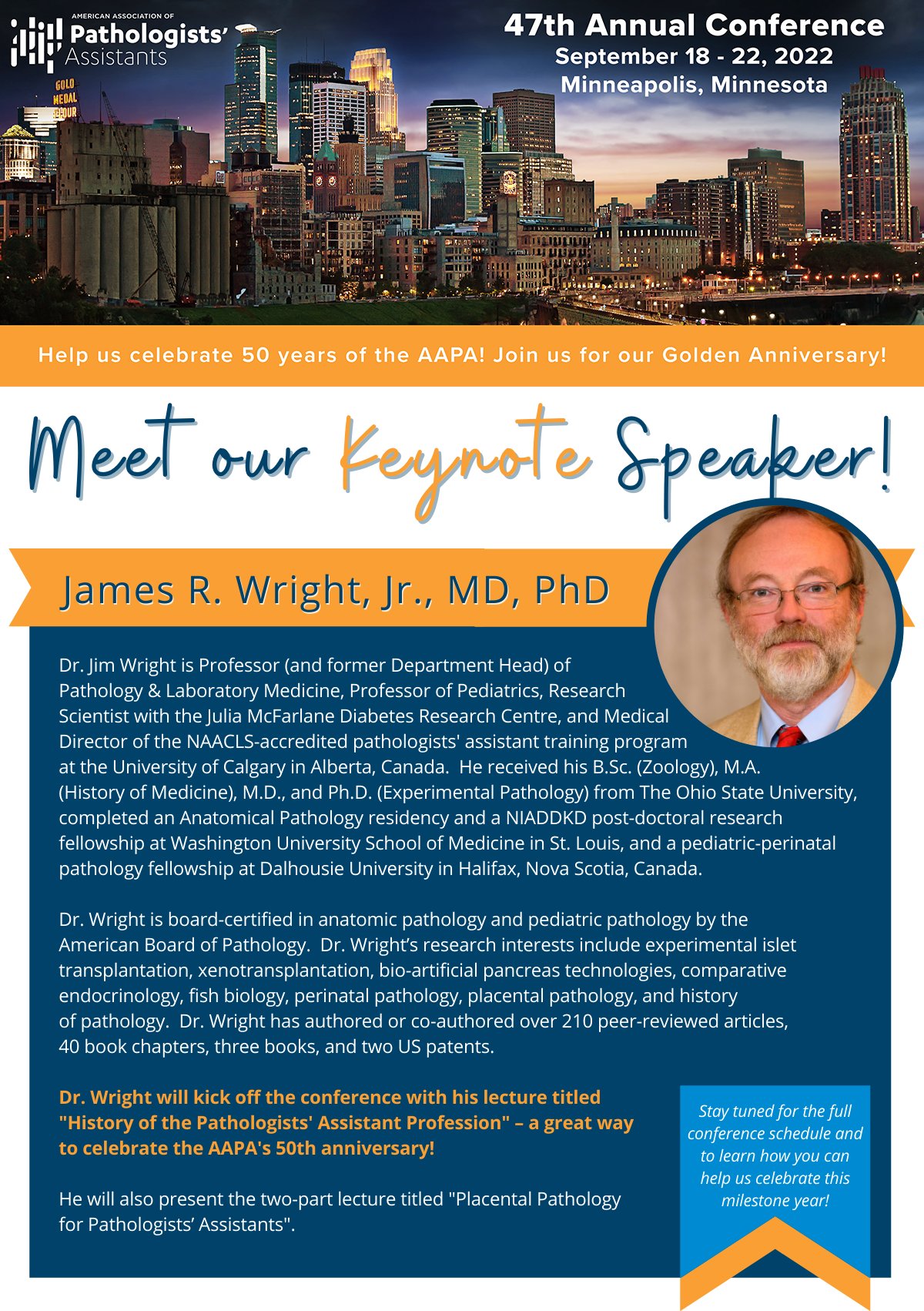 The AAPA celebrates its 50th anniversary this year. The annual conference is scheduled for Sept. 18 - 22 in Minneapolis.

Ace My Path: A newly published book offers a practical guide to help pathology trainees and other pathology professionals with their gross descriptions.
"Ace My Path: Gross Dictation Handbook" consists of ready-to-use grossing dictation templates for all organ systems and varied kinds of specimens.
Authors Dr. Akanksha Gupta, Dr. Nupur Sharma, and Dr. Hansini Laharwani (along with contributing author Dr. Brian Cox) spent the last six months working on the book, which is the fifth in their "Ace My Path" book series.
The authors at @AceMyPath have been through the grind of residency, and understand what you need, to make this ride smoother! Check out our grossing templates, (and other @AceMyPath content). It's all here and in a user friendly format! @Hemepath_Doc @HansiniMD @Dr_Brian_Cox https://t.co/dBMSt6KtEj

— Nupur Sharma (@NupursharmaMD) January 19, 2022
The new book is available for purchase now. The Ace My Path team is also on Twitter, offering information and advice for those pursuing pathology careers.

Voicebrook's Pathology News Roundup features industry headlines and insights that pathology professionals are talking about. Think we should be covering something in particular?
Send your suggestions to content@voicebrook.com