ABPath: New Status for Retired Pathologists
The American Board of Pathology (ABPath) has announced a new status for retired, formerly board-certified pathologists. Current ABPath policy requires that diplomates must maintain a medical license and participate in Continuing Certification (if required) in order to remain board-certified. This new status of "Retired" will allow those former diplomates to remain certified.
Certification with an American Board of Medical Specialties (ABMS) member board is a significant achievement. ABPath can now continue to recognize physicians as board-certified diplomates even after they have stopped practicing medicine and no longer maintain their medical license and no longer participate in Continuing Certification.
A diplomate with the Retired status will be listed publicly as Retired with the ABPath and on the ABMS Certification Matters website.
ABPath lists the following requirements to be eligible for Retired status:
A Diplomate is no longer being actively engaged in direct, indirect, and/or consultative patient care, overseeing medical laboratories, or supervising/ teaching in a medical field.

Diplomate is not performing any function for which board certification or medical licensure is required.

Diplomate is in good standing with the ABPath. Good standing for the purpose of the Retired status means the following:

No medical license restrictions or disciplinary issues, pending or otherwise, in any jurisdiction where the diplomate holds a license.

No disciplinary actions, pending or otherwise, by the ABPath.
Retired status may be requested from ABPath by any current diplomate who would like to be listed as such. To apply, complete the Request for Retired Status Application.

In Memory of Dr. Mary E. Fowkes
Dr. Mary Fowkes, Neuropathology and Autopsy Director at Mount Sinai Hospital in NYC, died suddenly on November 15. Dr. Fowkes was a Governor of the College of American Pathologists, former President of the New York State Society of Pathologists, and a distinguished graduate and adjunct professor in Environmental and Forest Biology at SUNY College of Environmental Science and Forestry. She was 66.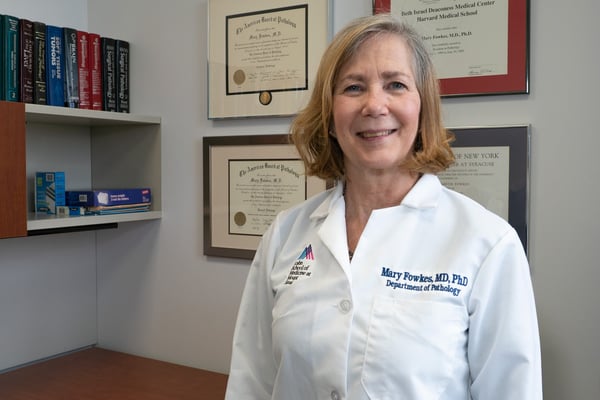 Dr. Mary Fowkes. Image courtesy of Mount Sinai Hospital.
Her autopsies of COVID-19 victims early in the pandemic discovered serious damage in multiple organs. Those findings helped shape successful COVID treatment protocols, including higher doses of blood thinners. Dr. Fowkes was featured in a recent "60 Minutes" report on COVID-19.
In a statement on Twitter, the College of American Pathologists said: "We mourn the sudden loss of our beloved CAP Governor, Mary Fowkes, MD, PhD, FCAP. She was a revered member for her professional expertise, passion for pathology, and dedication to our members."
What We're Watching: Pathilton
What do you get when Broadway meets pathology? A pathology "Hamilton" parody. You read that right... and it's as amazing as you might imagine.
King George? No, King Jerad! Dr. Jerad Gardner plays the bad guy of Pathilton. Image courtesy of @JMGardnerMD on Twitter.
It's impossible to properly describe these brilliant performances by some of our favorite #pathtwitter peeps. Just do yourself a favor and watch both Act I and Act II of Pathilton: The Musical.
Trust us. It'll be the best thing you've watched in a while.

Voicebrook's Pathology News Roundup features industry headlines and insights that pathology professionals are talking about. Think we should be covering something in particular?
Send your suggestions to content@voicebrook.com
---