Pathology and laboratory medicine is changing at a rapid pace, especially thanks to tech advancements like artificial intelligence, digital pathology, and the rise of precision medicine. With an evolving field, continuing education is a must, and it's happening in places you might not expect.
#MedEd is remarkably more "social" than ever before, with ever more pathology professionals looking to social media platforms like Twitter to share knowledge within their professional communities.

"In 2018, I was struck by how much great educational content was being created and given away for free on Twitter," said Dr. Sanjay Mukhopadhyay, director of Pulmonary Pathology at Cleveland Clinic. "I wondered if we could recognize this work somehow without miring it in a big bureaucracy."
Thus the idea for #PathTweetAward was born. Realizing that Twitter might be an excellent platform to expand grassroots learning, Dr. Mukhopadhyay did what one does on Twitter... he tweeted.
Anyone interested in crowdfunding an annual "educational pathology Tweet of the year award?

1. Anyone could contribute anything from $5 upwards (?GoFundme)
2. We figure out a fair and honest way to pick a winner
3. We give the best Tweet a cash prize every year

Thoughts? pic.twitter.com/zU5R3r8Kdd

— Sanjay Mukhopadhyay (@smlungpathguy) April 7, 2018

His tweet caught the eye of Dr. Amy Deeken, a pathologist from Ohio who is active on social media. Within days, Deeken and Mukhopadhyay joined forces with a handful of social-savvy pathologists to give the new movement a name, a Twitter handle, a hashtag, and a crowdfunding campaign. Pathologists: they get the job done.
"As a group, we are just all about making great ideas a reality at #PathTwitter," said Dr. Deeken, who manages the fund. "#PathTweetAward is made possible by all those donating their time, money, and support."
Here's how it works:
Someone notices a great educational tweet and tags the tweet with #PathTweetAward. The tweet author can self-tag his or her tweet, as well. The screening judges (pulled from all over the world with a special focus on diversity) then compile all tweets that were tagged with #PathTweetAward and post them using the Twitter Moments feature. At the end of the year, a panel of pathology experts chooses a top four. Then the public gets to vote on the ranking. It's all done in full public view, with the prizes (in the amount of $500, $300, $200 and $100, respectively) covered by crowdfunded donations.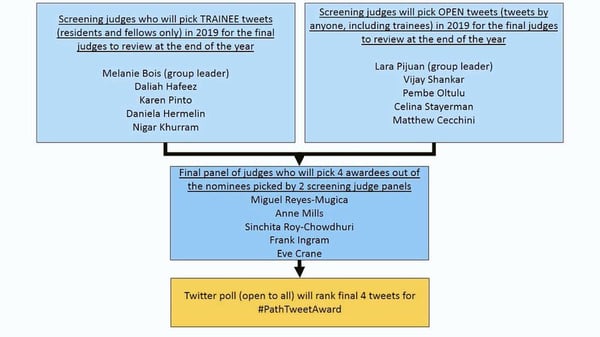 Dr. Mukhopadhyay believes it is imperative for pathologists to have these types of opportunities to collaborate and learn together. "For many pathologists in developing countries, traditional pathology conferences are out of reach," he told Voicebrook. "Even for U.S. pathologists, networking can be difficult and is impeded by hierarchies and distance. Twitter flattens all hierarchies and brings everyone within reach of everyone else 24/7. It's incredible!"
➡️ Tonsillectomy specimens. Right and left tonsils are shown. Note the "cerebriform" appearance and the tan-yellow "sulfur" granules,
representing Actinomyces bacterial colonies, which are commonly seen in tonsils. #pathology #gross #macroscopy #PathTweetAward pic.twitter.com/LLzzKquh0R

— Macroscopic Pathology (@Pathology3636) February 1, 2020

The #PathTweetAward community makes it possible to communicate and collaborate with pathologists around the globe with near zero cost, regardless of specialty, position, job type, gender, race, or age. All one needs is a phone.
"I think an underappreciated fact is that Twitter is great for shy people or for those who might not make a great visual impact in 'real life,'" Dr. Mukhopadhyay added. "Shorn from the traditional context of your skin color, looks, height, and weight, you can engage with others purely on the basis of your ideas, sense of humor, and intellect. That is powerful stuff."
Congratulations to the #PathTweetAward winners for 2019. @ycharzy @DrGeeONE @DrRolaAli @rovingatuscap

Please be sure to vote for the tweets you find have the most valuable educational content.

— Educational Pathology Tweet Award (@PathTweetAward) January 25, 2020

With the 2019 winners announced in late January, the race is on for 2020. Pathologists in practice, pathology residents, and pathology fellows anywhere in the world are eligible to participate.
"Here's to all those mentors who inspire us along our paths as pathologists," Dr. Deeken said in a post on the crowdfunding page. "Good luck in the 2020 competition. Every year the content created gets more creative and exciting."