What's your first reaction when you hear the words "speech recognition technology?"
Do you think fondly of your Alexa or Siri and all the ways speech recognition has streamlined your life and daily tasks? Or do you cringe at the thought, picturing numerous errors and talking. like. this. to. try. to. make. the. darned. software. understand. what. you're. saying?
As the leading provider of speech recognition and reporting solutions for pathology, Voicebrook is no stranger to understanding the challenges that come along with using this technology, and we've got good news for you. It's easier than ever to incorporate a user-friendly speech recognition reporting solution into your lab.
Speech recognition has been around for decades, but like many technologies, it's had its share of growing pains and resultant improvements. The speech recognition we use today is nothing like the speech recognition of decades past. Think of it like playing a video game in the 1980s versus the immersive experience of gaming today in 2021. There's no comparison.
Still, many folks hold onto some preconceived notions regarding speech recognition.
Myth #1: Speech recognition isn't accurate.
People hate being misunderstood. Whether it's by someone else, or by a speech recognition tool, it's frustrating when what we say is misinterpreted or inaccurately transcribed. Ask a large group of pathologists their opinion about creating reports with speech recognition, and you'll surely find some naysayers mixed in with other folks who swear by the technology.
Here's the great news. Speech recognition software that's tailored to medical professionals is actually extremely accurate, right out of the box. Our VoiceOver PRO software not only recognizes "everyday" speech, but it also includes a comprehensive pathology-specific vocabulary. Plus, it's a smart system that learns with the user, adapting to accents and other user-specific variations.
"At Voicebrook, when we start setting up a pathology project, we ask for a list of common stain names, institution names, and physician names so that we can add more site-specific context to your baseline vocabulary," says Andrew Boutcher, Associate Product Manager. "But even though all of that preparation goes into it, it may turn out that your own 'personal poetry' (a phrase I've heard from countless pathologists across the country) consists of word combinations that the engine wasn't built to understand. Adding words and phrases to match your speech patterns is a very simple process that can resolve a LOT of accuracy issues."
"With VoiceOver PRO, when we have a case in front of us, we dictate it and immediately see it on the screen," says Eric Calianese, a pathologists' assistant at Rochester Regional. "With all of us who talk here, PRO does a great job with understanding every word we say, no matter how fast we talk."
The dictation equipment your lab uses also has a major impact on accuracy. Fortunately, we've done the product research for you, and can supply your lab with the best microphones and accessories to fit your needs. That means accurate dictation all the time, even in a loud laboratory with lots of background noise.
Myth #2: Some of our team members aren't tech savvy. They'll never learn how to use speech recognition successfully.
"We train each user at a site using a one-on-one walkthrough method of instruction on speech recognition topics such as software overview, dictating fundamentals, tips for accuracy, editing text, correcting recognition errors, and the user's applicable role-based workflows," says Voicebrook implementation specialist Leonard Blakeney.
Training makes a huge difference in the successful implementation of speech recognition solutions. Team members are given guidance throughout the implementation that includes physical environment setups and hardware options for a successful speech recognition experience. Everyone is trainable, and the Voicebrook team works with each individual to set them up for success.
"I'm amazed that at my age, I can use it," says Dr. Harry Kamerow, a pathologist at Mt. Nittany Medical Center. "I'm 63 years old, and I use PRO and am very efficient. I was the one person in our group that we all worried would be really put off by speech recognition, but it's worked out great."
Even if some on the team seem hesitant, you may end up pleasantly surprised that the transition to dictation via speech recognition doesn't have to be painful.
"From day one, from the first piloting, I was completely up on voice recognition and did not have to rely on transcription all. Zero. The Voicebrook implementation team was very on-the-ball and results-driven," says Dr. Jamie Weydert, a pathologist at McFarland Clinic . "I could tell that the team wanted us to have a good product and a good experience, and I was really impressed with how hard they worked."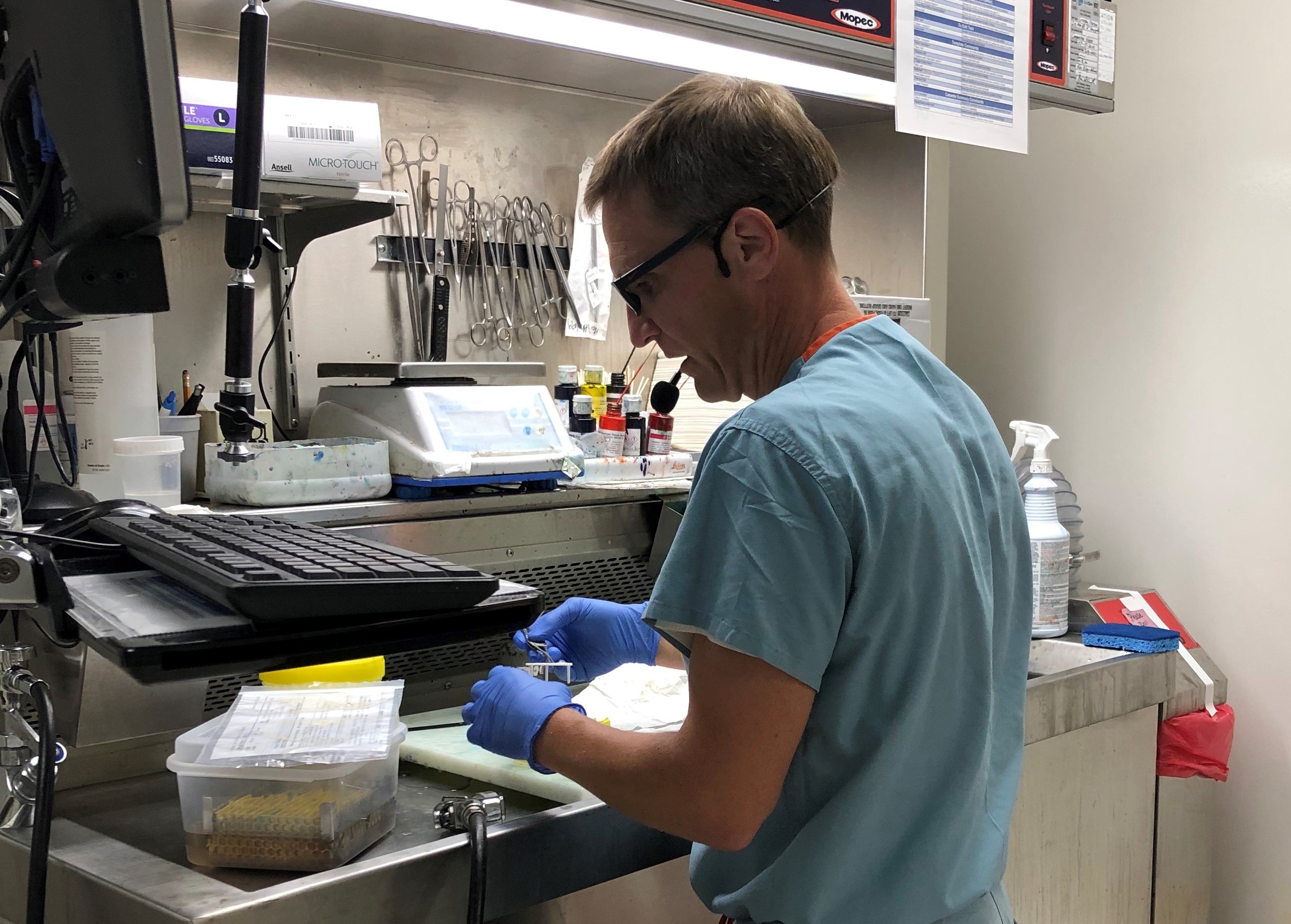 Pathologist Dr. Jamie Weydert uses speech recognition technology to dictate reports with VoiceOver PRO at McFarland Clinic.
Myth #3: Speech recognition will slow me down.
The opposite is actually true! With today's speech recognition technology, you can speak at a regular pace and have no issues. In fact, Voicebrook encourages users of VoiceOver PRO to speak normally and avoid pausing frequently in their dictation, because those awkward pauses can result in more time spent proofreading and editing your text. Trust the software, and don't speak to it like it's hard of hearing. We promise, it can definitely keep up!
"You can dictate quite a lot and you don't have to stop," says Dr. Kamerow. "PRO will take a really long paragraph, and you don't have to stop or worry that it will miss anything. I'm the most long-winded person here and I've had surgical cases where my dictation was ten sentences long. I'll just say the ten sentences and PRO doesn't miss a thing."
Many users appreciate that using speech recognition to generate their own reports is faster because it eliminates the transcriptionist as the middle man. Speech recognition doesn't eat lunch, doesn't take breaks, doesn't need vacations, and never sleeps. Simply put, it allows you to work when you need to, generating reports instantly without any lag time.
"Before PRO, it was just rough [because I was] working overtime consistently. PRO is a huge reason why I don't have to do that anymore, because now I can do everything I need to do in 8 hours. I probably even still have room to do more, because it's that fast," says Logan Health's Clint McCann.
Fans of VoiceOver PRO often mention that the software's templates make their dictation go much faster.
"The cancer synoptic templates are very helpful," says Dr. Peter Jelsma, a pathologist at Ascension St. Thomas. "You can sign a case out so much faster, because the template is already there and it's automatically updated with the latest CAP eCC guidelines. It helps with efficiency and accuracy. Two or three times a day, I have to dictate a huge cancer case, and now it only takes me 4 or 5 minutes each time. If I didn't have PRO's synoptic templates, it would take significantly longer; sometimes as much as 20 to 30 minutes each time."
"Before implementation, we were all very worried that speech recognition was going to slow us down and we were very reluctant," adds Eric Calianese. "We liked having our transcriptionists type everything that we dictated. But within a week or two of implementing VoiceOver PRO, every comment I heard from the grossing room was positive. It didn't slow us down… it actually sped up our workflow. The group is doing more efficient work."



So, have we changed any of your preconceived notions about speech recognition?
The next step is to try it for yourself and see how it can revolutionize your lab's reporting workflows. Contact us to set up a demo and see VoiceOver PRO in action!