According to the Association of American Medical Colleges (AAMC), just over fifty percent of medical school students are women. But look closer, and the diversity in medicine begins to dissipate. The AAMC says only five percent of active physicians identified as Black or African American in 2018, and the number of Black women in medicine is even lower... around just two percent.
It's essential that underrepresented minorities are encouraged to pursue medical careers by highlighting Black voices in medicine, particularly Black women who are inspiring others to follow their lead.
If you're looking for a pioneer, look no further than Dr. Vivian Pinn.
Dr. Vivian Pinn. Image courtesy of the National Institutes of Health.
Born in 1941, Dr. Vivian Pinn grew up in Lynchburg, Va., where she attended segregated schools. From an early age, she knew she wanted to be a doctor, even though women doctors were almost unheard of. At the time, she set her sights on becoming a pediatrician.
"I'm very grateful to my family, because back then, as an African American child in a Southern town where there were not women physicians and so few women in medicine—my family never told me that was something I couldn't do," she told the U.S. National Library of Medicine. "I really think, looking back on my career and shifting from being a small black girl, as we were called then, in the segregated town of Lynchburg, to the opportunities I've had, that along the way there are so many people who played a role in opening doors, or helping me feel comfortable, or helping me to overcome obstacles. I'd like to say it all came from me and from within me, but that would not be telling the truth. I really had wonderful support from many different sources."
While she gives credit to her supporters, Dr. Pinn's career was also the product of her own hard work and dedication. In 1967, she was the only African American and the only woman in her class to graduate from the University of Virginia (UVA) School of Medicine. In 1970, Dr. Pinn joined the faculty of Tufts University School of Medicine, where she also served as assistant dean for Student Affairs.
In 1982, she became the first Black woman to chair an academic pathology department in the United States, at Howard University College of Medicine. Then, in 1991, Dr. Pinn was named the first full-time director of the Office of Research on Women's Health at the National Institutes of Health and and Associate Director of NIH for Women's Health Research from 1994 until her retirement in 2011.
"Under her leadership, this new office led the implementation of NIH research inclusion policies for women and minorities in clinical research, developed the first ever, and several later, national strategic plans for women's health research and established many new research funding initiatives and career development programs, including interdisciplinary initiatives, in collaboration with NIH Institutes and Centers," says the Women in Medicine Legacy Foundation.
Dr. Pinn's professional area of focus in pathology was immunopathology, specifically renal and autoimmune diseases and transplant pathology.
"So I've shifted from a desire to be a pediatrician, to becoming a pathologist, and a renal pathologist, and a transplant pathologist, to being in administrative pathology, overseeing a program and a training program in the department, to then becoming, someone in government who is into establishing policy, carrying out policy," Dr. Pinn said.
Even after her 2011 retirement, Dr. Pinn has remained a prominent voice in medicine, working as a speaker and public policy consultant, offering testimony at Congressional hearings and White House briefings on women and minorities' health. She served on several editorial boards and the board of the Journal of Racial and Ethnic Health Disparities.
"I've always spent time outside and in addition to my regular job in pathology trying to promote the interest of women, trying to promote the interest of minorities, talking about the importance of research," she said.
Last summer, Dr. Pinn spoke with UVA's Darden School of Business in their "Leadership Unscripted" speaker series, discussing health equity and lessons from the coronavirus pandemic.
In 2017, UVA renamed its medical school research and education building for Dr. Pinn. Referring to the honor, she said, "I don't see this as an honor for me but really as a symbol for women, people of color, and others who struggled to see this name just as a symbol for them, for the pioneers who preceded me and hopefully the many who will come behind me."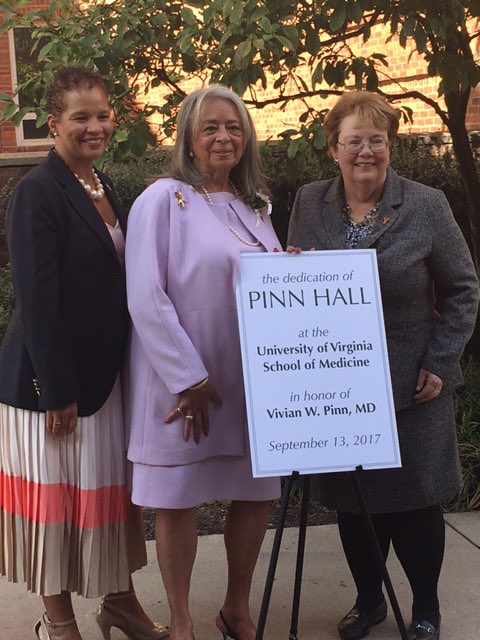 Image courtesy of University of Virginia.