When Dr. Mari Patel joined InCyte Diagnostics in 2022 as the new Chief Executive Officer, she wasted no time in pursuing a new pathology reporting solution. As the Pacific Northwest's premier laboratory, Incyte services more than 50 hospitals in the region, covering Alaska, Montana, Idaho, Oregon, and Washington. After reviewing their options, the Incyte team felt confident in partnering with Voicebrook and implementing VoiceOver PRO to optimize their pathology reporting workflows.
"Dr. Patel is very familiar with our pathology reporting solutions, having worked with VoiceOver in three prior leadership positions at other laboratories," says E. Bruce Sopko, Voicebrook's vice president of sales. "We are honored that she has been instrumental in bringing VoiceOver PRO onboard at Incyte. There's no greater compliment than that."
Implementing a new solution at Incyte is no small task, given that the private laboratory operates out of three different locations using Clinisys PowerPath. Incyte employs approximately 50 pathologists and more than 20 grossing staff (including pathologists' assistants, grossing technicians, and histotechs).
Voicebrook's project team arrived on the scene in the fall of 2022, and it didn't take long to get VoiceOver PRO up and running. With so many employees, Incyte chose to implement PRO in phases. Phase One's goal was to get all grossing staff transitioned from Dragon onto PRO, with Phase Two to involve the transition of all pathologists.
"Oh my goodness, it was wonderful having Voicebrook onsite," says Abby Kruse, the supervisor of pathologists' assistants at Incyte's Spokane lab. "They were very engaging, offering many suggestions, tips, tricks and finding solutions to my team's 'smaller' issues. They were positive, friendly and prompt. I found this experience to be extremely beneficial and would encourage this for all of your sites. It was a very good use of our time and they were able to answer questions."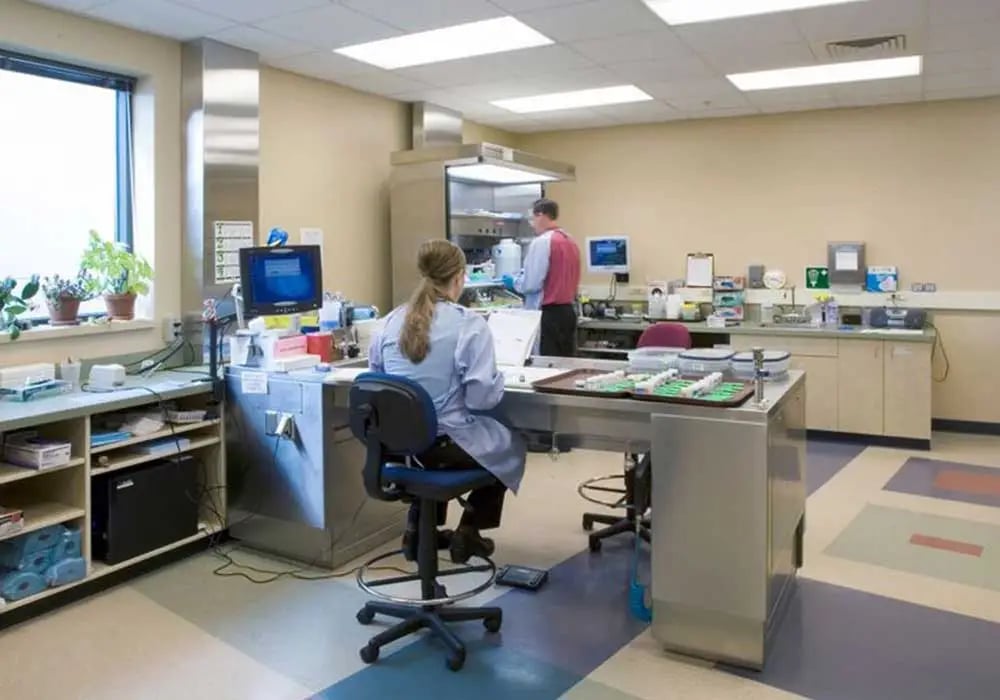 InCyte wanted to standardize their templates library for grossing across all locations. Voicebrook worked with their team to develop exactly what they needed.
"Being that PRO already has a bunch of templates made -- that was outstanding," says Kruse. "We were kind of spoiled, because we had our own templates that we liked. So it was really nice that we could easily bring those over to PRO and Voicebrook was willing to build those for us, so we didn't have to remake everything that we had. We also liked the feature that we could bring over our own personal templates, because not every PA does their grossing exactly the same. We were allowed to utilize some of the ones that we had already, which was nice, as far as our personal templates."
Kruse reports that all 21 of their grossing staff are now live on VoiceOver PRO exclusively, benefitting from PRO's customizable workflows.
Says Kruse: "I reached out to all the PAs that worked with Voicebrook and they said the experience was exceptional. From the beginning, we've had wonderful support. When it comes to questions that we've had, walking us through the different steps, the on-site support when they're here, they've been here whenever we've needed them. And the follow up was really nice to have: all the emails and phone calls they've been willing to take. It's all gone really well."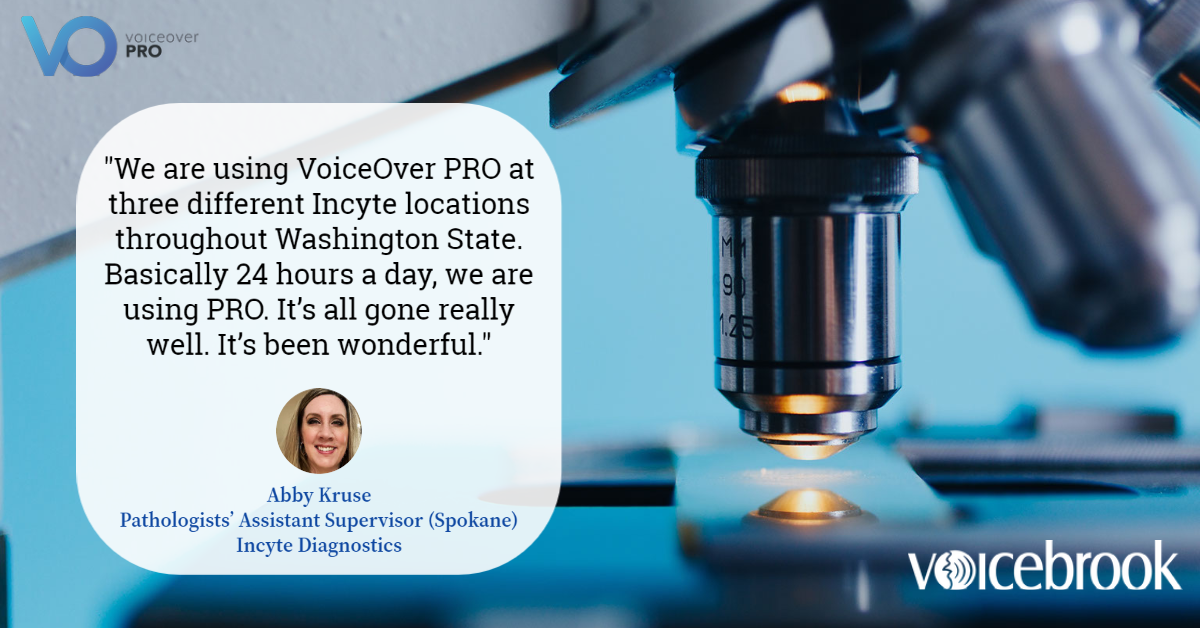 Kruse adds that VoiceOver PRO is really easy to use, especially with the templates. "Just fill in the blank!" As a supervisor, she likes that it simplifies her task of onboarding new employees.
"Everything's straightforward. There are lots of little tidbits that Voicebrook can build into the template. So in a way, you kind of have 'cheat sheets' within the template. PRO makes sure you don't forget to mention something that's really important for the patient or for the case or for the pathologist."

Phase Two of Incyte's VoiceOver PRO implementation involves transitioning approximately 50 pathologists to Voicebrook's reporting software, which is scheduled to occur over the summer of 2023.