- Case Study -
How McFarland Clinic is Avoiding Transcription Bottlenecks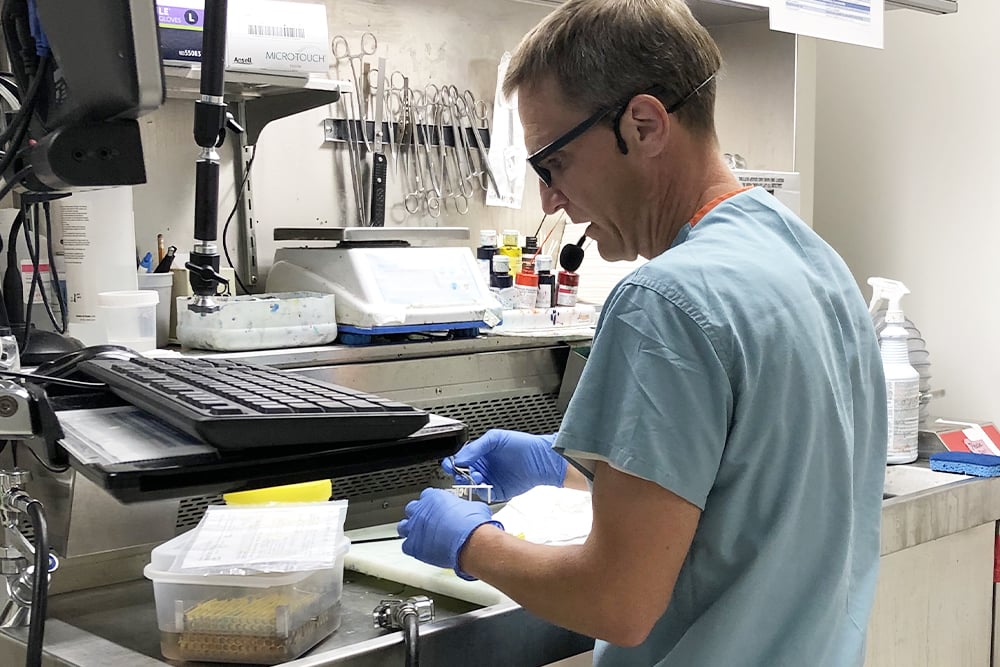 VoiceOver PRO Replaces Transcription, Sets McFarland Up for Long-Term Efficiency and Cost Savings
---
The Challenges
Concern over reliability/availability of transcription and resultant bottlenecks in report creation. "We had our own transcriptionist that we employed in our department, but she was the last one, so that left us pretty vulnerable," says Dr. Jamie Weydert, a pathologist at McFarland Clinic. "We could be left without coverage and we just can't have that. Instead of trying to parcel together a team of standby transcriptionists, we felt strongly that it would be much easier, much simpler, and much cheaper in the long run to have a voice recognition solution. That's why we pursued voice recognition with Voicebrook and VoiceOver PRO." With PRO, McFarland is moving from 100% transcription to 100% front-end capture, report creation via speech recognition, and structured content.
Complicating matters is that McFarland will migrate to a new LIS in late 2020. That's a lot of change in a short period of time. McFarland chose to implement VoiceOver PRO up-front while still operating on Sunquest PowerPath, rather than wait until their new LIS is in place. "We had talked about the timing of going to a voice recognition workflow in regards to our change in LIS, and what we had decided is that we wanted to get to know VoiceOver PRO a little bit before we had to learn a whole new LIS. We wanted to get that tucked away and get our patterns and workflows learned there on PRO, before we have to learn a whole set of new rules when we go to Epic AP Beaker," says Dr. Weydert.
If that's not enough to handle, try throwing a pandemic into the mix. Voicebrook's project manager was on site at McFarland to launch the PRO pilot for a week in March, but was forced to leave due to Covid-19 travel restrictions. The Voicebrook team then carried out a fully-remote implementation for McFarland Clinic.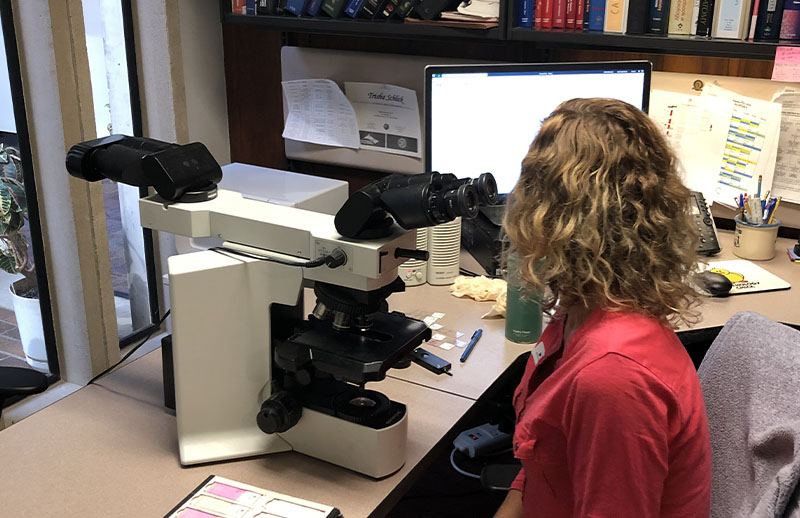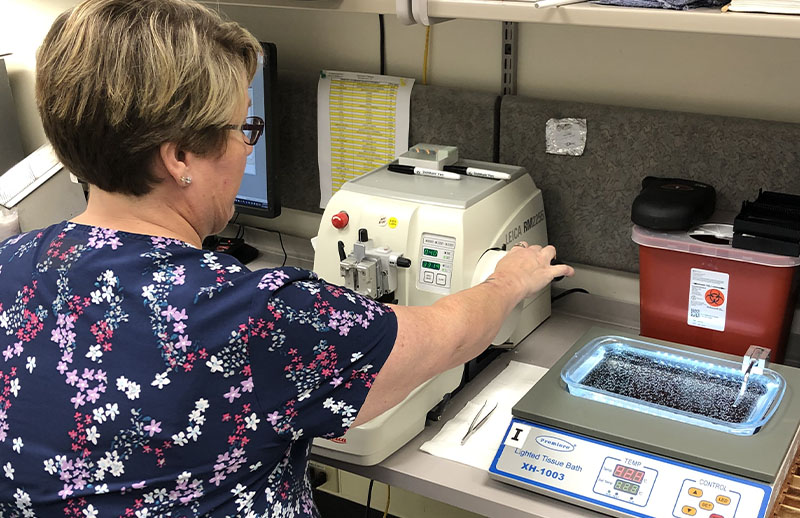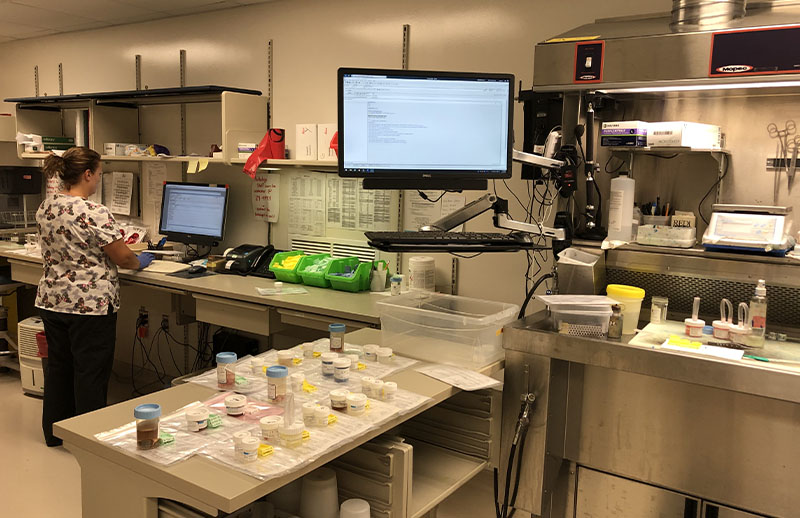 The Results
It's one thing to eliminate transcription if it's just not working for your lab or causing delays in report turnaround time, but that wasn't the case at McFarland Clinic. Their transcriptionist had been working for the pathology group for 30 years.
"You know the story about John Henry versus the steam engine?" Dr. Weydert asks. "Well, my transcriptionist was John Henry. She is as fast as a machine; I mean she is fast. So we didn't have a turnaround time issue that nudged us to voice recognition. It was the knowledge that we were very very vulnerable if something happened to our transcriptionist, or if she decided to retire. Human transcription was not something that was going to be doable for us in the long-term."
At McFarland, the average turnaround time for surgical pathology is less than 24 hours, so it was essential that PRO uphold that impressive speed. PRO has more than delivered on that promise. "Using PRO guarantees that we are going to maintain our excellent productivity that we have here," Dr. Weydert says. "We basically switched out one awesome transcription solution for another. There was no drop-off or anything. In fact, we may be able to sign out cases a little more quickly because of the time of day we're doing something, [there's no delay] and we can just get it done. If we have a weekend case, just get it done, get it signed out."
Prior to having PRO, McFarland pathologists often had to wait until the next day to sign out cases that could have been done the same day. "A lot of non-gyn cytologies for example; those wouldn't get transcribed until the next day," Dr. Weydert notes. "Now I can go on a non-gyn cytology run down to radiology, and if I can make a diagnosis I just go ahead and make the diagnosis. I get it all dictated and I sign out the same day. If I'm just making smears, I get it done. Similarly with gross-only exams; we just sign it out right at the bench, which is nice because it just gets more stuff off your work list."
For Dr. Weydert, PRO is a security blanket that assures he won't have to worry about having access to transcription. "That's the biggest worry as a pathologist. We are purveyors of information; that's our whole being! It's about providing information in a timely manner."
Over the long-term, VoiceOver PRO will save us money. For a bigger pathology group -- they will for sure save money. If you have a pool of transcriptionists and could replace that with just one voice recognition reporting solution like PRO, I think it would be a no-brainer.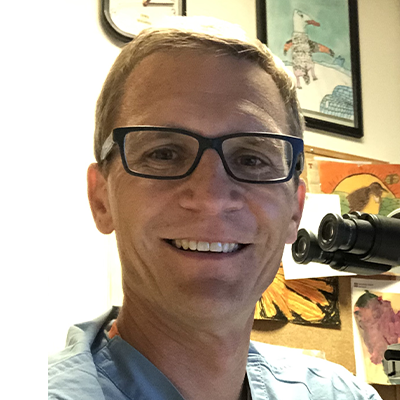 Dr. Jamie Weydert, Pathologist
Cost Savings
The security blanket is great, but the cost savings are another huge benefit. Dr. Weydert says replacing transcription with VoiceOver PRO will definitely save McFarland Clinic in yearly costs, even though they are a smaller lab. "For a bigger pathology group--they will for sure save money, because you need so many more transcriptionists," he says. "We only had one, but if you had to have a pool of transcriptionists and could replace that with just one voice recognition reporting solution like PRO, I think it would be a no-brainer."
McFarland Clinic started piloting in mid-March. From the day he started the pilot, Dr. Weydert never used his transcriptionist again. "From day one, from the first piloting, I was completely up on voice recognition and did not have to rely on transcription all. Zero."
Setting Up for Painless LIS Transition
Dr. Weydert is pleased with McFarland Clinic's decision to implement PRO before switching to a new LIS in Q4 of 2020. "It just takes one more thing off the table to learn, so I am really glad we did it this way," he says. "I think it would have been a disaster if we'd tried to do everything at once. When we make the move to Epic AP Beaker it's going to be even slicker. I've got a good feeling the transition with PRO will go great."
Successful Remote Implementation
COVID-19 forced McFarland's pilot of VoiceOver PRO to become a completely remote implementation, which concerned Dr. Weydert at first. Who can blame him? But he was impressed with the leadership on the Voicebrook team who helped work through any problems that arose.
"They were very on-the-ball and results-driven," he says. "I could tell that the team wanted us to have a good product and a good experience, and I was really impressed with how hard they worked. I was ready to give up on some of the little nagging issues, because I thought it would be too tough to do remotely, but they figured it out. They figured these issues out despite the remote implementation, so I was really impressed by that."
Schedule your free VoiceOver PRO demo today!