CAP20 Virtual Is Almost Here!
Just a few more days until the College of American Pathologists' Annual Meeting kicks off! This year will look a little different due to the pandemic, but it's still bound to be a great time of collaboration and education.
CAP20 Virtual is set for October 10 through 14. The decision to go virtual for this year's meeting was announced in June, and the CAP said it remains committed to providing high-quality educational opportunities and the social experience that fosters the timely exchange of ideas and some much-needed fellowship with pathology colleagues.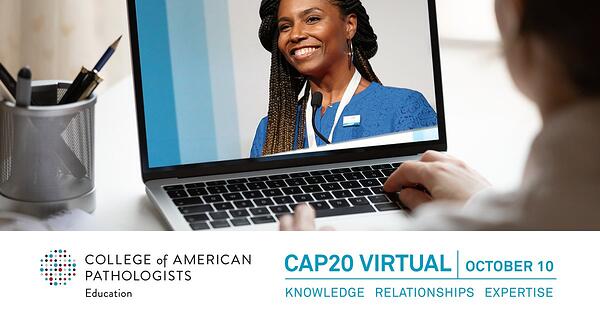 Access to more than 50 virtual educational sessions starts on Saturday, October 10 and continues for five days of highly interactive education taught by world-renowned faculty. All courses will be available on-demand for three months after the the meeting.
On Tuesday, October 13, keynote speaker Dr. Anthony Fauci will be featured in livestreamed event. The nation's top infectious disease expert will also participate in an interactive Q&A.
CAP has also identified more than 50 "Twitterati" who will be live tweeting throughout CAP20 Virtual. Follow them in order to keep up with all the event updates, especially if you're unable to attend the meeting!

Google Cloud Tackles Digital Pathology
The Defense Innovation Unit (DIU) has chosen Google Cloud to prototype an AI-enabled digital pathology solution at select Department of Defense (DoD) facilities. The project includes the delivery of augmented reality microscopes to DoD's medical facilities and access to artificial intelligence (AI) models that can help military doctors with cancer detection tasks on multiple disease areas. The early access to the digital pathology platform is for research use only. DIU is the organization exclusively focused within the DoD on scaling commercial technology across the DoD.
The Veterans Affairs Center for Innovations in Quality, Effectiveness, and Safety recently reported that within the United States, an estimated 5 percent of outpatient diagnoses are conducted in error. This translates to misdiagnosis of 12 million patients each year. At the same time, the Defense Health Agency spends approximately $1.7 billion of its annual budget on cancer research, and that figure continues to grow.
The goal of the DIU-Google Cloud project is to help improve the accuracy of diagnoses, assisting physicians who face an overwhelming volume of data when making diagnostic and treatment decisions--and to help lower overall healthcare costs. Working with DIU, Google Cloud will prototype the delivery of an augmented reality microscope that overlays AI-based information for doctors, providing pathology-based cancer detection tools at the point-of-care. Google's approach will leverage TensorFlow, an open-source framework to help deliver machine-learning models as well as the Google Cloud Healthcare API for data ingestion and de-identification to maximize patient privacy.
The initial rollout will take place at select Defense Health Agency treatment facilities and Veteran's Affairs hospitals in the United States, with future plans to expand across the broader U.S. Military Health System. The AI-based models used to assist doctors as part of the prototype were developed from public and private datasets that were de-identified to remove personal health information and any personally identifiable information. All patient diagnostic data will solely be managed by the individual hospital or provider.

Art of Pathology Winners Announced
The Royal College of Pathologists invited adults and children to enter this year's Art of Pathology competition and interpret the theme 'Pathology: at the heart of healthcare.'
For the first time since its launch, the competition was opened to the international community. 74 entries were submitted with 23 from entrants based outside the UK, from the United States, India, Pakistan, Bangladesh, Sri Lanka, Saudi Arabia and Zimbabwe.
The judges were Vice President for Communications and International Dr. Rachael Liebmann, Clinical Director of Publishing and Engagement Dr. Shubha Allard, and science-based artist Dr. Lizzie Burns. They selected the winners in the following categories:
Over 18 category winner: "The Heart of the Matter" by Max Butler from Cambridge, UK

11-17 category winner: "Heroes" by Johnny Ma Kwok Kit from Shropshire, UK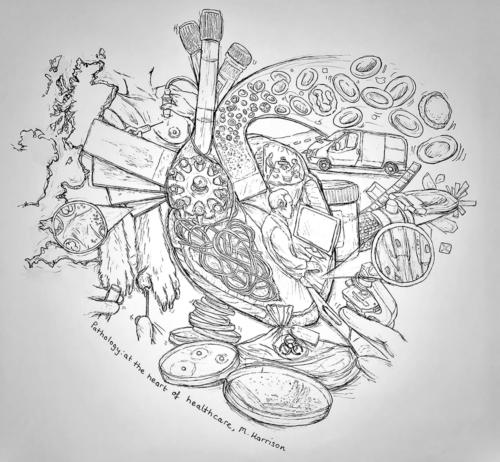 Under 11 category winner: "Pathology to the rescue in a sea of uncertainty" by Ava Pundole from Pune, India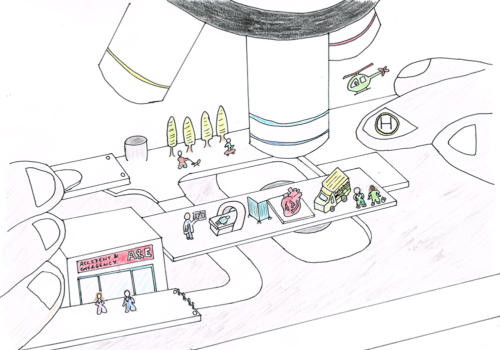 All of the winners, runners-up and highly commended entries are displayed on the Art of Pathology competition page.

Voicebrook's Pathology News Roundup features industry headlines and insights that pathology professionals are talking about. Think we should be covering something in particular?
Send your suggestions to content@voicebrook.com
---