Visit Voicebrook at Booth S8 in the Exhibitor Hall to see a demo of VoiceOver PRO.
Lake Success, NY, May 17, 2023 -- Voicebrook, the leading provider of pathology reporting solutions to more than 550 client sites around the world, is participating in the Pathology Informatics Summit 2023 in Pittsburgh, Penn.
Sponsored by the Association for Pathology Informatics, the PI Summit will be held May 22-25 at the David L. Lawrence Convention Center in Pittsburgh, Penn. Online registration has closed, but attendees may register on-site at the conference.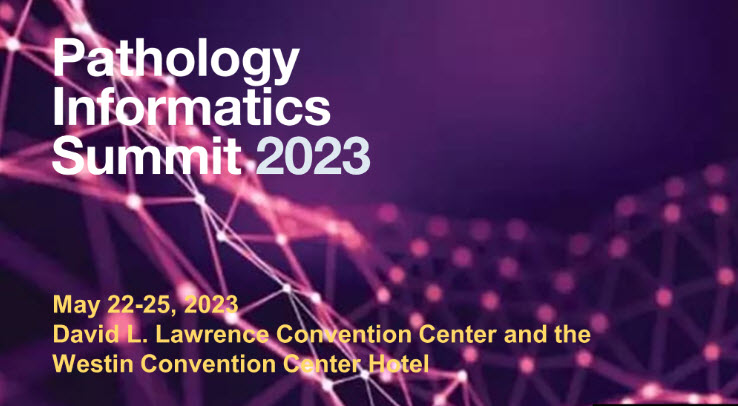 The Summit continues its tradition of assembling the top thought leaders in clinical laboratory and anatomic pathology informatics. The conference is designed to meet the needs of physicians, including residents and fellows, researchers, and graduate students. Topics include exciting and innovative informatics sessions in the following fields: Laboratory Medicine, Anatomic Pathology, Digital Imaging and Machine Vision, Molecular/Genomics, Operations, Education, AI/Machine Learning, and more.
Stop by Booth S8 in the Exhibitor Hall to meet Voicebrook representatives and learn more about VoiceOver PRO.

"VoiceOver PRO allows pathology labs create case reports that reflect pertinent data in a way that may be clearly interpreted by clinicians and patients alike," said E. Bruce Sopko, VP of Sales at Voicebrook. "We look forward to being part of the PI Summit and the opportunity to interact with attendees who recognize the value of innovation and technological advancements in pathology."
About Voicebrook:
Founded in 2002, Voicebrook is the leading provider of reporting solutions for pathology, with more than 550 client sites across the US, Canada, and Australia. The VoiceOver PRO software application incorporates speech recognition, digital dictation, customizable templates, and an assortment of input devices, providing direct integration with the user's Anatomic Pathology (AP) system. VoiceOver PRO allows pathology professionals to rapidly and accurately create pathology reports, choosing one of three customizable workflows. Learn more at www.voicebrook.com. Follow us at @voicebrook on Twitter.