- Case Study -
Stamford Pathology Group Dramatically Improves Operating Efficiencies by Implementing VoiceOver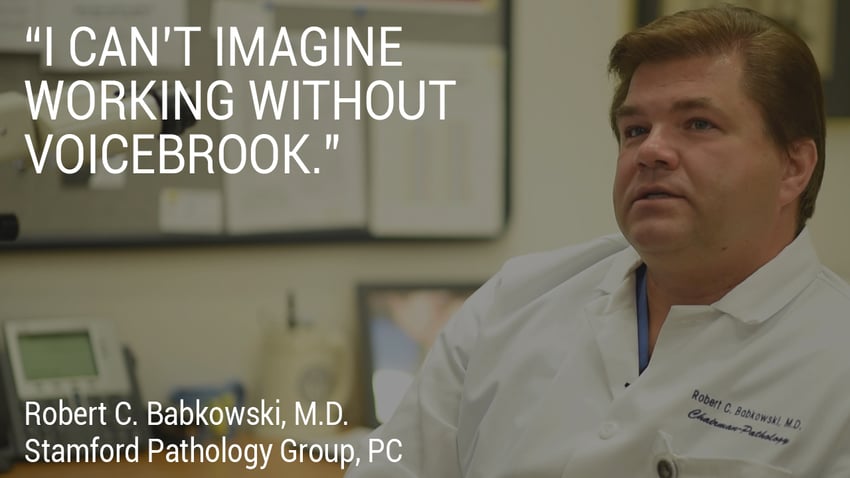 Stamford saves hundreds of thousands yearly by opting out of traditional transcription
---
The Challenges

Transcription Bottlenecks and Transcription Errors
Stamford Pathology Group in Stamford, Conn. completes in excess of 21,000 cases per year. Part of the Stamford Hospital Health System, the lab employs four pathologists and two pathologists' assistants.
With case numbers rising, the team was experiencing a problem. "Our transcription process was not meeting our expectations," says Dr. Robert Babkowski, Chair of the Department of Pathology and Laboratory Medical Director. "We had typical human related issues – transcriptionists calling in sick, leaving early, arriving late, and demonstrating lack of concentration. This resulted in suboptimal turnaround time and reports that needed to be more closely scrutinized for accuracy."
A Need for a True Anatomic Pathology Solution
Stamford Pathology Group knew they needed to implement a change, but hoped to employ a solution that had a true focus on anatomic pathology. Realizing that they wanted to opt out of transcription and shift to a speech-based reporting system, the lab considered its options.
"We looked at implementing Dragon Medical through a local reseller, but after Voicebrook showed us what it takes to fully address all aspects of workflow, conform to our standards, optimize our use of templates, and prepare, train and support our staff, I realized that without Voicebrook and VoiceOver, our transition to speech recognition would have been more difficult," Dr. Babkowski explains.
The Results
HUGE COST SAVINGS
The Voicebrook team got to work implementing VoiceOver with Stamford's MEDITECH Client/Server AP System. Almost immediately, the pathologists and PAs were able to begin productive use of the software and speech recognition reporting tools. Stamford Pathology Group reports a savings of $180,000 a year with the elimination of transcription.
IMPROVED TURNAROUND TIME AND REPORT QUALITY
And the turnaround time showed a remarkable improvement. The lab completes 100% of reports in real-time, and boasts an improved report turnaround time by as much as 1.5 days.
"The quality of our reports is better since switching to VoiceOver," says Dr. Babkowski. "We improved patient safety, because transcription error is eliminated. I can sign out a case the minute I finish dictating, so if a clinician calls me because they need an urgent diagnosis, I can dictate it, sign it out, and get the report to them quickly."
INCREASED CAPACITY FOR GROWTH
Additionally, the lab's capacity for additional cases has drastically increased, with pathologists now dictating 20 percent more reports daily.
"Our practice continues to grow. I am dictating more cases using VoiceOver than I was prior to the switch. Overall, it is more efficient as it takes less time to dictate and finalize cases," Dr. Babkowski adds.
One of his favorite features is the variety of templates that are available and customizable. Voicebrook took Stamford's existing reports and converted them into reusable templates with standardized formatting and content, which can be accessed by all pathologists. "The ease of creating and using templates was a huge selling point for us," Dr. Babkowski confirms.
Voicebrook also set up an on‐screen review of history (working drafts) while dictating ‐‐ helping Stamford go paperless. The lab also opted to use Bluetooth technology with the VoiceOver system so that they wouldn't be tethered by cords at their work stations.
With improved practice efficiencies and standards, along with improved patient safety, Stamford Pathology Group is a satisfied customer.
"I can't imagine how we would have been successful without a company like Voicebrook, whose focus is on pathology reporting," Dr. Babkowski says. "It was money well spent."
0

%

more reports dictated daily
0
days' reduction in turnaround time
Schedule your free VoiceOver PRO demo today!