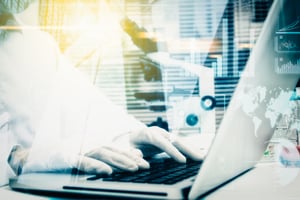 The benefits of big data in healthcare have already been proven around the world. In fact, the collection and analysis of data is the fastest growing trend in healthcare. Data collected from across multiple organizations within a population can be used to study trends and develop strategies geared toward the most effective treatment and prevention of disease. With this in mind, the California Department of Public Health created the California Cancer Registry (CCR) to gather data and analyze the various factors affecting cancer risk. The California State Assembly then passed a law requiring Pathologists to report all cancer diagnoses to the CCR using the College of American Pathologists' protocols. The law goes into effect Jan 1, 2019.
"But wait!" You might be thinking, "I don't practice in California; why should I care about their laws and registries?"
States have long been the proving grounds for large initiatives; they are sometimes called the "laboratories of democracy." Several states are considering registries of their own, keeping an eye on California. Eventually, reporting to a nationwide registry may be required. With that in mind, let's dive into the CCR.
What is the California Cancer Registry?
The CCR is California's statewide, population-based cancer surveillance system. Their aim is to collect information about cancers diagnosed in the state, allowing health researchers to analyze the factors that affect cancer risk, early detection, and effective treatment of cancer patients. According to their website, "The CCR is recognized as one of the leading cancer registries in the world and has been the cornerstone of a substantial amount of research on cancer in the California population. To date, the CCR has collected detailed information on over 7 million cases of cancer among Californians diagnosed from 1988 forward, and more than 175,000 new cases are added annually."
California State Assembly Bill (AB) 2325
Per AB 2325, signed by Governor Jerry Brown on September 14, 2016, pathologists diagnosing cancer are to report cancer diagnosis to the California Cancer Registry (CCR) electronically by January 1, 2019. AB 2325 includes five new articles within Section 103885 of the California Health and Safety Code.
On or after January 1, 2019, a pathologist diagnosing cancer shall report cancer diagnoses to the department utilizing the College of American Pathologists cancer protocols or any other standardized format approved by department.
Reporting shall be by electronic means, including, but not limited to, either directly from an electronic medical record or using a designated Internet Web portal that the department shall provide for pathologists' use.
A pathologist shall not be responsible for acquiring missing or inaccessible patient demographic information not provided to him or her beyond the content of the required cancer-specific data elements.
For purposes of reports submitted pursuant to this paragraph, the department shall prescribe the data required to be included in the report, work collaboratively with stakeholders to designate a standardized electronic format for submission, and designate an Internet Web portal for electronic submission.
This paragraph shall not be interpreted to require a pathologist to submit the same pathology report to the department, regardless of format, more than once. If a pathology report is submitted by a pathologist electronically, pursuant to this paragraph, the same pathology report is not required to be submitted to the department by any other means.
How Will California Pathologists Need to Comply?
The CCR is looking for the highest quality data in order to achieve its goals. While submission of simple narrative is an optional format currently, the department would prefer data in the form of:
Synoptically Structured Health Level 7 (HL7)
Synoptically Structured HL7 using CAP eCC
CAP eCC Structured Data Capture (SDC) Extensible Markup Language (XML)
The College of American Pathologists' electronic cancer checklist (eCC) is not strictly required, but it is highly recommended. More information can be found on this page of the CCR's website.
How Can Voicebrook Help?
VoiceOver PRO comes standard with CAP content, including eCCs, at no additional cost. The content is updated regularly to ensure our clients have the most up-to-date protocols and checklists. We have already worked with clients in California to provide them with an easy solution to the CCR's requirements. With our solution, an HL7 file is created upon completion of the checklist. When the case has been signed out, the AP system picks up the file automatically, merges it with the rest of the required patient data, and sends it to the registry.
See how PRO can work for your lab: