Feedback is important in many ways. As I've recently learned, telling a six year old not to touch a campfire because it's hot didn't really register. However, a very minor burn later and she understood in a much clearer way than any message I could have given. I can't wait for the teenage years. Fortunately, all feedback doesn't have to be painful.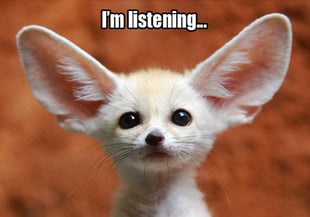 One of the most valuable things that any company can receive is feedback. It tells us what we may not have perceived ourselves, and in some cases gives voice to important ideas that we didn't recognize. This is a topic near and dear to my heart that I wanted to begin to devote some blog time to. As the Director of the Solution Delivery team, my team and I often receive very valuable feedback directly from users. In this inaugural post of the "We Hear You" series, I wanted to focus on how client feedback has transformed our software on the highest levels with the intent of digging into more specific details in future posts.
One request that we heard loud and clear was the need to provide specific users with flexibility to dictate using traditional transcription workflows alongside our core Front-End solution. The challenge was to provide organizations with these workflows and still realize the tremendous benefits gained from those users who were open to real-time dictation and sign out. This lead to several new products and features all designed to offer our users flexible input modalities. Here is an explanation of each and why they were necessary to address the feedback.
Front-End Speech
This is the core input modality of our VoiceOver software and provides organizations with the most dramatic cost saving, safety, and turnaround time benefits. Speech recognition is used for command and control of the Anatomic Pathology (AP) System, as well as dictation of narrative sections. Using Front-End Speech combined with a footpedal and microphone allows users hands-free dictation, so that they can gross a specimen or examine a slide. Understanding the pathology workflow and why this need was central to their workday is a critical part of how Voicebrook became who we are.
Using VoiceOver in this modality, users issue voice commands to open their cases, navigate to the right screens, and then place their cursor into a narrative dictation section. Once in that section, their spoken words are converted into text on the screen. They can use templates or canned text to speed up this process and allow for greater standardization. Once the dictation is complete, they proof-read and save it, and then move on to their next case.
Digital Audio
Many of our sites had some sort of recorded audio solution before migrating to Speech Recognition. There have been cases where some users were not ready to migrate to a fully Front-End solution or a site had temporary or locum employees that don't spend enough time working at their site to justify the learning curve and cost associated with their use of a Front-End solution. As a result we were asked, "Can you provide us with a solutions similar to our original digital dictation solution for these users?"
We met this client need by developing our VoiceOver Recorder module. It allows for the same functionality as many other common digital audio products, but is an integrated part of our VoiceOver solution, so that departments can have the ease of dealing with only one vendor for all of their pathology reporting needs.
When audio is dictated, it's captured in a secure encrypted audio file, and sent to transcriptionists for processing. The transcriptionists type the text into the case sections of the report, in the same manner they would for any case they work with using their old digital dictation solution.
Delegated Workflow Module (DWM)
We had received several inquiries regarding the ability to implement quality control measures that involved transcriptionists reviewing report content for accuracy. Some sites and users were not entirely comfortable with not having another set of eyes on a report before a Pathologist signed out a case.
The solution was our Delegated Workflow Module. DWM is a combination of Front-End Speech and Digital Audio. It allows the use of Front-End Speech to navigate and dictate case content directly as text into the AP System. However, it also captures digital audio files, which are sent to transcription. In this modality, because the case content has already been entered via Front-End Speech, the transcribers are only required to proofread and edit the report rather than transcribe it word for word.
We came to appreciate the need for proofreading and quality control checking, and it is especially useful in ensuring report standardization. It also allows departments to have a check in place to ensure consistency and quality for their outgoing reports. It's also a common step many sites employ when their users are first learning to use Front-End Speech.
Another major application of this feature is for training residents. We allow this feature to be enabled per role, so that it can be turned on specifically for residents. This will ensure that their cases can be double-checked until the department is comfortable that the new residents are producing reports that meet with internal reporting quality standards.
Final Word
Understanding the evolution of our product and these modalities offers a valuable lesson. We could have just stopped with Front-End Speech, feeling that we had the best solution that provided the most benefits. However, listening to our clients resulted in two valuable modalities to meet laboratory needs more broadly, and allowed our product to address the needs of multiple user types.
My takeaway is that we all need to listen to our users and our employees. There's valuable feedback that can make any solution stronger. Your feedback enabled us to create a better product and will continue to help us improve in the future.
To read more about VoiceOver...